Protesters Rip Down Christopher Columbus Statue, Set It on Fire and Toss in Lake
People in Richmond, Virginia have torn down the Christopher Columbus statue within Byrd Park, set it on fire and thrown it in the lake.
The statue had been covered with red paint earlier on Tuesday. Now it rests face down in Fountain Lake, the park's paddleboat lake, covered in the brightly colored neon ropes used to topple it from his pedestal.
A protest sign in front of its sunken place has an illustrated gravestone with the words "Racism: You will not be missed" written on it, according to local news station WRIC. The Department of City Parks and Recreation told the station that the city of Richmond owns the statue.
"Anything that oppresses people of color needs to go," said a speaker at a rally in front of the statue as hundreds of people applauded in agreement. A protester who admitted to helping tear down the statue told the station that the takedown occurred as observers repeatedly chanted, "Tear it down!"
A sign on the pedestal now reads, "Columbus represents genocide."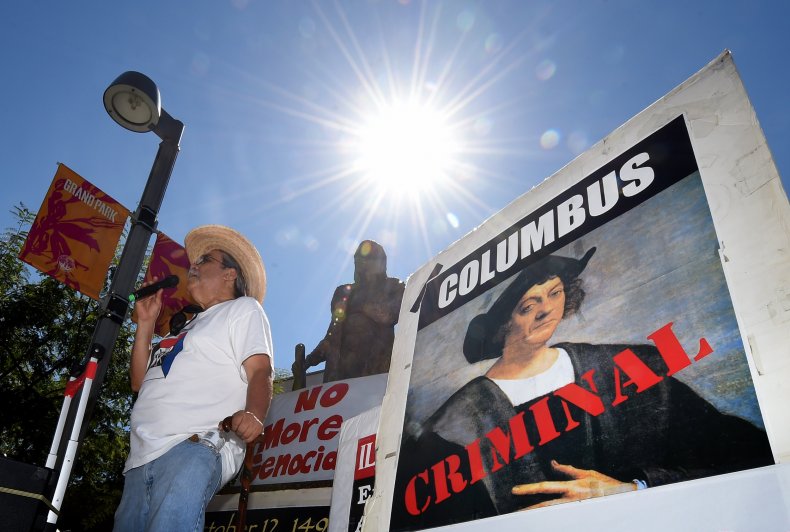 Columbus is a widely revered historical figure credited with making four historic trans-Atlantic voyages from Spain to the Caribbean Islands and Central and South America near the late 1490s.
His voyages mark the start of European colonization in the Americas, and in 1892, then-U.S. President Benjamin Harrison declared Columbus Day as a one-time national celebration, in part to appease Italian-Americans upset about a mob lynching of 11 Italian immigrants in New Orleans, Louisiana.
October 12 became the national holiday of Columbus Day in 1934. But since 1989, nearly 140 cities and 10 U.S. states have started celebrating the date as Indigenous Peoples' Day to commemorate Native American people, their history and culture rather than commemorate an explorer that historians say was a known slaver of Native Americans.
In a 2015 Washington Post column, Kris Lane, professor of colonial Latin American history at Tulane University, called Colombus a "tyrant... marked by routine cruelty."
Lane wrote that Columbus "saw profit in enslaving and selling native peoples kidnapped from Caribbean shores." The historian also said Columbus sent nearly 1,500 enslaved islanders to be sold in European slave markets and forced other indigenous peoples to work in gold mines where they died from malnourishment, overwork and disease.
The destruction of the Columbus statue follows the toppling of a statue of slave trader Edward Colston in the United Kingdom. Over the weekend, demonstrators in Bristol tore down the statue and threw it into the harbor where Colston used to harbor his slave ships.
On June 7, people in Richmond also toppled a statue of Confederate General Williams Carter Wickham in Monroe Park. The Richmond Times-Dispatch reported that someone urinated on the statue after it was torn down and spray-painted "Black Lives Matter" on its pedestal.
No one has been arrested for toppling either statue thus far.