Black Lives Matter Protesters in U.K. and Belgium Target Statues of Slave Trader and Colonizing King
As Confederate statues in the U.S. have been vandalized and removed amid widespread Black Lives Matter protests, demonstrators in the United Kingdom have torn down a statue of a historic slave trader and protesters in Belgium have vandalized statues of King Leopold II, who was responsible for heinous crimes against colonized subjects in Africa more than a century ago.
Footage shared widely on social media showed protesters in the British city of Bristol tearing down the statue of slave trader Edward Colston, who died in 1721. Colston was a member of the Royal African Company, which is estimated to have transported about 80,000 Africans to the Americas as slaves. After the Bristol statue was torn down, it was dragged through the city's streets and thrown into the harbor's waters.
A similar situation has unfolded in Belgium, where demonstrators have targeted statues of King Leopold II in cities across the country. The monarch, who ruled from 1865 to 1909, oversaw the exploitation and brutal colonization of the Congo in Africa. Past efforts to remove statues of the former ruler have failed, but a petition online has now garnered close to 60,000 signatures.
In the Belgian city of Ghent, a bust of the late king was defaced with red paint and the words "I can't breathe," NPR reported. A statue of the king in the city Antwerp was similarly vandalized. On Sunday, as protesters gathered in Brussels, they chanted "murderer" as they demonstrated on and around a monument for the former colonizing king.
Newsweek has reached out to the Belgian and British embassies for comment on the demonstrations and opposition to the statues. British Home Secretary Priti Patel described the destruction of the Colston statue as "utterly disgraceful," "completely unacceptable" and "sheer vandalism."
Multiple statues of Confederate leaders have faced a similar fate during protests in the U.S., which were spurred by the May 25 death of George Floyd, a black man, in police custody. Floyd died in Minneapolis after a white police officer knelt on the victim's neck for nearly nine minutes, despite him saying repeatedly: "I can't breathe."
Black Lives Matter activists have long criticized the widespread presence of statues honoring Confederate soldiers and leaders throughout the south of the U.S. The Confederacy was formed in rebellion against the U.S. in a bid to preserve slavery in the south.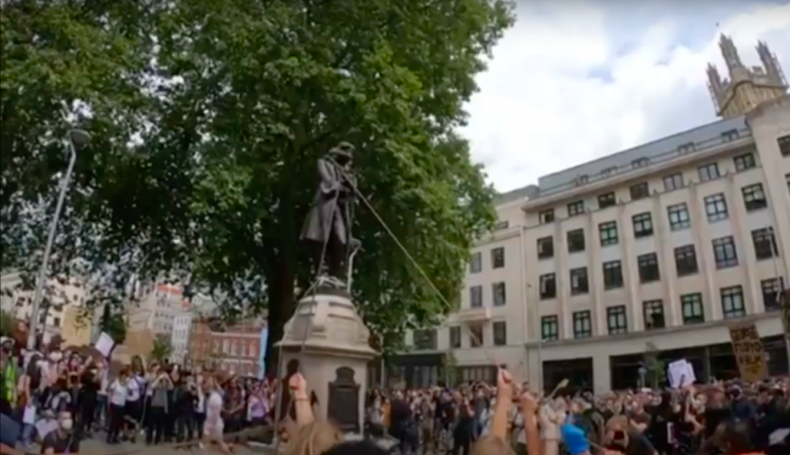 A statue of Confederate General Robert E. Lee, who led the south's troops in rebellion against the north, was removed in Fort Myers, Florida on June 1 as anti-racism protests spread across the country. In Richmond, Virginia, a statue of Confederate General Williams Carter Wickham was torn down from its pedestal by protesters and vandalized on Saturday night. A demonstrator also reportedly urinated on the statue.
Virginia's Governor Ralph Northam promised last week that a statue of Lee located on Richmond's iconic Monument Avenue would be removed "as soon as possible."