Protesters are Tearing Down and Beheading Christopher Columbus Statues: 'Columbus Represents Genocide'
A Christopher Columbus statue in Boston was beheaded overnight, as global efforts persist to remove structures that commemorate historical leaders known for acts of violence and oppression.
Boston law enforcement responded to a radio call notifying them of the Columbus statue's beheading at around 12:30 a.m. ET on Wednesday, a representative from the police department told Newsweek. The incident remains under investigation, and the representative did not confirm whether police had identified anyone possibly involved in the incident by later Wednesday morning.
History textbooks recognize Columbus, a 15th century explorer, for completing multiple overseas trips from Spain to the Caribbean Islands, Central America and South America. In the United States and several other countries across the Americas and Europe, his conquests are remembered on national holidays. Cities in the U.S. and elsewhere started celebrating Indigenous Peoples' Day instead of Columbus Day during the late 1980s. Many have, and continue to, denounce Columbus as a colonizer who enslaved, killed and forced assimilation of indigenous populations.
As CBS Boston noted in its report of the Columbus statue's beheading, Wednesday was not the first time civilians expressed upset about its place in the city. In June 2015, photos showed "Black Lives Matter" spray-painted onto the monument, which was also covered in red paint.
The latest damage to Boston's Columbus statue followed news of another torn down in Richmond, Virginia, during a protest on Tuesday. Photos showed demonstrators setting fire to the Richmond statue before tossing it into a lake nearby. A sign placed along the lake's permitter read, "Racism: You will not be missed," according to images published by local station WRIC, while another set atop the statue's empty base said, "Columbus Represents Genocide."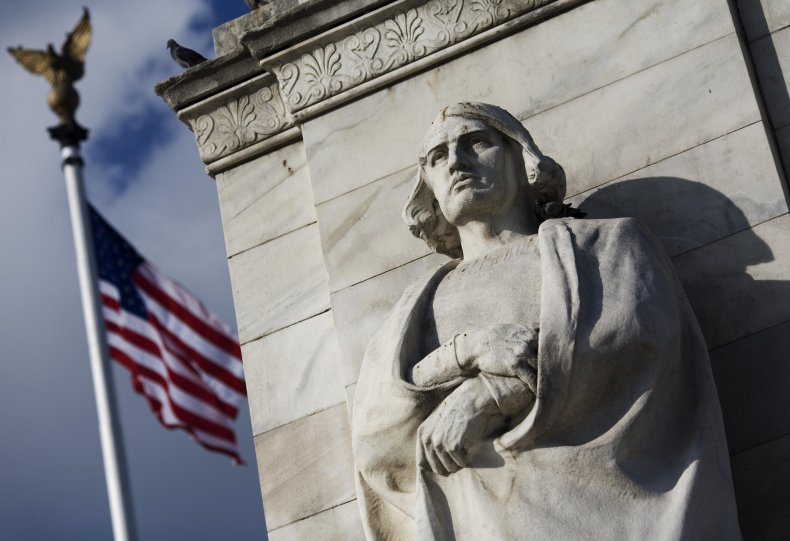 Newsweek reached out to the Richmond's Police Department and Parks and Recreation Department for additional updates but did not receive replies in time for publication.
The recent actions come amid large-scale rallies taking place across the world in the aftermath of George Floyd's death while in custody of Minneapolis police officers on May 25. The protests, which call out police abuse and systemic racism by law enforcement authorities, have restored calls for the removal of monuments that memorialize persecutors.
During Black Lives Matter protests that took place over the weekend, demonstrators in the United Kingdom tore down a statue of slave trader Edward Colston, while others in Belgium vandalized statues of 19th century colonizer King Leopold II, responsible for the deaths of millions in what is now the Democratic Republic of Congo.