About three in four Republicans support the idea of former President Donald Trump running for president again in 2024, Quinnipiac University pollsters said Tuesday.
A Quinnipiac University poll conducted from October 15 through 18 found 78 percent of Republicans surveyed said they want Trump to run for office during the next presidential election cycle, while 16 percent said they do not. In contrast, 94 percent of Democrats and 58 percent of Independents said they do not want the former president to run in 2024, with more than half of all respondents rejecting the idea of his hypothetical campaign to return to the White House. Trump himself began suggesting shortly after leaving office that he may run for president again.
A slight majority—52 percent—of respondents said they have an unfavorable opinion of Trump, while 39 percent of respondents said they have a positive opinion of the former president. Most Democrats polled said they believe Trump has had a negative impact on American politics, while 84 percent of Republicans described his political impact as positive. Nearly the same percentage of Republicans also said they believed Trump has had a positive impact on the GOP specifically.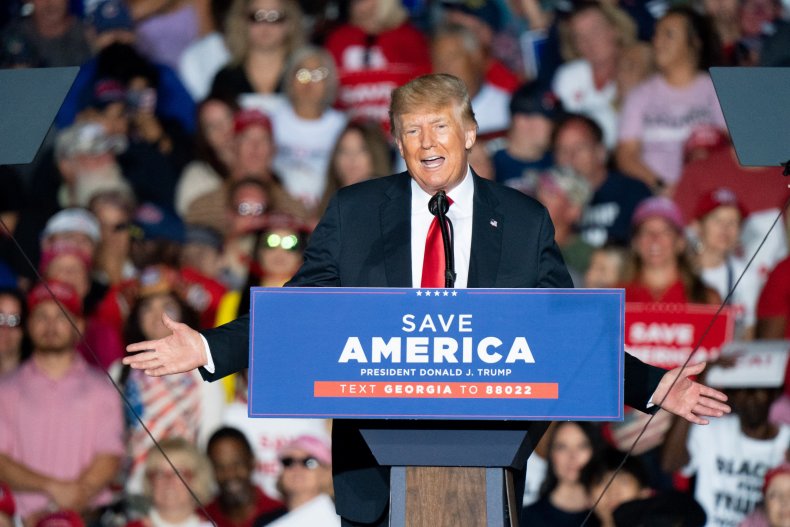 Though it has been almost a year since the 2020 presidential election was called for President Joe Biden, Trump has continued to make allegations about the election's integrity despite election security experts classifying it as the "most secure in American history." Though Trump does not appear on any ballot this fall, his name has been used in political debates among candidates who are running for office, including last month's gubernatorial recall election in California and next month's gubernatorial election in Virginia.
According to Quinnipiac pollsters, 51 percent of all respondents told them they think Trump has since last fall's election undermined democracy, though 85 percent of Republican participants said they thought Trump has protected democracy.
The 1,342 adults that pollsters surveyed were also asked about the riot at the U.S. Capitol on January 6, which a Congressional committee is currently investigating. Poll respondents were asked if they think Trump was responsible "a lot," "some," "not much" or "none at all" when people protesting the certification of the 2020 election results stormed into the Capitol building. Forty-two percent of all respondents chose "a lot" while 27 percent chose "none at all."
Meanwhile, 56 percent of Republicans said Trump had no responsibility at all for the protesters' actions, compared with the 81 percent of Democrats who said that "a lot" of the responsibility was his.
Republican interest in Trump running for president in 2024 has grown over the last few months, Quinnipiac pollsters said. While one Quinnipiac poll conducted shortly after Trump left office found 75 percent of Republican respondents wanted Trump to "play a prominent role" in the GOP moving forward, another conducted in May found 66 percent of Republicans said they wanted him to seek the presidency again in 2024.
The percentage of Republicans who support the idea of a 2024 Trump presidential campaign appears to have increased by 12 percent over the last five months, according to the results of Quinnipiac's October poll, which pollsters said had a 2.7 percent margin of error. Quinnipiac polling analyst Tim Malloy pointed to the rise in support for Trump's potential 2024 run in a Tuesday news release assessing the poll's results.
"While a majority of Americans say, 'been there, done that' about Trump and half feel he has damaged the underpinnings of democracy, support for the former president within the GOP has grown," Malloy said.