3 BTS Members Diagnosed With COVID, All Recently Returned to South Korea From U.S.
Three members of K-pop group BTS who recently returned to South Korea from the United States have tested positive for COVID-19.
Two of the band members, RM and Jin, were diagnosed Saturday evening local time, while another member, Suga, tested positive on Friday, their management agency Big Hit Music said in a statement to the Associated Press.
All three received their second COVID vaccination dose in August, the AP reported.
RM and Suga are not experiencing any symptoms, though Jin was showing mild symptoms including a light fever. He is undergoing self-treatment at home.
RM initially tested negative for the virus after returning from the U.S. but was diagnosed ahead of his release from self-quarantine. Jin tested negative twice before before a PCR test came back positive on Saturday. Doctors diagnosed Suga with the virus during his quarantine, the AP reported.
Their management agency said they would continue to provide support for their recovery and cooperate with the guidelines of South Korean health authorities.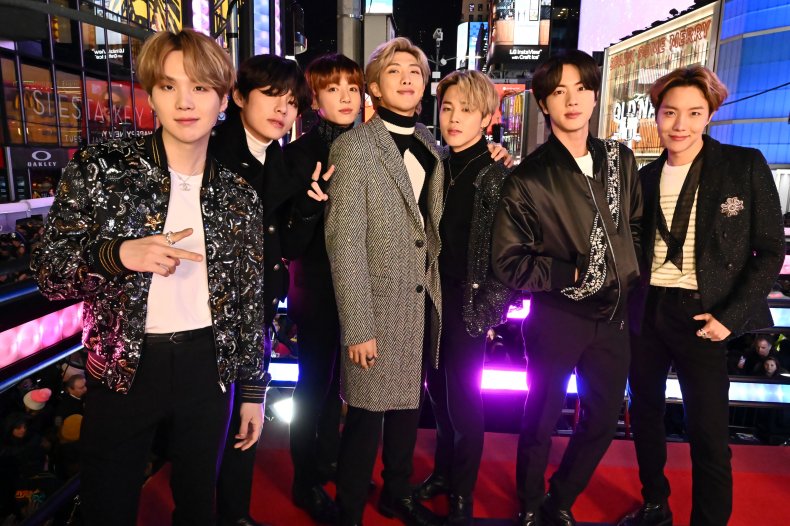 BTS is a seven-member boyband based out of South Korea and have achieved international success and acclaim for songs including "Butter," "Dynamite" and "Permission to Dance." The group's other four members are J-Hope, Jungkook, V and Jimin.
Their fans took to social media to offer their support for the three band members on Saturday.
"We will be praying for your speedy recovery," wrote a fan account @Army_Connect. "No one else in BTS gets Covid please! How did this even happen."
"BTS is stronger than covid and they will get well soon, I believe in that!" wrote @btscharl7.
The group announced earlier this year they would take an "extended period of rest," their first break since taking time off in 2019. The announcement—along with each member starting individual Instagram accounts—sparked questions about when they would eventually split up.
"This period of rest will provide the members of BTS who have tirelessly committed themselves to their activities, a chance to get re-inspired and recharge with creative energy. It will also be the first time for them since their debut to spend the holiday season with their families," their agency said in an announcement.
They may be forced to split due to South Korea mandating that all able-bodied men between the ages of 18 and 28 years old serve at least 21 months in the military.
"As a Korean, it's natural and some day, when duty calls, we'll be ready to respond and do our best," Jin told Teen Vogue.
Meanwhile, Jungkook said: "I don't want to think about it at this point. We have something really good going."
In 2020, South Korea passed a bill that allowed the biggest K-pop stars to delay their compulsory military service until they are 30 years old, if the culture minister recommends doing so.