Authorities announced on Monday two more police officers present during the January 6 riots at the U.S. Capitol have died by suicide. This brings the total to four officers who have taken their own lives following the insurrection.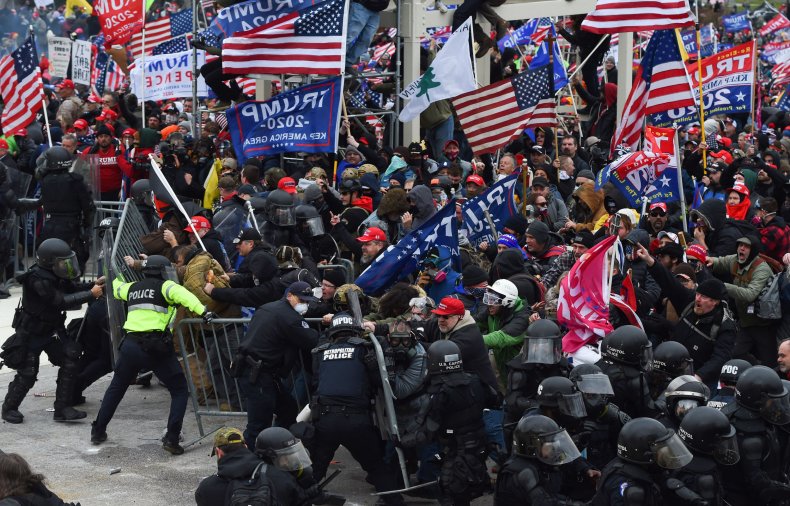 The first suicide announced on Monday was that of Officer Gunther Hashida of Washington, D.C.'s Metropolitan Police Department (MPD). The department confirmed Hashida committed suicide on Thursday.
Hashida, 43, was a week away from celebrating his birthday. He was married with three children. It is unclear how he took his own life.
Later on Monday, a department official also announced MPD Officer Kyle DeFreytag was found dead on July 10. A memorial service was held for DeFreytag over the weekend. There was no information provided about how DeFreytag died.
News of Hashida's death spread on Twitter and House Speaker Nancy Pelosi released a statement on Monday afternoon before DeFreytag's death was made public.
The first law enforcement agent who committed suicide following his involvement in protecting the Capitol was U.S. Capitol Police officer Howard Liebengood. Three days after the riot, Liebengood, 51, took his own life. Though an official cause of death was not announced, his widow said he had been sleep-deprived in the days following the insurrection and killed himself at home after a work shift. A family attorney also confirmed the death was by suicide.
"His death is a tragedy that has deprived all of us a dedicated public servant," attorney Barry Pollack said in a statement following Liebengood's death. "His family has suffered a devastating loss and asks that they be given space to grieve in private."
Former Senator John Kerry paid homage to Liebengood on Twitter after news broke of his death. Kerry said the officer used to guard the door near his office. The former presidential nominee wrote, "Howie always had a smile on his face, but he also showed great care for the safety of the young staff who worked behind our office doors."
The second officer who committed suicide was MPD Officer Jeffrey Smith. During the attacks, Smith was struck by a metal pole thrown by rioters that hit his helmet and face shield. He was given a short medical leave but was ordered back to work despite his wife later saying he was in considerable physical and emotional pain.
Smith, 35, shot himself in the head on the way to work on January 15.
The widows of Liebengood and Smith have both sought to have their husband's deaths be designated as having happened in the line of duty.
U.S. Capitol Police Officer Brian Sicknick died the day after he worked to protect the Capitol. During the insurrection, he was pepper-sprayed by rioters, which was believed to have hastened two thromboembolic strokes on January 7. He was briefly on life support before dying.
A GoFundMe page was set up to help Hashida's family with expenses related to his death.
"On July 29, 2021, we lost Gunther Hashida, who leaves behind a loving wife, sister, 3 children, and a wonderful family," a message on the page read. "In his work as an officer with the DC Metropolitan Police Department, he worked to serve and protect the public. He was a devoted and loving husband and father. This fund will help support his memorial service and his family in the loss of his love and guidance."
Speaker of the House Nancy Pelosi issued the following statement about Officer Hashida's death:
"On behalf of the House of Representatives, I send deepest condolences to the family and loved ones of Metropolitan Police Department Officer Gunther Hashida.
"Officer Hashida was a hero, who risked his life to save our Capitol, the Congressional community and our very Democracy. All Americans are indebted to him for his great valor and patriotism on January 6 and throughout his selfless service.
"May Officer Hashida's life be an inspiration to all to protect our Country and Democracy. And may it be a comfort to Officer Hashida's family that so many mourn their loss and pray for them at this sad time."
Update 08/02/21 5:15 p.m. EDT: This story has been updated to include a statement from Speaker of the House Nancy Pelosi.
Update 08/03/21 10:30 a.m. EDT: This story was further updated to include information about the death of Officer Kyle DeFreytag.