3 Cities Saw COVID Cases Increase By Triple Digits Over 8 Weeks Despite Mask Mandates
As the U.S. grapples with a record-breaking surge in coronavirus cases, officials across the country are imploring residents to wear face coverings, practice social distancing and generally limit contact with individuals outside of their immediate households.
While health authorities uphold masks as a leading virus mitigation strategy, outbreak curves have spiked even in areas that require people to use them. Nashville, New York City and Seattle recorded some of the most significant upticks over the past eight weeks, despite longstanding mask mandates.
Outbreak curves in all three cities fell dramatically in the weeks that followed the passing of their respective mask mandates, and either declined or remained fairly stable through most of September. Toward the end of the month, each city's daily cases started to rise again, coinciding with other spikes across the country. Eight weeks later, data shows the weekly moving average of COVID-19 cases diagnosed daily in Nashville's Davison County, has increased by 350 percent, with a nearly identical increase seen in New York City. In King County, home to Seattle, the weekly average increased by 530 percent in the same time frame.
"The big picture is that we're heading into the fall and winter months. And unfortunately, we've known that this was going to happen," said Charles DiMaggio, an injury epidemiologist and professor of surgery and population health at New York University's School of Medicine, of rising COVID-19 cases.
Public health experts attribute spiking outbreaks to a combination of factors. The likelihood that individuals are complying with state or local mask mandates in public areas, but failing to do so during private social gatherings, is chief among the probable causes. Seasonal changes also play their part, given that lower temperatures encourage people to spend more time with others indoors, where risks of virus transmission are elevated. Evidence additionally points to the heightened transmission of COVID-19 in cold, dry weather conditions.
"Regardless of efforts you can take to prevent it, there is a seasonality to these kinds of viruses, and I would say there is a seasonality to this virus," DiMaggio continued. "And I would say that probably one of the major driving factors for the increases across the U.S., whether it's cities and municipalities that have mask mandates or those that don't, is just the fact that it's a viral behavior."
Dr. Ali Mokdad, a professor of health metrics sciences at the Institute for Health Metrics and Evaluation at the University of Washington, agreed, although he stressed that continued mitigation will stave off more severe consequences of inevitable ongoing transmission.
"Wearing a mask will bring the circulation down. However, the fact that we are moving into winter, the seasonality and weather is working against us. Cases will increase," he explained. "So the balance between these two, that's what will determine if there is an increase or a reduction."
In addition to confining people to settings where COVID-19 can more readily circulate, the oncoming winter weather likely means people are wearing masks in social situations less often, Mokdad added.
"Because we are indoors, and because when we are indoors we don't go to strangers, we go to our friends and family," he said. "So, you are more likely to let down your guard around the people that you trust and feel safe around."
The U.S. coronavirus outbreak gained renewed momentum with the onset of the fall season. Those regions where early mitigation efforts successfully lowered high transmission rates began reporting climbing case counts for a second time in mid-September, while rural areas that emerged relatively unscathed from the spring's first COVID-19 wave became national hotspots.
As of late November, the U.S. is confirming more than 160,000 average infections per day, and the nation's outbreak curve is charting a dangerously steep trajectory. An influx of COVID-19 patients again threatens to overwhelm hospital systems, and, as of this week, a quarter-million people have died from the respiratory disease in the U.S. alone. With upwards of 11.6 million cases confirmed since March, the infection count remains unsurpassed by any other affected nation.
The Centers for Disease Control and Prevention (CDC) released formal guidance in April that established face masks and physical distancing as two practices that everyone should follow until COVID-19 has run its course, since both greatly reduce risks of transmitting the virus through close interpersonal contact. Because of this, numerous leaders across the U.S. have implemented mandates that require people to comply with CDC guidance in public spaces.
In certain areas, virus mitigation measures were met with fierce resistance, giving rise to a wave of anti-mask protests and calls to end COVID-19 restrictions. In May, armed protesters stormed Michigan's capitol building to demand an end to the state's then-active stay-at-home order.
Now, with transmission rates climbing in the days and weeks ahead of the holidays, officials have reissued restrictions in urgent attempts to discourage social gatherings. New York recently issued a state order that regulates operating hours for bars, restaurants and fitness facilities, and also limits private social gatherings to 10 people.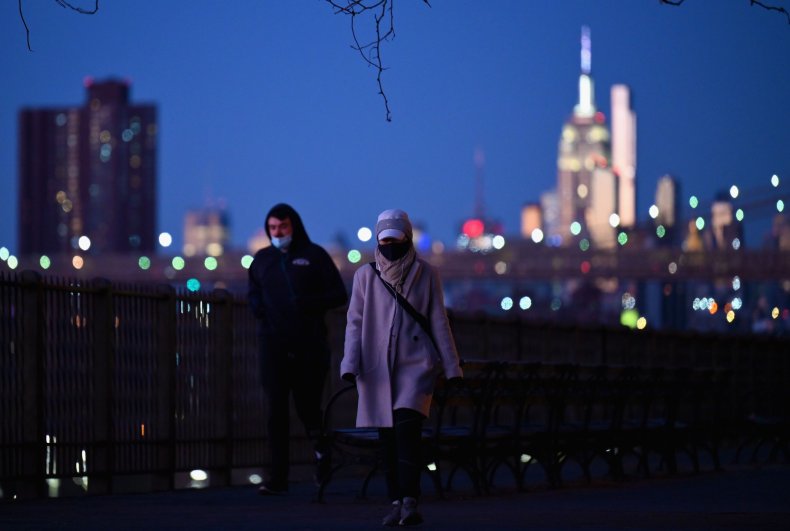 As people plan their Thanksgiving celebrations, experts say vigilance about consistent mask use and reduced social contact is crucial from a public health perspective. However, they acknowledge the psychological and emotional burdens of doing so. Addressing this, DiMaggio cited public "fatigue" as a secondary factor fueling recent case increases.
"And it's understandable," he said. "It's hard to sustain the kinds of levels of behavioral changes that public health officials are asking folks to do. It's human nature to want to be together, especially this time of year...and the virus thrives on that."
Until a COVID-19 vaccine candidate is proven safe, authorized for distribution and is accessible to the general population, the widespread use of face coverings is considered the most productive means to slow the spread of COVID-19, when coupled with adequate physical distancing, health experts say.
"What we don't know is, if a mask mandate weren't in place, how much worse [an outbreak] would be, potentially," said Melissa McPheeters, an adjunct research professor of health policy at Vanderbilt University, who co-authored a recent study that examined county-specific COVID-19 data in relation to local mask mandates.
The report found that COVID-19 death rates were twice as high in counties where mask mandates were enacted compared with those where they were not. It also tracked hospitalizations and found patient admissions increased more sharply in counties without a mandate than those with one in place.
"But it's not that the counties with the mask mandates have zero [cases, hospitalizations and deaths]," McPheeters added. "It's that they're not growing as fast."