Three police officers have been charged with manslaughter and reckless endangerment for killing 8-year-old, Fanta Bility, and wounding three others outside a football game in Philadelphia.
According to a news release from the Delaware County District Attorney's office, Devon Smith, Sean Dolan and Brian Devaney—three Sharon Hill Police officers—are charged with 12 criminal counts of manslaughter and reckless endangerment for their actions. Bail is set at $500,000 for each defendant.
Two teenagers, Angelo "AJ" Ford, 16, and Hasein Strand, 19, got into an argument firing off guns outside the football game in Sharon Hill. According to the Associated Press, investigators said officers returned the gunfire, firing into the crowd leaving the game and striking a car.
Before Tuesday's decision, Delaware County District Attorney Jack Stollsteimer wanted to charge each teen with first-degree murder since their actions started the events causing Bility's death. However, he faced opposition and was asked to drop the charges.
"We want to be clear that these two young men deserve to face appropriate consequences for their actions—but the way in which this case has unfolded defies logic," Philadelphia City Councilmembers said in a statement.
"I fully realize that the tragic death of Fanta and the trauma inflicted on her family, the other victims, and community members involved, has been emotionally draining to all, including the investigators and prosecutors assigned," Stollsteimer said in a statement. "No one touched by this incident will ever be the same. I hope that today's announcement will help the community begin to heal through the knowledge that all the individuals who fired guns that night are being held accountable for their actions under our laws."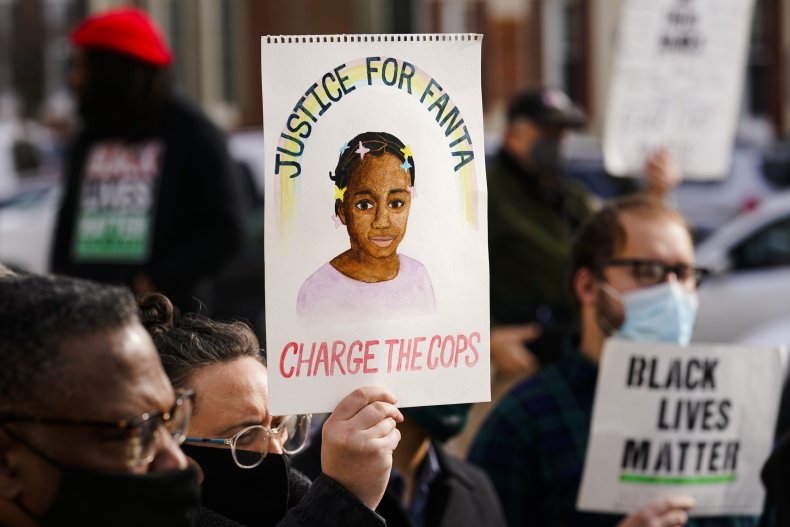 Strand pleaded guilty to aggravated assault and illegal possession of a firearm. According to a news release, he will serve anywhere from 32 to 64 months in prison.
Ford still faces charges for attempting "to kill Strand," but his preliminary hearing has been postponed.
Sharon Hill solicitor, Sean Kilkenny, said the council plans to vote on a motion to fire the three charged officers later this week in light of recent findings.
Joseph Fitzgerald, the Delaware County Fraternal Order of Police Lodge 27 president, supported the officers in a statement to the Associated Press.
"This is a sad day for our officers, who face criminal charges for trying to do their jobs and keeping the community safe," Fitzgerald stated. "The FOP continues to support these fine officers and will provide a vigorous defense against these allegations."
According to a statement released by Philadelphia City Councilmembers, the police shot 25 rounds into the street, prompting questions about their training, judgment and fitness to serve.
"As taxpayers who provide the salaries for police officers, residents deserve to have competent law enforcement professionals that uphold public safety and protect the peace," the statement reads.
In the shooting aftermath, borough officials hired an outside firm to audit the police department's policies and training.