3 Doors Down Fans on How They Feel About the Band Playing Trump's Inauguration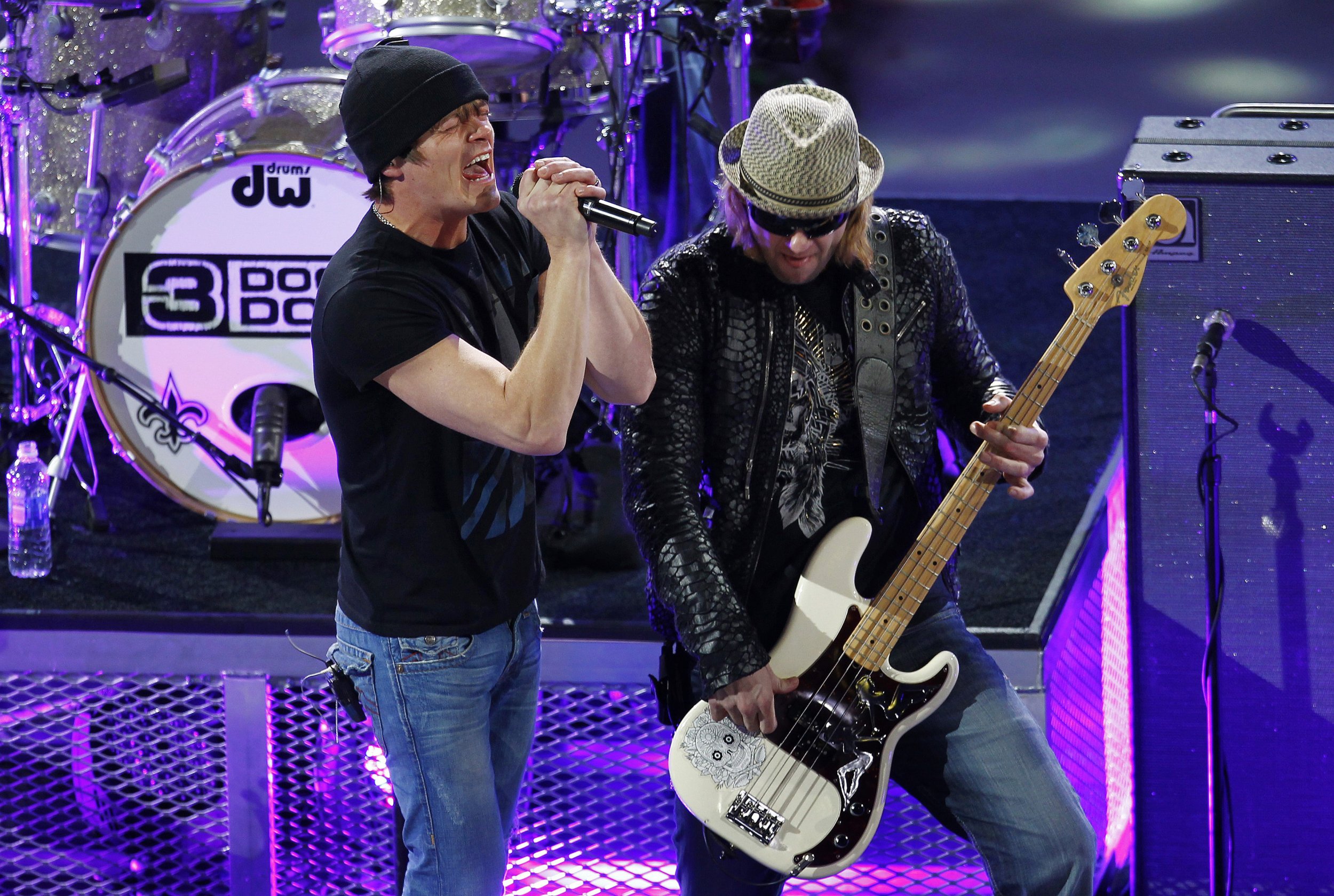 As the famous adage says, if you can imagine it, it exists on the internet.
Furry porn? Sure. Elbow fetishes? Yep! Anderson Cooper fanfiction? Ken Bone conspiracy theorists? Diehard 3 Doors Down fans? Yes, yes and—well, yes: There are 3 Doors Down fans out there, and they've just been through an emotional rollercoaster. Be gentle.
After weeks of rejection from the living and dead, Donald Trump finally landed some performers for his upcoming inauguration: Toby Keith, Lee Greenwood, Jennifer Holliday and—most unexpectedly—the post-post-grunge band 3 Doors Down. The Mississippi-formed band is best known for the 2000 megahit "Kryptonite." (If you're old enough to remember the year 2000, you will recognize this song as "that Superman song.") Appropriately, the group also had a successful single that shares its name with one of Trump's favorite insults: "Loser."
Contrary to popular belief, the members of 3 Doors Down have not been serving as roadies for Third Eye Blind since 2003 and in fact went on to release five more albums after 2000's The Better Life. Their most recent release, 2016's Us and the Night, made it to No. 14 on the Billboard 200 albums chart. Presently, the group's 2017 tour dates include shows at the Burton Cummings Theatre in Winnipeg, several casinos in Canada, a Strawberry Festival in Plant City, FL and a Trump inauguration celebration at the Lincoln Memorial.
For liberals, the band's inauguration booking was greeted as an instant punchline: President Obama drew dozens of celebrities to the White House for a farewell party, while Trump is settling on a band that is the physical embodiment of a VH1 I Love the 2000s segment.
Related: Even dead people are declining to perform at Trump's inauguration
But what about their true fans? I set out to find some diehard 3 Doors Down fans, which at first proved difficult: The 3 Doors Down fanclub Twitter account (@3DDFanClub) has not tweeted since 2011. The band's Brazilian fanclub appeared to be more active, but that Twitter is set to private. I found some self-proclaimed 3DD obsessives among the fanclub's 447 followers, but they also hadn't tweeted in years.
Finally, I glanced at the replies to 3 Doors Down's tweet, and there I found a tweet by @3doorsfan:
Reached by phone, @3doorsfan (let's call her "Amy," which is not her real name, because she fears jeopardizing her employment by speaking out against Trump) told me that she is so upset, she's considering changing her Twitter handle.
Amy has been a 3 Doors Down fan since the group's first album was released in 2000. Upon hearing their song on the radio, "I was blown away by how good they were," she says. "I liked their sound. I liked that kind of music." She's seen the band in concert six or seven times over the years, and her favorite album of theirs is 2005's Seventeen Days.
Amy is not a Trump fan, but on Friday she learned from a news alert that her favorite band will perform in celebration of the 45th president's inauguration. "Ugh—literally, that was my reaction," she says. "I was very disappointed. I know that they are very supportive of Republicans. That's never bothered me. It's just this particular Republican." (Her disgust with Trump stems from his lack of political experience and the sense that "he's very disrespectful to a great number of people in our country—minorities, women.")
She has tickets to an upcoming 3 Doors Down concert in Florida, but now isn't sure if she'll go. "It was just sad for me, because they're one of my favorite groups musically. Am I going to throw away my CDs? I haven't listened to my CDs in a long time; a lot of music is digitized. But I'm pretty mad. I don't know if I'm going to boycott going to this next event. Might just be turned off of it, honestly."
Another longtime 3DD fan, Tian El, tweeted five thumbs-down emojis to indicate his disappointment.
"I didn't think that a band that's helped so many fans throughout the years would actually [end up] performing at Trump's inauguration," El says. "It's just—it just killed it. I was surprised, shocked and kind of really disappointed." El grew up in Puerto Rico and has fond memories of performing the song "Kryptonite" in a talent show when he was in high school in the early 2000s. "Every time I listen to that song, it's a constant reminder of [that performance] and, ah, the good times."
Now, it feels tainted.
"It killed off any future investment, at least from me. To buy their CDs or even see them perform live. I'm very anti-Trump. I really don't agree with anything of his vision for this country." He added, "To me, the band should actually think before they proceed to do something like that. They should actually look into their fanbase and not allow something like that to happen."
Other fans tweeted their discontent. "3 Doors Down is playing the Trump Inauguration?" asked Nate Endres. "Consider my planned trip to the Walworth County Fair canceled. You just lost a fan....." A self-proclaimed "MusicLovingLiberal" tweeted, "Met you in Boston, seen you perform 4x, but will never attend another show of yours ever again.." A small handful of 3 Doors Down fans have been more supportive of the group's decision.
The band's Facebook page was also flooded with comments about Trump, including on a post memorializing a deceased band member. Presumably, fans of Toby Keith—known for conservative-leaning country songs like "Courtesy of the Red, White, & Blue (The Angry American)"—were less fazed.
I asked Amy (@3doorsfan) what she will change her Twitter handle to. She's not sure. "I might keep it and add 'former' in there. '@Former3DoorsFan.' That's probably what I'll end up doing."