3 Georgia State Senators Lose Committee Posts Over Calls to Overturn Presidential Election
Three Republican state senators from Georgia have lost their leadership positions after they joined calls to overturn the presidential election.
According to The Atlanta Journal-Constitution, Lieutenant Governor Geoff Duncan stripped senators Brandon Beach, Matt Brass and Burt Jones of their chairmanships of various committees as a new Georgia Assembly session convened this week.
Beach and Jones were removed as chairs of the transportation committee and the insurance and labor committees, respectively. According to the Journal-Constitution, neither lawmaker will even be a ranking member on the two panels. Brass will still oversee the banking committee but was demoted from serving as a chairman on a more politically influential committee.
Newsweek reached out to the lieutenant governor's office, as well as the three senators, for comment but didn't receive a response in time for publication.
Jones referenced his demotion in a tweet, sharing an article from The Tennessee Star with the headline "Georgia GOP State Senators Who Fought for Election Integrity Stripped of Committee Chairmanships."
Jones told the online newspaper, "Miraculously, they decided that some of us weren't worthy of chairmanships anymore," adding, "It doesn't take long to connect the dots."
Duncan announced the full list of committee chair assignments in a statement on January 12, writing that the lawmakers are "uniquely qualified to develop real and lasting solutions aimed at building a better Georgia."
"The Senate will continue to prioritize diligent committee work and sound public policy, and I look forward to working closely with each one of our chairs, and their committee members, as we work to enact policies that advance both the lives and livelihoods of all Georgians," Duncan added.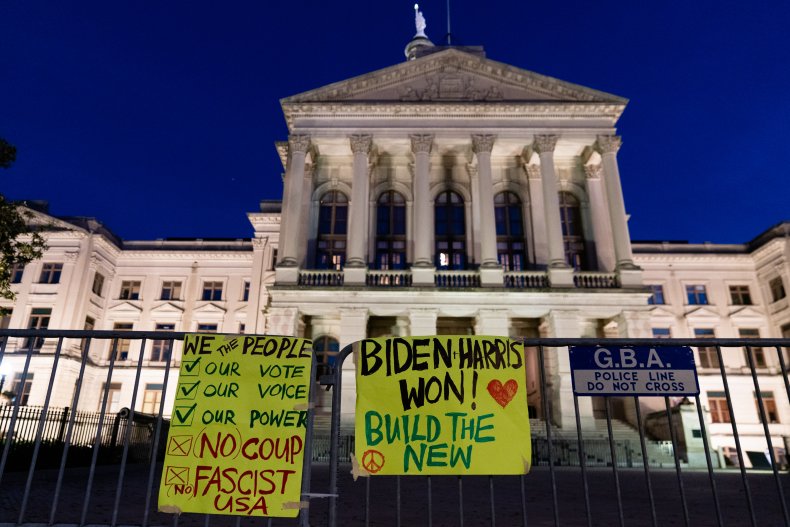 President-elect Joe Biden won Georgia by roughly 12,000 votes, making him the first Democrat to win the Peach State in 28 years. Georgia has conducted numerous audits of the race, all of which found no evidence of widespread voter fraud. One signature match audit in Cobb County found its elections department had a "99.99% accuracy rate in performing correct signature verification procedures."
The state has now certified Biden's electoral win on two occasions and recounted the more than 5 million votes cast three times.
But Georgia became a focal point in Trump's baseless post-election narrative of election irregularities and fraud. The president and his allies launched several lawsuits challenging the results, but nearly all of them failed. Texas Attorney General Ken Paxton even appealed to the Supreme Court to throw out the election results in Georgia and three other key battleground states. The lawsuit was supported by Beach and Jones.
Beach, Brass and Jones were also among a group of senators who signed a letter addressed to Vice President Mike Pence urging him to delay the certification of Biden's victory, according to the Journal-Constitution. But Congress ultimately affirmed Biden's 306-272 Electoral College victory in the early-morning hours of January 7.