3 Swing States at 'Highest Risk' for Militia Activity Leading up To and Following Presidential Election, Report Says
A recent report by leading conflict monitor the Armed Conflict Location & Event Data Project (ACLED), in conjunction with MilitaWatch, found that swing states—including Michigan, Pennsylvania and Wisconsin —are at a "higher risk" of militia activity due to the election. Other states the report considered high risk are Georgia and Oregon.
In their October report titled "Standing by: Right-Wing Militia Groups & The U.S. Election", ACLED and MilitaWatch stated that "capitals and peripheral towns, as well as medium-population cities and suburban areas with centralized zones, in Georgia, Michigan, Pennsylvania, Wisconsin, and Oregon are at highest risk of increased militia activity in the election and post-election period." The report noted that swing states have added risk due to their population's political divide.
ACLED and MilitiaWatch based their findings on their collection of records tracking the activities of over 80 militia groups across the U.S. in the recent summer months. The data under this review was collected between May 14th to October 17th.
Of the militias tracked throughout the study, ACLED reported that the majority were right-wing armed groups such as the Three Percenters, the Oath Keepers and the Proud Boys, among others. Although libertarian and left-wing groups—such as the non-centralized Antifa movement—are represented, ACLED stated that their activity is not as pronounced, and violent activities from these groups have been minimal.
ACLED and MilitiaWatch claimed the recent rise in social justice activism and public health restrictions due to the coronavirus pandemic are possible reasons for the recent activity of the majority of right-wing militias.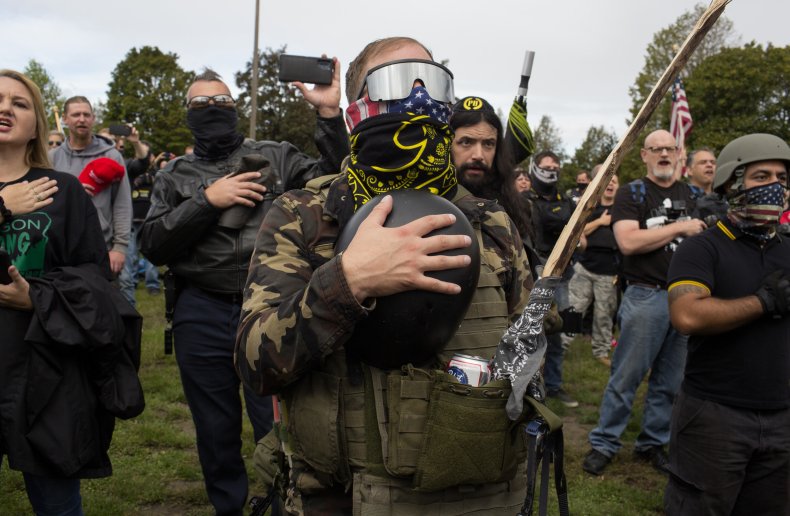 "Ahead of the election, right-wing militia activity has been dominated by reactions to recent social justice activism like the Black Lives Matter movement, public health restrictions due to the ongoing coronavirus pandemic, and other perceived threats to the 'liberty' and 'freedoms' of these groups," the report said. ACLED and MilitiaWatch identified high-risk locations by analyzing the trends of activities that drive these militia groups.
ACLED reports that the majority of militia demonstrations were partisan reactions to the BLM movement and public health restrictions amid the coronavirus pandemic.
In Georgia, the report stated that 61 percent of militia demonstrations were associated with the BLM movement, following the death of George Floyd in late May. The percentage of BLM associated demonstrations increased to 71 percent in Oregon and 73 percent in both Michigan and Wisconsin, according to the report.
It also noted the impact of public health restrictions. In Wisconsin, ACLED reports over 11 percent of demonstrations since May in that state have been fueled by reactions to coronavirus restrictions—with similar trends occurring in Michigan, Pennsylvania, Georgia, Oregon and Pennsylvania.
"Still, these risks do not mean that violence is inevitable," an ACLED representative told Newsweek on Friday. "Voters should not be intimidated. Rather, we hope people are able to use the data to evaluate their own threat environment and organize locally to stay safe, reduce polarization in their communities, and ultimately mitigate the risk of violence."
Updated October 24, 2020, 8:19 AM ET, with a statement from ACLED.