300 New York City Schools Could Close This Week as Hotspots See COVID Cases Rise
About 300 public and private schools across two New York City boroughs could halt in-person instruction in the days ahead, if a new proposal is approved by the state government. Mayor Bill de Blasio announced the proposal on Sunday, saying it involved closing schools and nonessential businesses in nine ZIP codes located in parts of Brooklyn and Queens.
"We've seen consistently high COVID-19 numbers in 9 zip codes across South Brooklyn, Far Rockaway and Central Queens," De Blasio tweeted Sunday afternoon. "We're providing these areas with additional resources, but when presented with new information, we must act. We won't risk the progress we've made."
"Today I'm announcing a proposal to close ALL schools and nonessential businesses in these zip codes on Wednesday, October 7," he continued. If approved, the possible closures would affect about 500,000 people in Edgemere, Far Rockaway, Borough Park, Gravesend, Homecrest, Midwood, Bensonhurst, Mapleton, Flatlands, Midwood, Gerritsen Beach, Sheepshead Bay, Kew Gardens, Kew Gardens Hills and Pomonok.
"This was not an easy choice to make, and let me be clear: we haven't seen any issues in these schools. We must, however, be proactive about the safety and health of New Yorkers," De Blasio added.
The mayor pinpointed nine ZIP codes that encompass the neighborhoods listed as COVID-19 hotspots last Tuesday, when New York City's daily rate of positive coronavirus test results exceeded 3 percent for the first time in months. De Blasio said significant upticks in COVID-19 transmission observed in the ZIP codes mentioned were contributing heavily to the city's elevated test-positivity rate overall, and urged residents of those areas to get tested immediately. At the time, he said the city would dedicate additional resources to expanding contact tracing efforts and access to diagnostic tests in each impacted neighborhood.
During his Sunday news conference, De Blasio said all nine ZIP codes maintained test-positivity rates above 3 percent for the past seven days. In addition to closing school buildings in those areas, most of which only began to reopen classrooms last week, the mayor's new proposal would limit restaurants to pickup and takeout services until infection rates fall below 3 percent after two weeks. If COVID-19 cases continue to rise, it recommends extending mandated closures.
De Blasio is also advocating for restrictions on high-risk establishments and activities, such as fitness facilities, pools and indoor dining services, in 11 ZIP codes where test-positivity rates are nearing 3 percent, or have reached 3 percent but have not maintained it for a full week. Neighborhoods located in those ZIP codes include: Bedford-Stuyvesant, Clinton Hill, Fort Greene, Williamsburg, East Williamsburg, Brighton Beach, Manhattan Beach, Bergen Beach, Marine Park, Mill Basin, Crown Heights, and a handful of others.
The mayor acknowledged his proposal requires approval from state officials before it can be implemented. Although New York Governor Andrew Cuomo has not yet addressed De Blasio's request for school and business closures, he said the state "will be doing aggressive enforcement" in hotspot areas beginning on Monday.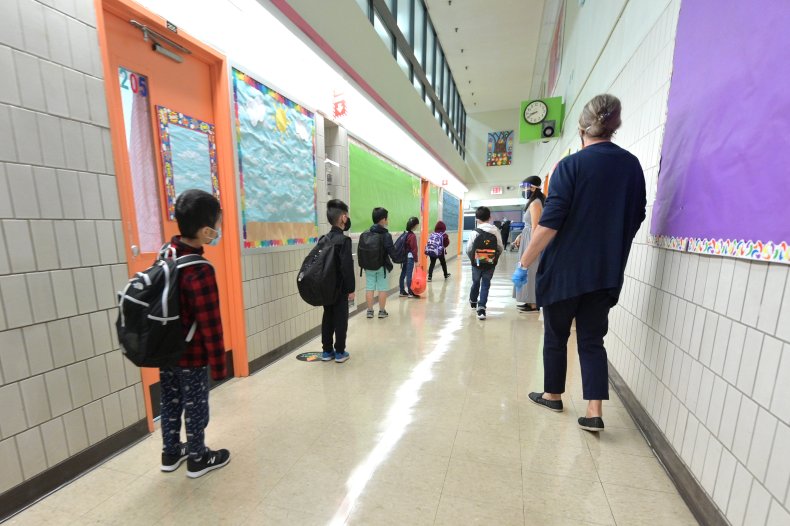 "The State cannot take over effective enforcement for every jurisdiction and if a local jurisdiction cannot or will not perform effective enforcement of violating entities, notify the State and we will close all business activity in the hot spots where the local governments cannot do compliance," the governor said in a statement released on Sunday.
Newsweek reached out to De Blasio's office for additional comments but did not receive a reply in time for publication. Cuomo's office directed Newsweek to the governor's Sunday statement.