New York City Coronavirus Positivity Rate Rises Above 3 Percent for First Time Since June
New York City's rate of positive tests for the new coronavirus exceeded 3 percent on Tuesday, the highest daily figure reported since early June. Mayor Bill de Blasio announced the latest COVID-19 statistics during a news conference late Tuesday morning, where he discussed the uptick in cases.
"Obviously, everyone is concerned about [the test-positivity rate]," De Blasio said. "That is something we all have to work on together to address, and something that says to us, we have to be on high alert to make sure we fight back this challenge."
Although the city's most recent test-positivity rate is significantly lower than those recorded during the first several months of the pandemic, when New York was considered the virus' global epicenter, Tuesday's figure marks a sizable increase from figures confirmed over the past three months. The rate jumped from below 2 percent positivity reported citywide on Monday.
De Blasio said Tuesday's elevated number is partially due to increased positivity rates seen in nine New York City ZIP codes, which are located in predominantly Orthodox Jewish communities across Queens and southern Brooklyn. The neighborhoods that de Blasio described as "areas of continued concern" are Bensonhurst, Borough Park, Edgemere, Far Rockaway, Flatlands, Gravesend, Gerritsen Beach, Homecrest, Kew Gardens, Mapleton, Midwood and Sheepshead Bay.
Individual test-positivity rates reported in those areas ranged from 5.2 percent to 6.7 percent on Tuesday, and de Blasio said one-fourth of all coronavirus cases diagnosed in New York City over the past two weeks were confirmed in the neighborhoods listed. Despite higher daily rates of positive COVID-19 tests, the city's seven-day rolling average was 1.38 percent on Tuesday, which the mayor noted was "well below threshold."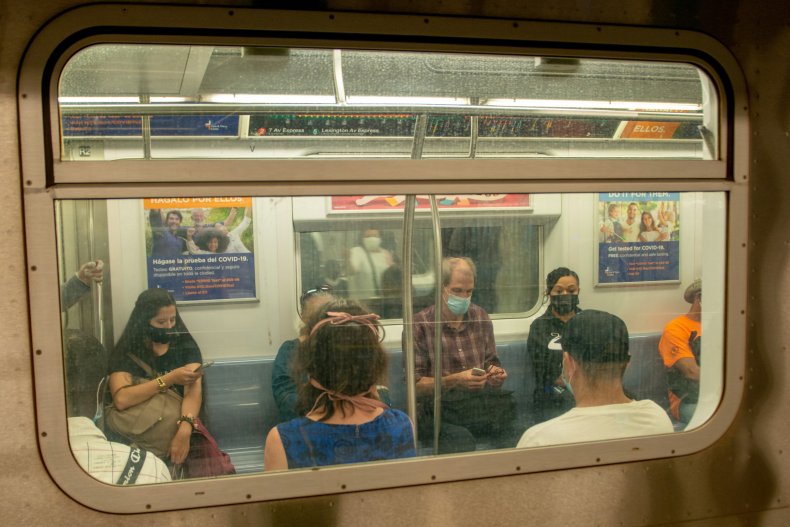 Still, the rise in positive virus tests could pose challenges as New York City begins to reopen public schools for in-person instruction and allow restaurants to resume indoor dining services this week. De Blasio urged all residents of those neighborhoods where test-positivity rates are particularly high to get tested for COVID-19, so the city can assess the spread of the virus more accurately. He said city officials are working to increase community outreach and expand testing access in the nine ZIP codes mentioned.
The mayor also reiterated New York City's mandatory mask-wearing policy, which requires individuals to wear face coverings in public areas where adequate social distancing is not possible. He said those who refuse to wear one will be fined for the offense if a city official asks them to do so and they do not comply.
Newsweek reached out to the New York City Department of Health and Mental Hygiene for additional comments but did not receive a reply in time for publication.