As the country's largest school district prepares to launch its phased return to in-person instruction since buildings closed in March, a New York City union representing thousands of public education leaders is calling for "immediate intervention" from the State Education Department.
On Sunday morning, the Council of School Supervisors and Administrators (CSA) issued an announcement requesting New York City Mayor Bill de Blasio relinquish control of the Department of Education (DOE) until the new coronavirus pandemic has subsided. After CSA's executive board members took a unanimous vote of "no confidence" in de Blasio and New York City Schools Chancellor Richard Carranza, the union additionally urged both officials to seek assistance from state education authorities.
The CSA said executives declared a no confidence vote "due to [de Blasio and Carranza's] failure to lead New York City through the safe and successful reopening of schools" in its Sunday announcement. The union represents more than 6,400 principals, assistant principals, supervisors and education administrators employed by the city's vast network of public schools.
More than 1.1 million students are enrolled in public schools across New York City. Although surveys conducted over the summer showed most students' parents wanted their children to return to classrooms in the fall, educators have voiced growing concerns about the risks of doing so while COVID-19 transmission persists. New York City was once considered the world's viral epicenter, and recent data reflected an uptick in daily diagnoses following several months of lower case numbers.
School leaders want school buildings reopened and have been tirelessly planning to welcome back students since the end of last school year," said Mark Cannizzaro, the president of CSA, in a statement on Sunday. "They must now look staff, parents, and children in the eye and say that they have done all they can to provide a safe and quality educational experience, but given the limited resources provided them, this is becoming increasingly difficult."
"During this health crisis, school leaders have lost trust and faith in Mayor de Blasio and Chancellor Carranza to support them in their immense efforts and provide them with the guidance and staffing they need," his statement continued. "Quite simply, we believe the City and DOE need help from the State Education Department, and we hope that the mayor soon realizes why this is necessary."
New York City's education department originally planned to initiate a hybrid learning model for students beginning September 10—but the return was delayed until last Monday, as de Blasio faced ongoing pushback from unions who said schools needed more time to prepare. At the time, 75,000 unionized teachers were planning to strike.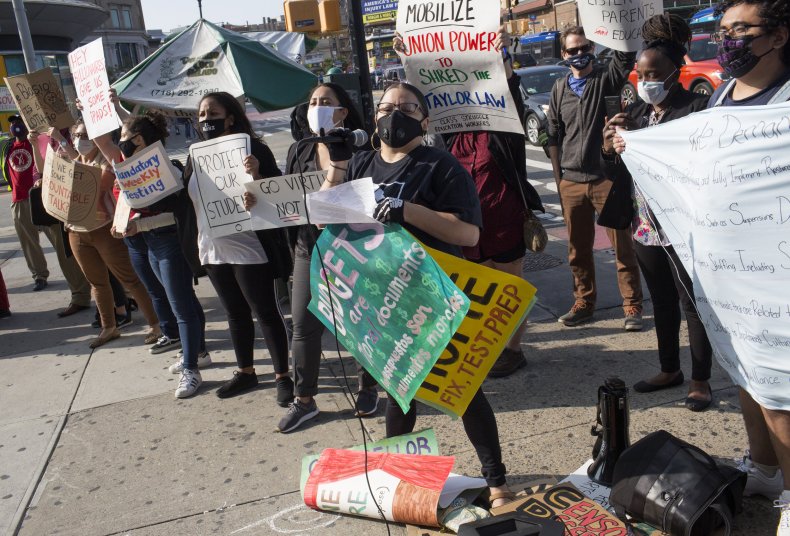 Remote learning commenced for some students on September 21, with elementary schools set to resume in-person instruction this upcoming Tuesday, according to the New York City education department's public calendar. Middle and high school students will begin returning to classrooms on Thursday. The city's blended learning approach allows students to attend school part-time and learn remotely during the remaining weekdays in an effort to maintain physical distancing in classrooms. There is also an option for students to learn remotely on a full-time basis if their families prefer.
Newsweek reached out to de Blasio's office for comments, but did not receive a reply in time for publication.