New York Reports Over 1,000 New COVID Cases for First Time in 113 Days
The state of New York on Saturday reported more than 1,000 new coronavirus cases—numbers not seen in the former worldwide epicenter in 113 days.
There were 1,005 positive COVID-19 cases counted on September 25, Governor Andrew Cuomo announced Saturday. Nearly 100,000 tests were conducted statewide, keeping the positivity rate at 1 percent.
While New York is faring better than other states—Florida, for instance, reported 2,791 new cases—the uptick is concerning. Four areas in New York City remain under scrutiny among health officials as they accounted for 20 percent of the city's new coronavirus cases in a period of just four days.
One of the areas, a section within southern Brooklyn containing three different neighborhoods, was labeled as the Ocean Parkway Cluster and reported a concerning 4.71 percent infection rate.
"At this point in time, these increases could potentially evolve into more widespread community transmission and spread to other neighborhoods unless action is taken," the New York City Department of Health and Mental Hygiene wrote in an email to Newsweek.
Gareth Rhodes, a member of Cuomo's COVID-19 Response Task Force, pointed to these areas in the state as particular cause for concern. Neighborhoods in Brooklyn, as well as the lower Hudson Valley, have seen an increase in new cases and positivity rates, and are the driving force behind new hospital admissions, Rhodes tweeted Saturday.
The key is ensuring that these clusters do not spread to neighboring areas, he wrote, echoing the city's health department. Rhodes added, however, that the large number of tests conducted Friday skews the data slightly. In June, the last time the state had recorded 1,000 new cases, New York was averaging around 60,000 tests per day, he wrote.
The state's overall positivity rate remains flat. It has been under 2 percent since June 3, at 1.1 percent or below since July 22 and at 1 percent or below since August 4, Rhodes tweeted. These are significant benchmarks for a state that was once reporting more than 10,000 positive cases per day and percent positivity rates of around 40 percent.
New York has also seen better numbers among people in the 18- to 22-year-old age group, making up 16 percent of all positive cases in the state Friday, Rhodes said. Elsewhere in the country, states have grappled with their college-aged populations, as many students have not adhered to social distancing guidelines set forth by their universities, resulting in campus shutdowns.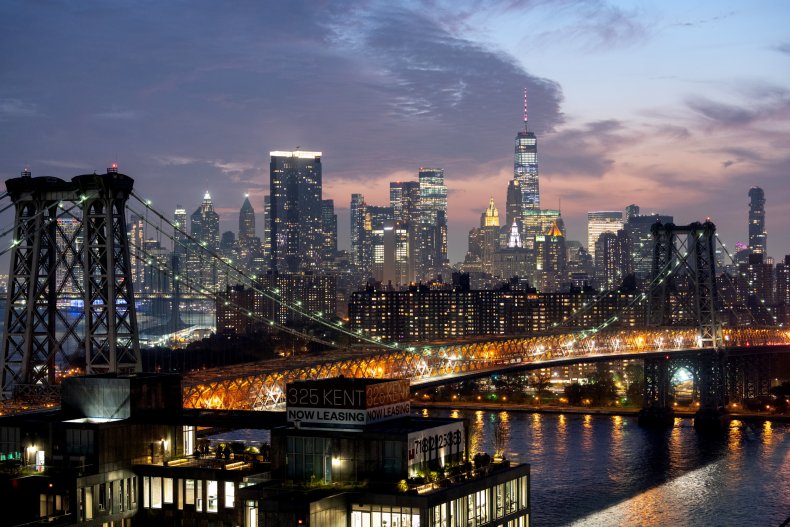 Cuomo on Saturday emphasized several precautions that were needed to continue slowing the virus's spread.
"As we move into the fall and flu season, wearing masks, socially distancing and washing hands make a critical difference, as does the deliberate enforcement of (regulations)," he said in a statement.
When contacted for comment, a spokesman for the New York State Department for Health directed Newsweek to Cuomo's update and Rhodes' tweets.