As shifting immigration policies under President Joe Biden's administration prompts an influx of arrivals at the southern U.S. border, insufficient resources point to a rapidly emerging humanitarian crisis.
Internal government documents reportedly accounted for about 4,200 unaccompanied migrant children in short-term holding facilities operated by U.S. Border Patrol on Sunday morning, where almost 3,000 had been detained longer than the established legal window, according to CBS News. Federal policy states that minors in custody of Customs and Border Protection (CBP), a branch of the U.S. Department of Homeland Security, must be transferred out within 72 hours.
Enforcement personnel are required to transport youth apprehended at the border to shelters run by the Office of Refugee Resettlement, a division of the Administration for Children and Families at the Department of Health and Human Services. Minors spend an average of 42 days in shelters before they are released to a guardian or sponsor's care.
It is widely recognized that short-term holding facilities—where a growing number of migrant children are now being detained for an average of 117 hours, CBS News reported—are particularly unsuited to meet the needs of young people. On Saturday, Homeland Security Secretary Alejandro Mayorkas reiterated that "a Border Patrol facility is no place for a child" in a statement announcing plans to expand shelter capacity for migrants with assistance from the Federal Emergency Management Agency.
"We are working in partnership with HHS to address the needs of unaccompanied children, which is made only more difficult given the protocols and restrictions required to protect nth public health and the health of the children themselves," Mayorkas said in the statement. "Our goal is to ensure that unaccompanied children are transferred to HHS as quickly as possible, consistent with legal requirements and in the best interest of the children."
A CBP spokesperson was not able to confirm statistics related to the volume of unaccompanied children currently being held at the southern border, or the number of children who spent longer than 72 hours in short-term holding facilities on Monday. The spokesperson instead referred Newsweek an official statement from the Department of Homeland Security.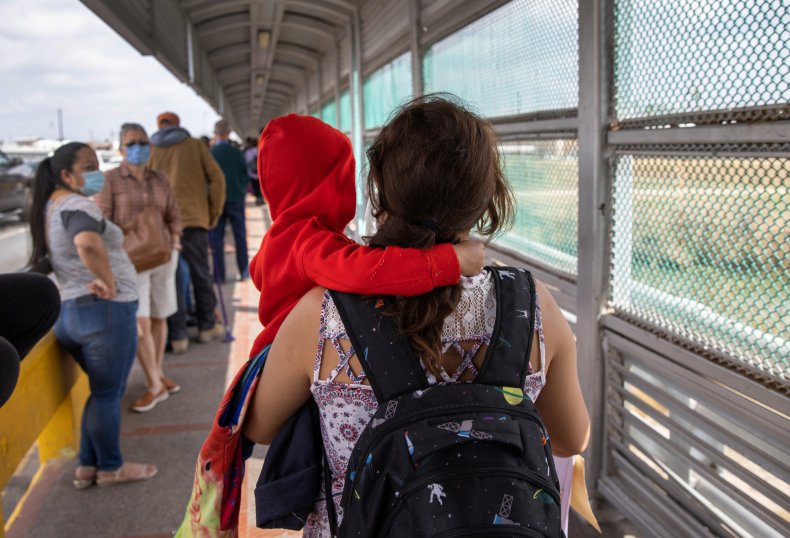 "DHS has continued our close coordination with HHS as it increases its capacity to care for unaccompanied minors and place them with sponsors. Our goal is to ensure that CBP has the continued capability to quickly and efficiently transfer unaccompanied minors after they are apprehended to HHS custody, as is required by U.S. law, and as is clearly in the best interest of the children," the agency's statement read.
Newsweek reached out to the Administration for Children and Families for further comment but did not receive a reply in time for publication.