'365 Dni' on Netflix Graphic Sex Scenes Between Michele Morrone and Anna Maria Sieklucka's Characters Shock Fans
365 Dni is a new Netflix release that has viewers all over the world blushing thanks to its extremely graphic sex scenes which are making 50 Shades of Grey look tame in comparison.
Titled 365 Days in English, the explicit movie is dividing viewers' opinions but garnering some strong reactions from audiences online, with some deeming it "pornographic."
Based on a Polish-language book by author Blanka Lipinska, which is said to be even more outrageous than the film, the plot follows a woman falling in love with a captor and an ensuing a steamy affair, so in other words; complete trash.
The film's sell on the streaming platform reads: "A fiery executive in a spiritless relationship falls victim to a dominant mafia boss, who imprisons her and gives her one year in love with him."
The "fiery executive" in question, is Sicilian mob boss Massimo (played by Michele Morrone) and he stars opposite Anna Maria Sieklucka as Laura, the woman he abducts.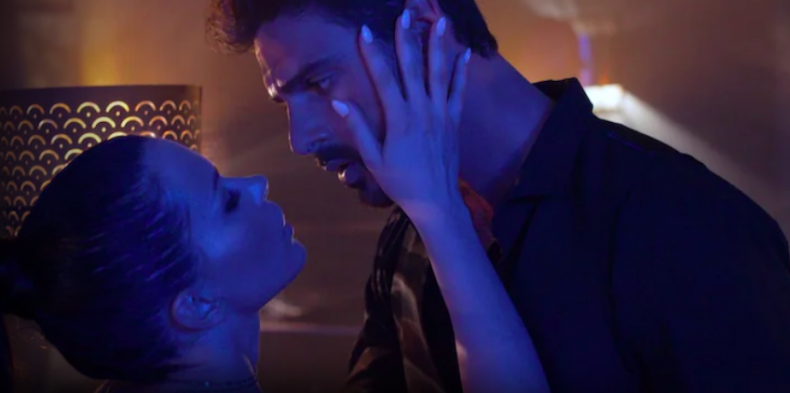 The action kicks off a mere 10 minutes into the film when Massimo engages in oral sex with a flight attendant on a private plane, while in another concurrent scene Laura makes use of a vibrator. The camera is only millimeters from showing everything.
One fan tweeted: "#365dni is all 50 Shades tried to be but failed at!"
While another added: "okay but 365 days on netflix got me feeling some type of way."
Another scene viewers can't stop talking about occurs later on a yacht, where nothing is left to the imagination.
One viewer wrote: "The boat scene in 365 DNI...........whewww chiiiill #365days."
While another added: "i don't think anything could convince me the actors in 365 dni weren't having real sex during that yacht scene."
However, despite the humorous reactions on Twitter, some are criticizing the film for glamorizing kidnapping, with one tweet reading: "So here's the thing: 365 DNI is kind of nightmare from the whole consent angle. Dude straight up kidnaps a woman he feels entitled to."
While another Twitter user urged: "#365dni please remember that there is a huge difference between fantasy and reality. If you are a guy, pls don't get any ideas. No girl wants to be kidnapped and made to fall in love."
The rather uncomfortable Netflix tagline reads: "She feels suffocated in her relationship. But will she breathe new passion into her life when held captive by another man?"
The synopsis of Lipinska's book, which has yet to be translated into English, reads: "Laura, together with her boyfriend Martin and two friends, go on holiday to Sicily. On the second day of her stay, on her twenty-ninth birthday, the girl is kidnapped. The kidnapper turns out to be the head of the Sicilian mafia family, the extremely handsome young Don Massimo Toricelli.
"A few years ago, he had an attempt on his life. Shot several times, he almost died - and when his heart stopped beating, he saw a girl in front of his eyes; Laura Biel. When he was brought back to life, he promised himself that he would find the woman he saw.
"Massimo gives the girl 365 days to make her love him and stay with him."
365 Days is streaming on Netflix now.