'365 Dni' Part 2: How the Second Book in the Series Sets Up a Movie Sequel
365 Dni (365 Days in English) has been a surprise hit for Netflix, with the Polish erotic thriller currently the most-watched movie on the American version of the streaming service. The movie ends on a cliffhanger, with Laura Biel (played by Anna Maria Sieklucka) heading into an Italian mafia ambush in a tunnel. The film not does not reveal whether she is alive or dead, leaving fans of the sexually-charged drama hoping for a sequel that will see Laura escape her fate.
Luckily, author Blanka Lipinska, who wrote the book 365 Dni is based on, has also written two more books in the franchise which continue telling the story of the love affair/potential Stockholm syndrome relationship between Laura and Massimo (Michele Morrone).
The first of these is 2018's Ten dzień (This Day in English), which confirms that Laura is still alive, but her dealings with the rival mob to Massimo's organization are far from over.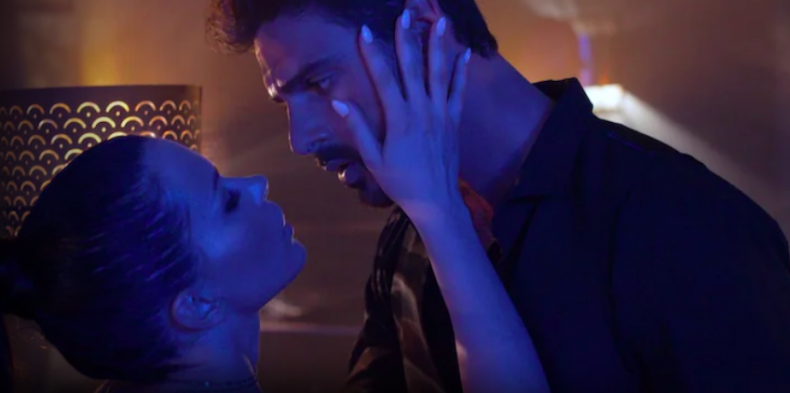 The official synopsis for Lipinska's This Day (translated from the Polish) reads: "Laura Biel's Sicilian life begins to resemble a fairy tale. There is a boisterous wedding, a husband who will do and give everything for her, pregnancy, gifts, and unimaginable luxury: service, cars, seaside residences.
"Everything would be perfect, if not for the fact that gangsters are all around, crime hangs in the air, someone is constantly trying to kidnap and kill her, and her best friend Olga blindly follows in her footsteps. Being the wife of the most dangerous man in Sicily has its consequences and Laura will find this out painfully."
This seems to confirm that if a sequel is made, that not only will Laura and Massimo return, but so will Olga (Magdalena Lamparska). Fans will also likely get to see Laura and Massimo's big wedding and if the first film is anything to go by, a lot of conjugal action.
One typical scene, for example, sees the couple engaging in mutual oral sex while Laura wears a blindfold and headphones playing the Eurohouse classic "Silence" by the band Delerium.
However, things will not be smooth sailing for the couple. Just as Laura has fallen in love with one kidnapper, she starts to develop feelings for yet another person who abducts her, a rival mob boss. The book also introduces a British twin for Massimo, which means that fans that have fallen in love with Michel Morrone might get double duty from the actor.
If 365 Dni Part 2 takes its story from the second book in the series, the movie is likely to start directly after the events of the first movie, where Laura is pregnant. The events of the three books all happen within a few months of each other, as Laura is still pregnant in the third novel, Kolejne 365 dni (Another 365 Days).
As for viewers who found themselves disliking the first film for being gratuitous, having a messy plot, and glorifying sex without full consent, things are not likely to get better in Part 2.
A long negative review of the book on Goodreads says: "Just like with 365 Dni, this book contains many questionable things/messages. Starting off with the book title, it translates into This Day and holds NO MEANING—I still can't figure out what Blanka meant with that title, the book doesn't cover only 1 day, but few months & throughout the story Blanka never gives us an explanation which day the title should signify."
365 Dni is streaming now on Netflix.