38 Police Officers Have Been Doxxed During Protests in Portland, DHS Says
During a Tuesday briefing, a Department of Homeland Security official said that 38 law enforcement officers in Portland, Oregon, were doxxed amid ongoing protests in the area. DHS referred to those who did the alleged doxxing as "radicals."
Doxing typically refers to the release of personal information like addresses and phone numbers online. The extent of what information was published relating to Portland police was not immediately clear.
Richard Cline, the Deputy Director of Operations for the Federal Protective Service, said the doxxing occurred despite attempts by the Portland police to hide the names of police officers overseeing the 55 solid days and nights of racial justice protests around the city. The protests were sparked by the May 25 murder of Black Minneapolis resident George Floyd by a white police officer.
About a week into the June racial justice protests, Portland's former police chief Jami Resch authorized officers to cover their names with tape, something protesters say makes it more difficult for citizens to hold officers accountable by filing complaints about police brutality and other misconduct.
At the time, Portland police spokesperson Terri Wallo-Strauss told Oregon Public Broadcasting that Resch's decision was made after officers had been doxxed. Wallo-Strauss didn't elaborate about the number of officers who doxxed or the people responsible, but she emphasized that the safety of officers and their families was "paramount."
Meanwhile, tensions continue to escalate between Portland's protesters and police. On July 16, police cleared out an "autonomous zone" set up by protesters in a downtown park. Over the weekend, protesters set fire to a police union building, compelling police to declare a riot and use tear gas to disperse crowds.
On Monday night, an estimated 2,000 protesters surrounded the Multnomah County Justice Center, which houses the Portland Police Bureau's headquarters. Police and, more recently, federal agents regularly use "crowd-control munitions" such as flashbangs and tear gas to disperse demonstrators.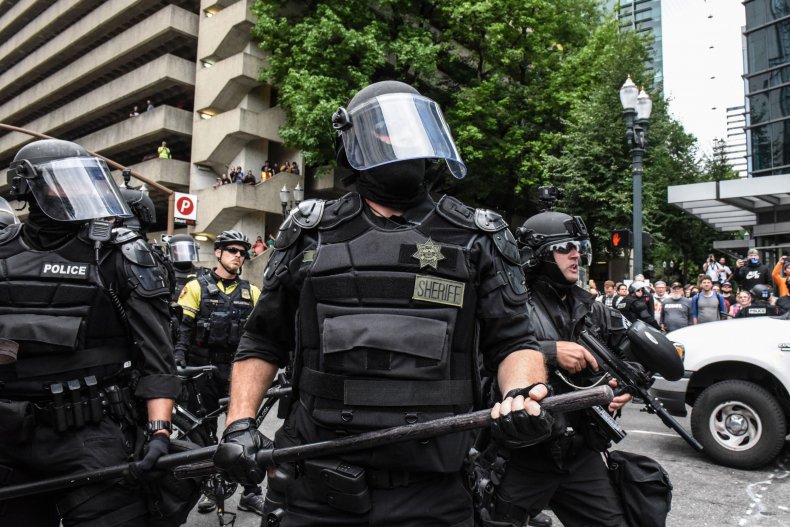 The biggest escalation in the protests has occurred with the Trump Administration's deployment of federal officers from the Custom and Border Protection's (CBP) immediate-response force, the Border Patrol Tactical Unit (BORTAC), wearing camouflage uniforms that resemble the U.S. Army's.
On Monday, President Donald Trump indicated that he'd like to send similar forces to democratically controlled urban centers like New York, Chicago, Philadelphia, Detroit, Baltimore and Oakland, stating that police are "restricted from doing anything" to quell protests.
As Oregon's attorney general filed a federal lawsuit over the federal agents' alleged violations of protester's civil rights, the mayors of Chicago and Oakland and the governors of Illinois and California all rejected Trump's proposal, saying it will only incite violence.
President Donald Trump and acting DHS Secretary Chad Wolf have defended the actions as necessary to protect federal property.
On Tuesday, Defense Secretary Mark Esper said he had voiced concerns to the Trump Administration about federal officers wearing U.S. Army's camouflage uniforms in Portland.
"We saw this take place back in June, when there were some law enforcement that wore uniforms that make them appear military [at racial justice protests]," Defense Department spokesman Jonathan Hoffman said. "We want a system where people can tell the difference."
In a July 9 congressional hearing, U.S. Army Gen. Mark Milley, the chairman of the Joint Chiefs of Staff, also said he believes the two groups need to be clearly distinguishable.
In a statement released Tuesday, Democratic presidential nominee Joe Biden said that the Trump Administration's use of federal agents is meant to "stoke the fires of division in this country," adding that there are other ways to protect federal property.
"Homeland Security agents—without a clearly defined mandate or authority—are ranging far from federal property, stripped of badges and insignia and identifying markings, to detain people," Biden said. "They are brutally attacking peaceful protesters, including a U.S. Navy veteran. Of course, the U.S. government has a right and duty to protect federal property.... without resorting to these egregious tactics."
Newsweek reached out to the DHS and the Portland Police Department for comment.