38 Wins, $1.5M Later: See the Clue That Ousted 'Jeopardy!' Champ Matt Amodio
Matt Amodio's historic 38-game winning streak on Jeopardy! ended Monday. During his time on the show, he finished behind only Ken Jennings in consecutive wins and third on the list of all-time, non-tournament cash winners.
"Everybody's so smart and so competent that this could happen any game," Amodio said in a statement. "And this time it did."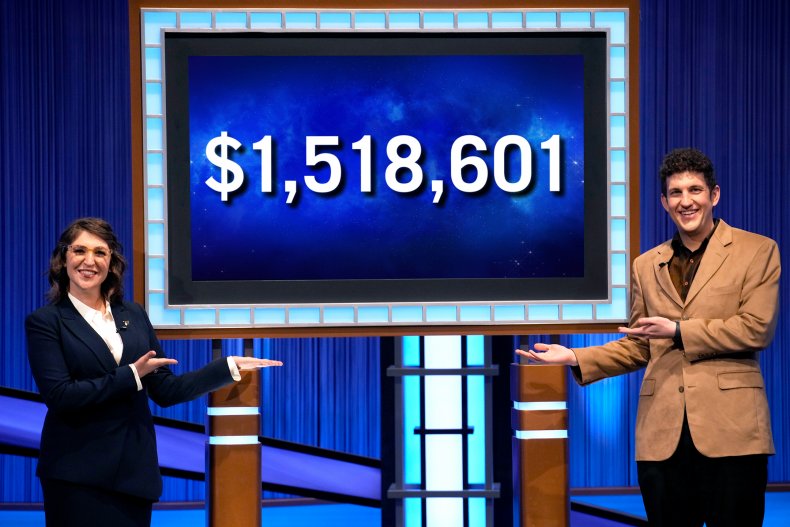 But what caused his exit? He responded incorrectly on the "Final Jeopardy!" clue Monday, unlike his two opponents. The category was "Countries of the World." The clue read: "Nazi Germany annexed this nation and divided it into regions of the Alps and the Danube; the Allies later divided it into four sectors."
The correct response was "What is Austria?"
Jonathan Fisher of Coral Gables, Florida, won Monday night after edging out Jessica Stephens of Nashville, Tennessee. Fisher finished with a score of $29,200, while Stephens ended up in second place with $28,799. Amodio, with the wrong response, came in third with $5,600.
Amodio, a computer science Ph.D. candidate at Yale, finished his run with 38 wins, which falls well behind Jennings' 74 victories. He also holds the distinction of becoming only the third person to win more than $1 million in non-tournament play in the show's history. His $1,518,601 total earnings place him behind James Holzhauer ($2,462,216) and Jennings ($2,520,700) on the list of all-time cash winners on the show in non-tournament games.
After he overtook Holzhauer for second place on the consecutive wins list, Amodio said in a statement how special the moment was for him.
"Ken's always been the face of Jeopardy! to me, so when I think of Jeopardy!, I think of him," he said at the time. "To [be] right behind him is a surreal experience."
Even though his reign on Jeopardy!, which began in the summer and resumed when the show returned last month for its Season 38, has come to an end, Amodio remains proud of his accomplishments on the show. Plus, he said, being on the show gives him an ongoing advantage in other competitions going forward.
"I always wanted to be a Jeopardy! champion, and I accomplished that," Amodio said in his Monday statement. "l know going into every bar trivia game that I play that I'm going to come in with a little intimidation factor. But also, I just like the badge that it represents. As somebody who prioritizes knowledge and knowing things, this is really a good one to have following me everywhere."
Amodio's fans haven't seen the last of him on a Jeopardy! stage. The show announced Monday he will return for the next "Tournament of Champions" competition.