Federal Judge Stops 3D-Printed Gun Manual From Release—for Now
A federal judge in Seattle issued a last-minute temporary restraining order against the online publication of 3D-printing manuals on how to make fully-functioning plastic guns.
Defense Distributed was set to again make available for download its blueprints for firearms Wednesday after it settled a long-running lawsuit with the government in June, which had ordered the company to remove its printing plans from the internet.
Tuesday morning, President Donald Trump tweeted that the issue was on his radar: "I am looking into 3-D Plastic Guns being sold to the public. Already spoke to NRA, doesn't seem to make much sense!"
U.S. District Judge Robert Lasnik granted the restraining order after several states, led by Washingon State Attorney General Bob Ferguson, filed a federal lawsuit. "Once again, my office had to hold this administration accountable to the rule of law," Ferguson said in a statement.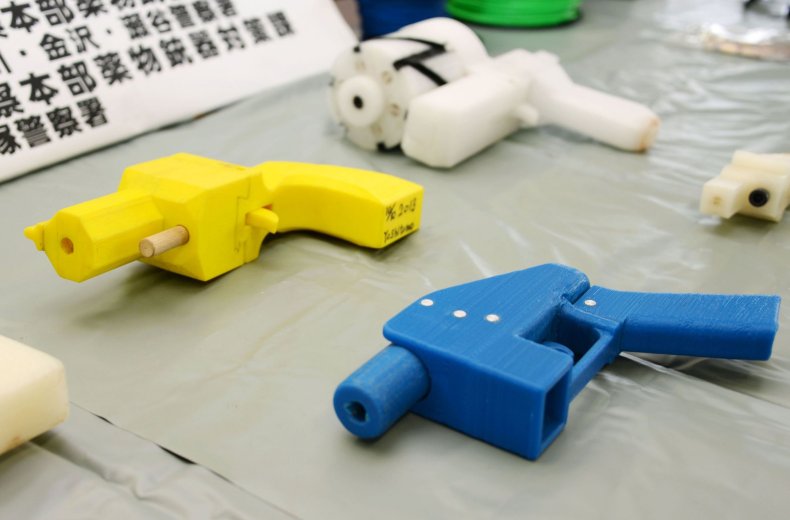 "I am thankful and relieved Judge Lasnik put a nationwide stop to the Trump administration's dangerous decision to allow downloadable, 3D-printed ghost guns to be distributed online.
"These ghost guns are untraceable, virtually undetectable and, without today's victory, available to any felon, domestic abuser or terrorist. I hope the president does the right thing and directs his administration to change course."
In 2013, Defense Distributed, a Texas nonprofit run by 30-year-old Cody Wilson, made headlines when it published plans for a printable single-shot plastic gun called "The Liberator." The company develops open-source guides to making weapons.
But the federal government ordered Defense Distributed to remove printing plans from the internet over concerns that they would be available in countries the U.S. does not sell arms to, reported CNN, which obtained a copy of the settlement.
Wilson sued the government in 2015 but lost the case and had a subsequent appeal rejected. According to the Washington State Attorney General's Office, the federal government moved to have Wilson's lawsuit dismissed in April 2018. Yet the Trump administration then suddenly settled.
Under that settlement, the government is temporarily waiving its export restrictions on Defense Distributed's downloadable gun-printing instructions.
The Washington State Attorney General's Office said its lawsuit argued that this waiver was unlawful because "there is no evidence" that the Trump administration secured the concurrence of the Department of Defense or gave 30 days' notice to Congress, as it is obligated to do.
It also argued that "the Trump administration action is arbitrary and capricious, also in violation of the Administrative Procedure Act," according to a release from the attorney general's office.
"For example, there is no indication in the settlement agreement or elsewhere that any analysis, study or determination was made by the government defendants in consultation with other agencies, before the federal government agreed to lift export controls on the downloadable guns."
Moreover, the lawsuit argued that the settlement violated the 10th Amendment by infringing on states' rights to regulate firearms.
"Washington has a robust regulatory system meant to keep firearms out of the hands of dangerous individuals," said the attorney general's office. "That system is jeopardized by the Trump administration's action and will be undermined by the distribution of Defense Distributed's downloadable guns."
The gun lobby said undetectable guns have been illegal for decades.
"Many anti-gun politicians and members of the media have wrongly claimed that 3-D printing technology will allow for the production and widespread proliferation of undetectable plastic firearms," said Chris W. Cox, executive director of the National Rifle Association Institute for Legislative Action, in a statement.
"Regardless of what a person may be able to publish on the internet, undetectable plastic guns have been illegal for 30 years. Federal law passed in 1988, crafted with the NRA's support, makes it unlawful to manufacture, import, sell, ship, deliver, possess, transfer or receive an undetectable firearm."
Defense Distributed and the White House did not respond to requests for comment.
Cody Wilson told CBS This Morning on Wednesday: "I believe that I am championing the Second Amendment in the 21st century... I think access to the firearm is a fundamental human dignity. It's a fundamental human right."
This article was updated to include Cody Wilson's comments on CBS This Morning.