Will Trump Stand Up to the NRA? President Says He Spoke to Lobbying Group About 3-D Printed Guns
Just one day before it becomes legal to post online plans for making 3-D printed guns, President Donald Trump seemed to come out against the measure while mentioning he has spoken about it to the National Rifle Association (NRA).
"I am looking into 3-D Plastic Guns being sold to the public," Trump tweeted Tuesday morning. "Already spoke to NRA, doesn't seem to make much sense!"
Starting Wednesday, digital blueprints to print 3-D guns using a 3-D printer can be posted and sold legally to the public online. Guns that are 3-D printed are already legally available online for purchase.
The website at the forefront of the legal battle over access to plans for 3-D printed guns, Defense Distributed, headed by Cody Wilson, won a multiyear legal battle against the U.S. State Department on June 29. The settlement, obtained by CNN, said Wilson and his nonprofit "can publish plans, files and 3-D drawings in any form," starting August 1.
The president has been largely silent on the matter, while gun control proponents and the NRA have largely supported the new technology. NRA spokeswoman Dana Loesch said last week the so-called ghost guns, which are virtually impossible to trace because of no serial numbers and a lack of regulations, symbolize "freedom and innovation."
Neither the White House nor the NRA could be reached for comment by Newsweek on Tuesday about what was discussed during the president's conversation with the gun lobbying group.
In 2013, the NRA seemed to support the idea of 3-D printed guns, saying in a statement it "strongly opposes ANY expansion of the Undetectable Firearms Act," a 1988 law that bans guns not easily detected when put through a metal detector or X-ray machine.
Although the president has repeatedly praised the NRA, in February he seemed to push back against the group by supporting comprehensive gun control measures.
Trump claimed that Republican Senator Pat Toomey was "afraid of the NRA" during a meeting with politicians on school safety following the Marjory Stoneman Douglas High School shooting in Florida, which killed 17 people. After Democratic Senator Chris Murphy told Trump he "underestimates the power of the gun lobby," the president pushed back, saying, "They have great power over you people. They have less power over me."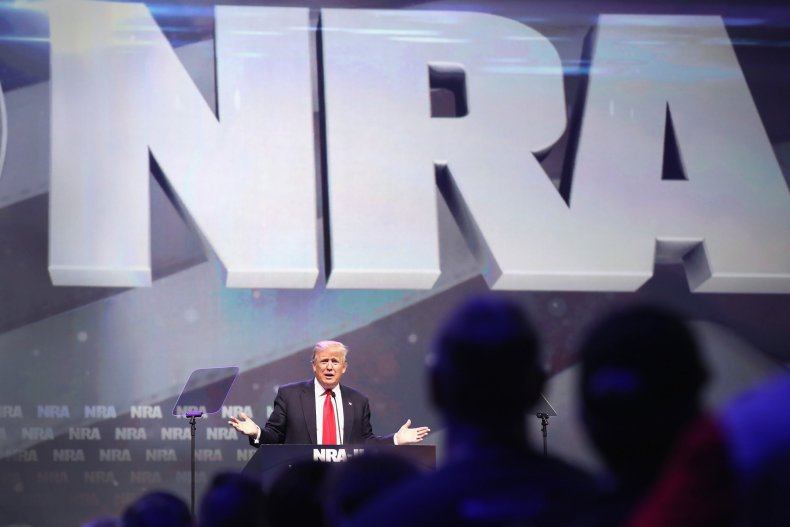 Despite the strong rhetoric, Trump seemed to abandon his promise just weeks later by supporting an NRA-supported plan to arm classroom teachers and enact only minimal changes to Florida's background check system.
Defense Distributed has since been blocked in Pennsylvania following an intervention by Attorney General Josh Shapiro. On Sunday, a federal judge temporarily blocked the site from being viewed in the state in an emergency hearing, because the plans for AR-15 rifles were leaked early and downloaded more than 1,000 times.
Wilson filed a lawsuit Sunday against New Jersey Attorney General Gurbir Grewal and Los Angeles City Attorney Michael Feuer for attempting to block the plans from being downloaded, claiming they are waging "an ideologically fueled program of intimidation and harassment against Defense Distributed" in an effort to "silence the organization" through criminal and civil tribunals.
On Monday, a group of attorneys general from eight states and the District of Columbia filed a lawsuit against the Trump administration to prevent Wilson and Defense Distributed from publishing the digital blueprints online.