4 Concept Cars Reveal Future Nissan, Infiniti Vehicle Plans
Nissan's three new concept vehicles push the limits of the automaker's electric vehicle design, pushing forward themes for vehicles planned as part of the company's 23-model push by 2030.
Though none of the vehicles are expected to come to market as is, they each serve as inspiration for a next-generation of models Nissan expects to produce, some of which may only be seeing a decade down the road.
In addition to the new vehicles, Nissan has committed to reduce its use of cobalt in battery construction, eventually moving toward a solid state battery.
There's also battery refurbishment facilities being built in Europe and beyond. The efforts are part of the automaker's push to become carbon neutral by 2050.
Scroll down to see all the concept models that were revealed as part of Nissan's Ambition 2030 plans.
Nissan Chill-Out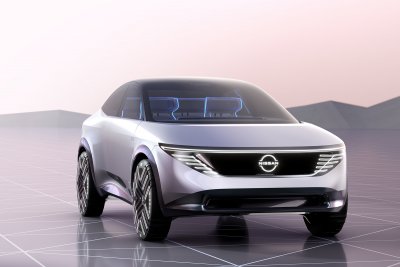 Billed as a concept for the company's next-generation crossover electric vehicle, the sleek concept has a strong stance, low roofline and wide grille. Funky wheels are pushed out to the crossover's corners revealing a spacious interior. The model's blunted back end feature a large black space with taillights that take their inspiration from the new Nissan Z. As passenger-forward interior focuses on entertainment while onboard technology does the driving.
Nissan Max-Out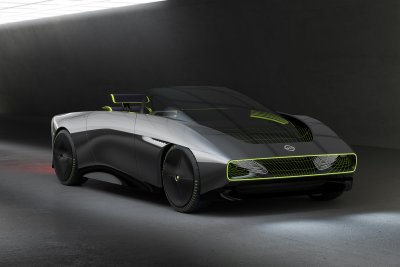 The Max-Out convertible coupe has a long wheelbase, short nose, and blunted back end that is reminiscent of the Ferrari Testarossa. Sweeping body panels lead rearward toward planted haunches. That angle is mirrored further up front where the windscreen starts mid-bonnet and rides up to traditional heights. Dark wheels at the corners, seating for two, and a fully digital dashboard define the rest of the design while a steering wheel cements the vehicle's position as a driver's car.
Nissan Hang-Out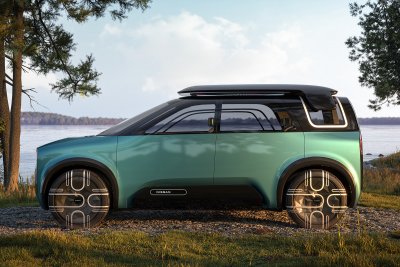 Two spacious rows of seating take their place inside the Nissan Hang-Out concept. Doors slide forward and aft, out of the way, revealing a spacious interior that is more living room than automobile. Like the Max-Out concept, the Hang-Out has a steering wheel and large digital dashboard. The steering column can be tucked away and the front seats swiveled around to create a hang out space for passengers.
Nissan Surf-Out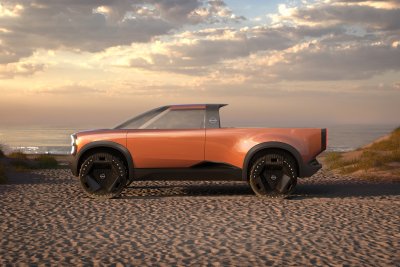 This new concept truck leaves the Frontier and Navara in the dust. The snubbed nose looks is courtesy of its all-electric powertrain. Rather than the circluar Nissan logo, the letters of the company name are spelled out on a black grille. Black wheels, A-pillar, B-pillar and cladding work to give the truck dimension. Headlights wrap around the front of the truck and a digitized tailgate shows text and emojis.