'So Cute!': Mom Amazes Internet With $4 DIY Baby Hooded Towel Craft
DIY videos have dominated the internet for decades. And while the social media platforms that are used to share this type of content have changed throughout the years, it's clear that money-saving life hacks won't be disappearing anytime soon.
In a recent viral TikTok, a user by the name of adri_coral shared a brief video showing how she turned a basic bath towel into a lovely hooded towel for her baby.
The post was captioned "Baby hooded towel" and has received over 150,000 views and 11,100 likes since it was uploaded.
In the video, adri_coral used a brown bath towel that she claimed was worth only $4.
By cutting and sewing together the fabric, the mother managed to put together a post-bath garment for her child to wear. She even equipped the final product with a pair of adorable bear ears with cloth cut from the same towel.
The video attracted a flurry of supportive and congratulatory comments from fellow users.
"This is so cute! I think I'm going to make this for my daughter and nephew," wrote one user.
Several TikTok users expressed their amazement at how much cheaper the homemade hooded baby towel was compared to store-bought products. "This is such a good idea! [Why] are baby hooded towels so expensive. [It's] cheaper to just use a regular towel lol," shared a commenter.
In comparison, most hooded baby bath towels can cost anywhere from $8 to $25 at major retailers. Even taking into account the cheapest option, adri_coral's method can save thrifty parents at least $4.
Another user went as far as to suggest that the OP (original poster) should start a business selling these cheaper alternatives: "You should definitely start to sell these, way better than the [actual] baby towels that are sold in stores."
The OP seemed open to the idea too, briefly responding: "I wanna do it."
According to Statista, the U.S. is the most expensive country for childbirth, with data showing that the average hospital admission cost for a standard baby delivery in 2017 amounted to $11,200.
As of 2022, the baby clothes industry already accounts for upwards of $41 billion, with Statista reporting that it is expected to grow annually by 3.24%.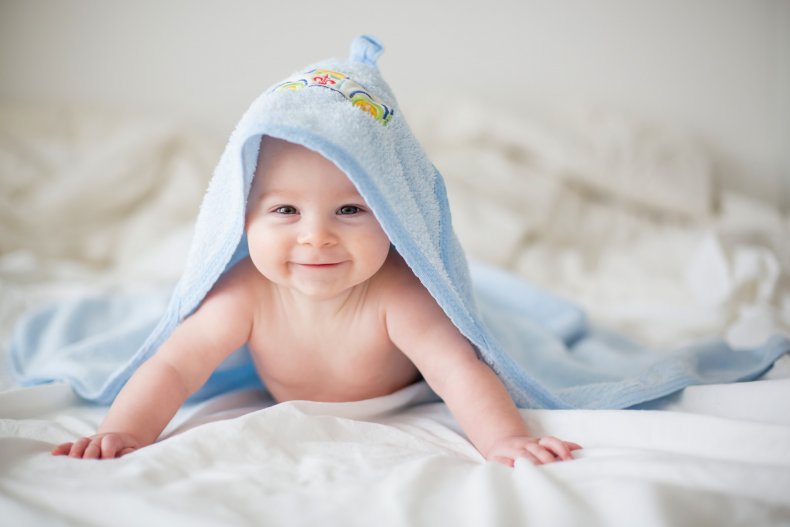 Taking into account the cost of childbirth as well as high inflation rates affecting the prices for common everyday items that parents must purchase in the first few years of a child's life, it's not surprising that some find themselves intrigued by cost-saving life hacks.
Previously, Newsweek wrote about a TikTok displaying one mother's clever hack for keeping children entertained during long car journeys.
In the video, she shows that by using a sandwich bag, placing her phone inside horizontally and attaching it to the back of her car seat, she was able to create a DIY TV screen for her kids.
Newsweek reached out to adri_coral for comment.