Inflation Jumps 8.5 Percent, Aided by Russia's Ukraine Invasion
Consumer inflation jumped 8.5 percent over the 12 months ending in March, increasing at its fastest rate in more than 40 years.
The Labor Department's report, released Tuesday, also showed that inflation increased 1.2 percent from February to March, a sharper uptick than the 0.8 percent increase from January to February.
March's report is the first to reflect the full impact of the Russia-Ukraine war on prices for gasoline, food and other necessities in the U.S., the Associated Press reported. Supply chain problems and high consumer demand were already contributing to price hikes. But Russia's attack on Ukraine in late February, which led the U.S. and Europe to impose unprecedented economic sanctions, has added to the price woes.
March's year-over-year inflation rate was higher than February's rate of 7.9 percent, which did not take into account most of the price increases that have occurred since the start of the Ukraine conflict.
Gas cost hikes in particular have left many Americans concerned or frustrated as they feel the effects at the pump and on their wallets. The average price for a gallon of gas, currently $4.10, has increased 43 percent, compared with a year ago, according to AAA.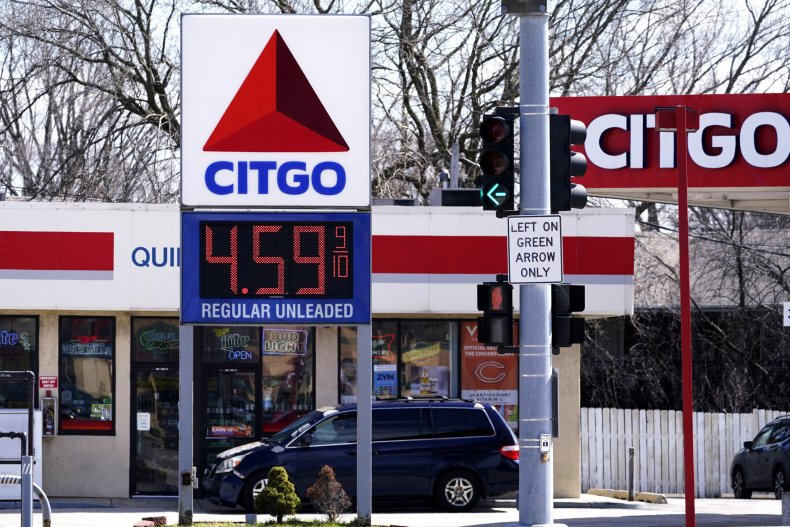 Last week, the Senate and House passed a bill to ban Russian gas and oil imports in response to the Ukrainian invasion. Experts said the ban could drive up prices further unless the U.S. can find supplies to replace the imports.
The Biden administration announced a move Tuesday that appears to be an attempt to do just that. A White House fact sheet detailed plans for the Environmental Protection Agency, to issue an emergency waiver permitting E15 gasoline, which uses a 15 percent ethanol blend, to be sold this summer.
Without the waiver, E15 gas would not be authorized for use in most of the country between June 1 and September 15. The gasoline could help save Americans 10 cents per gallon of gas on average at current prices, according to the fact sheet.
"This is the latest step in expanding Americans' access to affordable fuel supply and bringing relief to Americans suffering from Putin's Price Hike at the pump," the sheet said.
But gas is not the only product seeing price hikes.
Used car prices, for example, have increased 35.3 percent over the past 12 months and bedroom furniture prices have increased 14.7 percent, the AP reported. Grocery prices are up 10 percent.
Newsweek reached out to the White House for comment.
Update 4/12/22, 11:50 a.m. ET: This story was updated with additional information and background.