Gas Prices May Spike if Biden Doesn't Replace Russian Oil With U.S. Barrels
The U.S. Senate passed a bill on Thursday to ban imports of Russian gas and oil, which experts say may drive prices back up at the pump unless President Joe Biden can replace that supply with barrels of U.S. oil.
In yet another effort to economically isolate Russia as a response to the invasion of Ukraine, the Senate passed the legislation in a 100–0 vote. Afterward, the House approved the ban on Russian imports in a 413–9 vote, and it was sent to Biden's desk to be signed into law. An expert told Newsweek that could cause prices to rise unless the oil is replaced with U.S. oil reserves.
The cost of gas has already escalated in the last month due to both inflation and the Russia-Ukraine war, and experts are now speculating whether or not prices will spike once more.
Dan Geltrude, founder of the financial consulting firm Geltrude & Co., told Newsweek, "If there's going to be a ban on Russian oil, it's going to affect U.S. gas prices at the pump unless that supply is going to be replaced by U.S. oil."
Geltrude said that relying on oil from foreign countries is no longer a viable option, and the release of extra barrels of oils from the Strategic Petroleum Reserve, which the White House announced on March 31, was only "a Band-Aid" solution.
"The long-term solution is to not rely on foreign oil, but for the United States to provide its own oil supply and to be energy independent," Geltrude said.
"The way to be able to control prices at the pump, or to be able to reduce prices at the pump," Geltrude stated, "It comes down to the United States supplying fuel for itself. That's the key."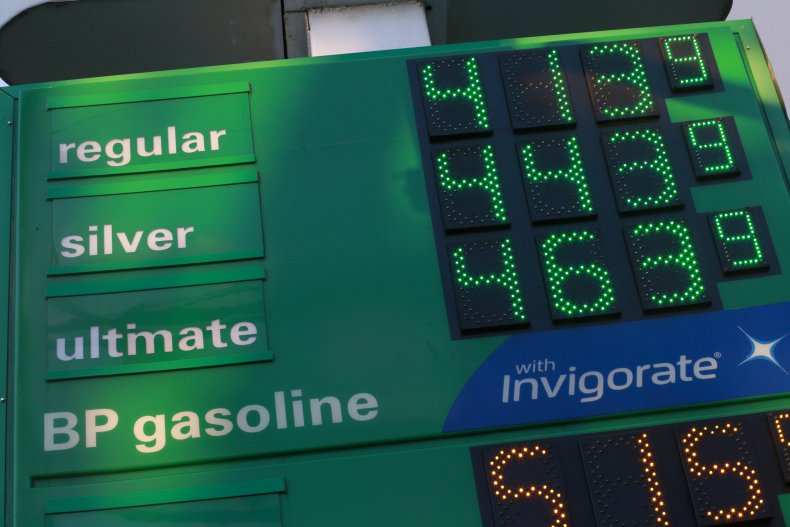 Meanwhile, GasBuddy's Patrick De Haan tweeted a different perspective, writing on Thursday that "barring EU sanctions on Russian oil or Putin escalations, the national average may have peaked already for 2022."
According to the American Automobile Association (AAA), the national average for a gallon of gas was $4.153 as of April 7. However, in the middle of March, the U.S. set a new national average for four days in a row, peaking at $4.331 per gallon.
"This goes back to our demand, our thirst for fuel, and fossil fuel specifically is not going down," Geltrude told Newsweek. "Unless the supply can keep up with demand, prices are going up."
Newsweek also reached out to AAA and a White House representative for additional comment.