A man in Pennsylvania has been arrested and charged after he allegedly placed stickers on gas pumps blaming President Joe Biden for the increase in gas prices.
Thomas Glazewski, 53, faces several charges after his arrest last week, according to Lancaster Online. Glazewski was taken into custody after he was reportedly spotted placing the stickers on a pump in Lancaster County.
Glazewski reportedly was putting the stickers on the pump and then spraying them with a substance to make them more difficult to remove.
A witness at the scene told Lancaster Online he first heard Glazewski yelling at the station's clerk, who had come out to confront him about the stickers. Following the commotion, officers responded to the scene.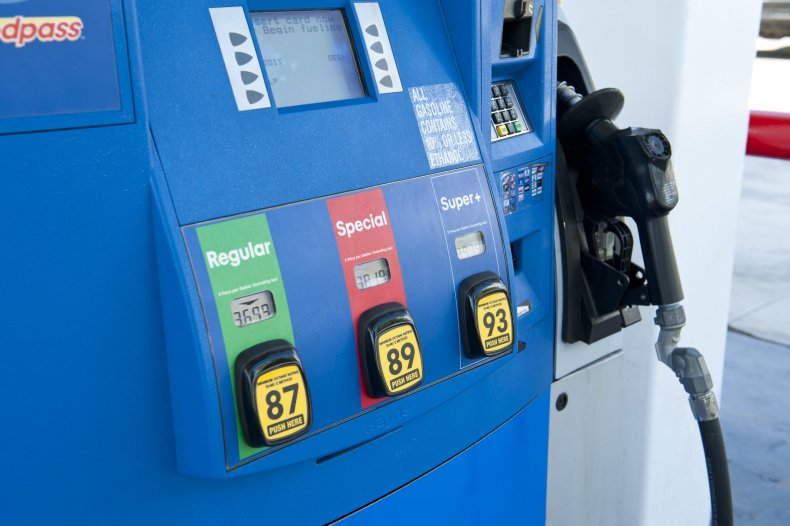 The arrest was caught on video and shared on social media. In the videos, the man can be heard yelling profanity as well as "I did that. That's what I did."
After the man informed the police about his work on the pump, he can be seen taking off toward the convenience store. An officer can also be spotted giving chase, following right behind and then tackles him to the ground.
More profanity is heard as the officer is on Glazewski's back, trying to get his hands as he struggles to place him in custody.
After police managed to get him into custody, Glazewski can be seen continuing to fight officers as they try to place him in the back of a police vehicle.
He tells officers to "Bash my head. Slam me in there. Let's see some blood, man. Let's see some f**king blood." Two officers are eventually able to place him in the vehicle.
In a response to Newsweek, the East Hempfield Township Police Department said Glazewski was taken to a nearby hospital to be treated for self-inflicted injuries suffered while he was in the back of the patrol car.
Glazewski was charged with resisting arrest, disorderly conduct, harassment and criminal mischief. He is scheduled to make a court appearance in late April, Lancaster Online reported.
According to AAA, the national average price of gasoline is nearly $4.14 a gallon. In Pennsylvania, the average price is a tad higher, coming in at just under $4.24 a gallon.
This comes as a group of thieves in Florida used a "homemade device" to steal about $60,000 worth of gas from two stations in late February.
Following their theft, the six individuals involved allegedly sold it to truck drivers at discounted prices. The suspects face charges of racketeering, conspiracy to commit RICO, grand theft and accessing electronics without authority.
Newsweek reached out to the Manor Township Police Department and the Manheim Township Police Department for comment.
Update 4/8/2022, 2:19 p.m. ET: This story has been updated with comments from the East Hempfield Township Police Department.