4 Hospitals in Fla. County Run Out of ICU Beds as State Sets Another Record in New Daily COVID Cases
All intensive care unit (ICU) beds are currently occupied at four hospitals in Pinellas County, Florida, as the state continues to see a record spike in new cases and hospitalizations related to the novel coronavirus.
Mease Dunedin Hospital, AdventHealth North Pinellas, Morton Plant Hospital and St. Petersburg General Hospital had reached their maximum ICU bed capacities by Sunday, according to data published by the Florida Agency for Healthcare Administration (AHCA). The data showed five additional Pinellas County hospitals approached their respective ICU capacities on Sunday, with each reporting fewer than 15 percent of beds available. Overall, about 86 percent of ICU beds in Pinellas County were occupied.
In total, there are 11 hospitals across Pinellas County—located west of Tampa along Florida's Gulf Coast—with resources to treat ICU patients.
The AHCA's latest update was released as Florida health officials confirm a statewide surge in new COVID-19 cases, as well as subsequent hospitalizations. On Saturday, the Florida Department of Health (DOH) reported a new record increase in diagnoses confirmed daily, with almost 11,500 cases. Unlike other states, the Florida DOH does not release ongoing data regarding hospital and ICU admissions related to the novel virus. Governor Ron DeSantis called for changes to the state's reporting of virus-related hospitalization numbers at the end of June.
Newsweek subscription offers >
Counties across Florida began to report new COVID-19 cases and related hospital admissions in increasing quantities near the beginning of June, about one month after most regions began to reopen businesses, beaches and other public areas.
As of Saturday, the health department reported 15,735 patients had been hospitalized for COVID-19 since the start of the pandemic. More than 3,000 of them were admitted to statewide hospitals during the preceding 16 days, while Florida saw at least five new record increases in virus cases confirmed daily. The DOH reported roughly 190,000 people had tested positive for COVID-19 in Florida by Saturday, while at least 3,800 individuals who contracted the illness had passed away as a result. Florida has diagnosed more than 100,000 infections across the state since June 18.
Newsweek subscription offers >
In Pinellas County, where St. Petersburg and Clearwater are the largest cities, health officials have reported more than 8,100 total cases of the novel virus and 184 subsequent deaths. According to the Florida DOH, county hospitals have admitted about 750 patients for complications caused by COVID-19. It was not clear whether the county's hospitalization data represented current or total admissions.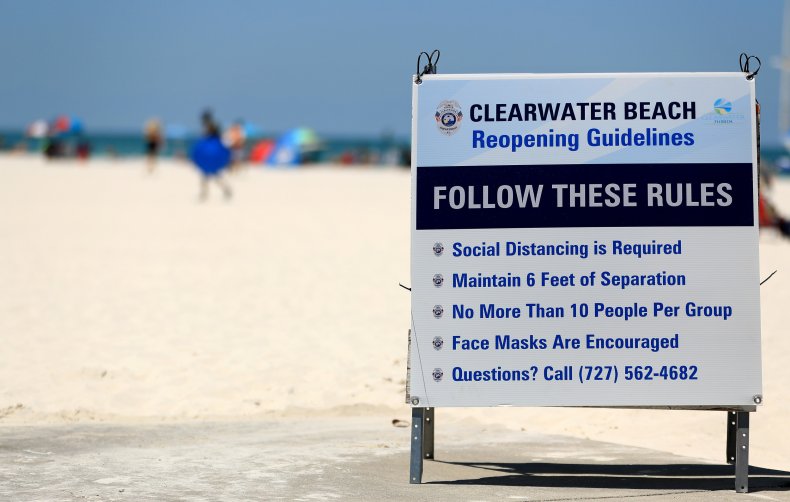 Newsweek reached out to the Florida DOH and AHCA for comments, but did not receive replies in time for publication.
Pinellas County has reported one of the highest incidences of COVID-19 infections in central Florida. Only Hillsborough and Orange counties, where Tampa and Orlando are located, have confirmed higher case counts. Miami-Dade, Broward and Palm Beach counties, in south Florida, have seen the highest concentrations of COVID-19 cases compared to all state regions.
4 Hospitals in Fla. County Run Out of ICU Beds as State Sets Another Record in New Daily COVID Cases | U.S.