4-Year-Old Girl With 'Evil' Cancer Treated to Personal Parade, Meets Santa
Santa Claus has paid an early visit to a four-year-old girl with cancer in Virginia.
Friends, family, and neighbors gathered outside the Chesterfield home of Ava Thomas, who has an aggressive form of brain cancer called medulloblastoma, NBC12 reported.
"The highlight of this experience was having the magic of Christmas show up at our doorstep just for Ava," Kassi Thomas, Ava's mother, told Newsweek. "To make her feel like the most special girl in the world and so loved by everyone, even Santa!"
The four-year-old was diagnosed in September and has since undergone surgery and 30 days of chemotherapy and radiotherapy, the local news station reported.
On Tuesday evening, local people sang carols outside Ava's home before watching Kris Kringle arrive on a Chesterfield fire engine loaded with toys. Santa was accompanied by emergency responders and state troopers as he delivered all the gifts on Ava's list.
The youngster told NBC12 she was particularly happy to receive Doorables, LOLs and Hatchimals. "That was pretty cool," she said.
The news station also managed to grab a comment from Santa himself. Asked about Ava's special delivery, he said: "I wouldn't be Santa if I didn't. She made our whole year and she helped bring the community together this year, so we're just happy to do the smallest little things to help her."
Kassi Thomas continued: "It meant so much for Ava because since she has been so isolated throughout these past few months, in and out of hospitals—for her to see so many people, familiar and new, come out to see her and celebrate her made her feel so loved and special."
Although Christmas has been sorted for Ava thanks to Santa and the Chesterfield emergency workers, her mother said the 4-year-old still had a long road to recovery ahead.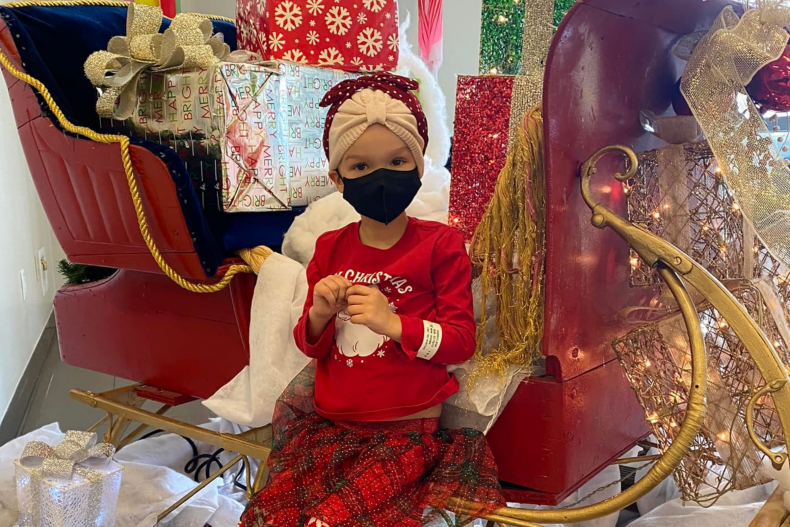 The family is asking for donations to help pay for her treatment via a GoFundMe page called "Princess Ava Battles the Evil Brain Tumor." The medulloblastoma was pressing on the spinal cord at the base of her brain, causing headaches and nausea.
"Ava's tumor is no longer pressing on her brain," Kassi Thomas added. "It has been successfully removed, thank god." Ava's mother also said she is about to undergo 6 cycles of maintenance chemotherapy in January to kill the remaining cancer cells it left behind.
The fundraiser has so far raised more than $63,000 of its $100,000 goal. Its organizer, Kassi's sister Melissa Hayden, wrote on Wednesday: "I am completely awestruck by the caring and loving support by complete strangers. Not enough thank yous in this lifetime to cover it! We just have so much to be grateful for.
"It's so easy to get down and depressed over everything, but we are truly fortunate in so many ways and I am forever grateful by the spirit of our family, friends, and community that have all rallied behind us! We feel all of the love wrapped around us!"
Kassi Thomas told Newsweek: "It was amazing for her to experience that amount of love."
Correction 12/16/21 11:21 am ET: This article has been updated to state that Melissa Hayden is Kassi Thomas' sister, and that a brain tumor is no longer pressing on Ava Thomas' spinal cord.