40 House Republicans Reject Paid Sick Leave to Combat Coronavirus Pandemic
A faction of House Republicans voted against a bipartisan coronavirus economic stimulus package passed by the Democratic-led chamber early Saturday morning that would, among other things, provide paid sick leave to workers as the illness continues to spread throughout the United States.
The multi-billion-dollar piece of emergency legislation passed 363-40-1, with all Democrats voting yes and 40 Republicans voting no. The House's lone independent, Rep. Justin Amash (Mich.), voted present.
The plan includes two weeks of paid family sick leave (if their company has 500 or less employees), up to three months of paid family and medical leave, free coronavirus testing, food aid, unemployment insurance, increased federal funds for Medicaid and increased protections for frontline workers. A two-thirds majority was needed to pass.
But although the legislation received broad bipartisan support, as well as backing from the president, it underscored some of Washington's political divides over how to respond to the pandemic amid economic downturn. Democrats, Republicans and President Donald Trump alike have debated over how to boost the economy as a tumultuous stock market has sparked fears of an impending recession.
On top of that, the 110-page revised bill wasn't released until around midnight Friday, followed by a final vote just minutes later. The cost of the legislation remained unknown. "Many of the same people who rightly denounce Trump's abuses of power are perfectly happy to give Pelosi a pass when she circumvents the entire legislative process," Amash wrote on Twitter.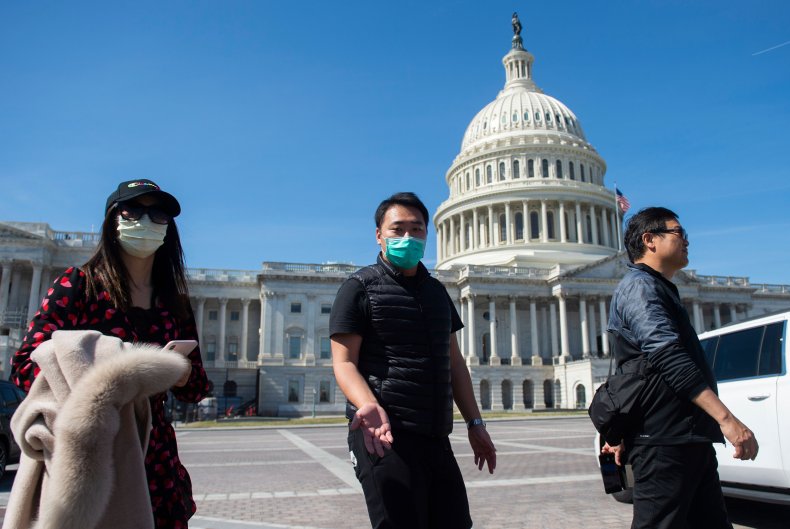 "This is no way to handle billions and billions of dollars when we're trying to help people and we don't even know whether we'll help them or hurt them," Rep. Louie Gohmert (R-Texas) said on the House floor.
After publicly bashing the proposal as overtly partisan earlier in the day, Trump later gave his blessing, paving the way for the majority of Republicans to support the measure.
"I encourage all Republicans and Democrats to come together and VOTE YES!" the president wrote in a trio of tweets. "I will always put the health and well-being of American families FIRST. Look forward to signing the final Bill, ASAP!"
The legislation's passage was the result of intense negotiations over the past several days with more than two dozen phone conversations between House Speaker Nancy Pelosi (D-Calif.) and Treasury Secretary Steven Mnuchin. She said there will be similar bills to come that will aim to address the economic impacts of coronavirus.
"We could've passed our bill yesterday, just our own bill," Pelosi said. "But we thought it would be important to show the American people, to assure the American people that we are willing and able to work together to get a job done for them."
Democrats have vehemently pushed the proposals that they say will offer much-needed economic relief to the unemployed, hourly workers or anyone who may not be provided paid sick leave by their employer by mandating two weeks of paid time off. Health experts say coronavirus symptoms don't appear until 2-14 days after exposure.
"We are passing a bill that...is focused directly on providing support for America's families, who must be our first priority," Pelosi said during a special televised event earlier in the day.
Noticeably absent from the text were provisions for a cut in payroll tax, which funds Social Security and Medicare. Democrats said such a move would exclude too many Americans, such as those not currently in the workforce. Trump has strongly pushed Congress to approve the cuts.
However, the idea was also opposed by many Republicans, who say such a step would further run up the deficit and have little impact on the economy.
"Where do you start and stop?" questioned Sen. Mike Braun (R-Ind.) earlier this week. "There's a discussion of maybe having it there for a long time, and that's the second biggest source for how we pay for things."
Trump's position on the payroll tax cut—an idea he also floated last year prior to coronavirus but amid concerns a recession could be on the horizon—being included in a congressional stimulus package on coronavirus has wavered in recent days.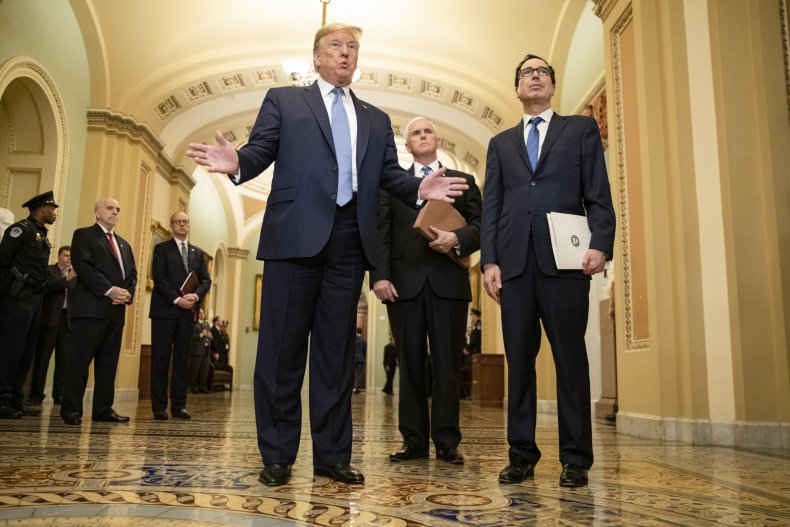 He took a step back from his stance Thursday, saying it may be something they have to push for again at a later date. But on Friday, Trump returned to his original position and doubled down. He wrote in a tweet that in order to "get money into the hands of people quickly & efficiently, let them have the full money that they earned, APPROVE A PAYROLL TAX CUT until the end of the year, December 31."
Some Republicans have also opposed paid sick leave over concerns about the cost to companies and how to pay for the various provisions in the stimulus package.
"I think paid sick leave is a very good idea, but the federal government should pay for it," said Sen. Lamar Alexander (R-Tenn.) this week, who is chairman of the health committee.
He blocked an attempt by Senate Democrats on Wednesday to force a vote on separate paid sick leave legislation. A similar measure was again blocked by Senate Republicans Thursday. "We shouldn't be imposing a big, new federal mandate on businesses that are struggling to stay alive in the midst of the coronavirus outbreak," Alexander added.
Many lawmakers, particularly Democrats, remain aggravated over a lack of nationwide coronavirus testing after receiving classified briefings this week from top health officials in the Trump administration, including Dr. Anthony Fauci, director of National Institute of Allergy and Infectious Diseases. The U.S. continues to lag in testing, especially compared to countries like South Korea, which is testing thousands of people per day. There are also people around the country with symptoms who say they've been denied testing.
"The idea of anybody getting [a test] easily the way people in other countries are doing it, we're not setup for that," Dr. Fauci told lawmakers during a public hearing on Thursday. "That is a failing."
The map below from Statista shows the number and locations of confirmed coronavirus cases and deaths in the U.S. as of Friday at 6 a.m. ET.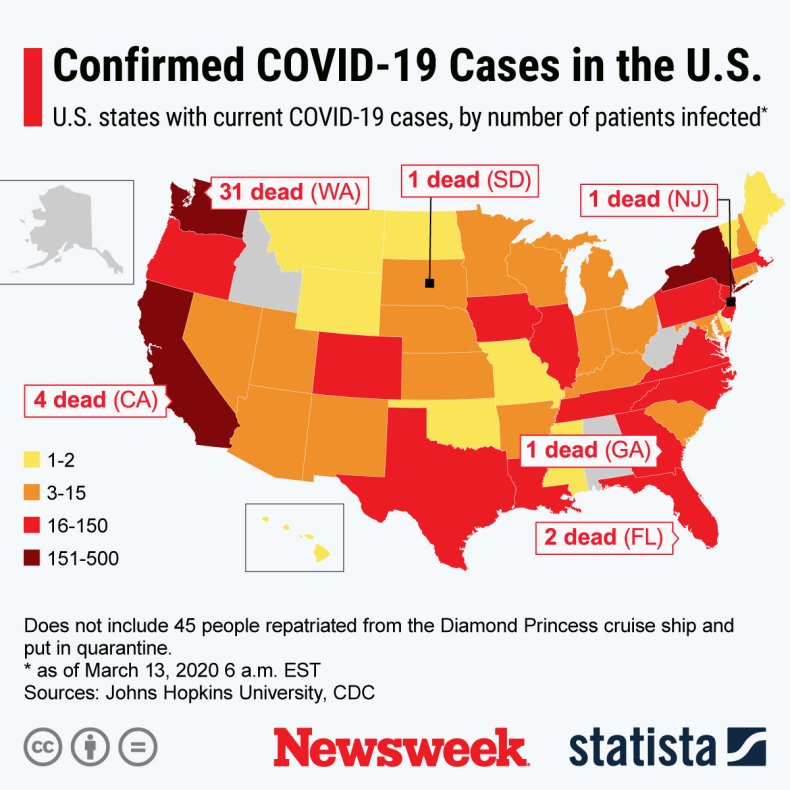 The frustrations over the lack of testing have transcended party lines. Sen. James Lankford (R-Okla.) directly refuted claims made by Trump that anyone who wants a test can receive one, calling such an assertion "not accurate right now."
"People should not say if you want a test, you can go get a test right now. That's coming. That's not here at this point," he said this week after being briefed by health officials. "Testing is the biggest challenge that we have. They're ramping up, but they're still saying it's still two weeks until we can get widespread testing."
The stimulus package's approval came in the wake of Trump declaring a national emergency and temporarily halting entry into the United States for non-citizens from most European countries, nationwide closures of businesses and schools, cancellations of professional sports leagues and public events, congressional staffers contracting the virus, several lawmakers self-quarantining themselves and the decision to shutter the U.S. Capitol building to public tours and visitors.
Congress and the Trump administration have raced to strike a deal over how to respond to the spread of coronavirus' within the U.S. As of Friday, more than 2,000 people in the U.S. were infected along with nearly 50 deaths. An $8.3 billion supplemental bill for vaccine and treatment research, in addition to aid local health facilities, was approved by Congress and signed by the president last week.
The stimulus package will now be in the GOP-led Senate's hands when it returns next week, as Senate Majority Leader Mitch McConnell (R-Ky.) sent senators home for the weekend on Thursday. The chamber will return Monday since their previously planned week-long recess was scrapped.
McConnell signaled that his chamber is likely to also approve the legislation.
"Senators will need to carefully review the version just passed by the House," he said in a statement. "But I believe the vast majority of Senators in both parties will agree we should act swiftly to secure relief for American workers, families, and small businesses."