40% of LA's Front-Line Workers Declined COVID Vaccine as Some County ICU's Run Out of Beds
Up to 40 percent of front-line workers in Los Angeles County have refused to take the coronavirus vaccine at a time when intensive care units across the county reach full capacity.
According to public health officials, between 20 and 40 percent of L.A. County front-line workers who were given priority access to the COVID-19 vaccine have declined to take it, The Los Angeles Times reported.
In some hospitals, up to 50 percent of health care staff have turned down the coronavirus jab. The issue is so prevalent that hospitals and public officials have met to strategize how best to distribute the unused doses.
Though coronavirus vaccines have been widely proven to be safe and effective through trials of tens of thousands of participants, skepticism remains high among even those in the health care community.
"I'm choosing the risk—the risk of having COVID, or the risk of the unknown of the vaccine," April Lu, a 31-year-old nurse at Providence Holy Cross Medical Center told the LA Times.
"I think I'm choosing the risk of COVID. I can control that and prevent it a little by wearing masks, although not 100 percent for sure."
Lu said she felt skeptical of the vaccine because she is six months pregnant and extensive clinical trials have yet to be conducted on pregnant women who take the vaccine.
A December survey conducted by the Kaiser Family Foundation found that up to 29 percent of health care workers expressed hesitancy toward the vaccine.
Those who expressed skepticism cited concerns over possible side effects, a lack of trust in the government and fears that the vaccine is too new.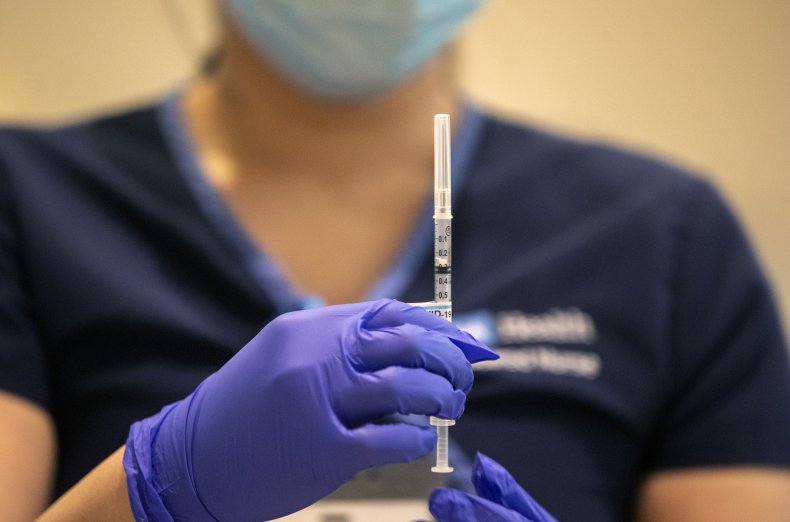 But other health care leaders have warned that if too many Americans refuse the vaccine, the pandemic could stretch on indefinitely.
Speaking to Newsweek on Wednesday, Dr. Anthony Fauci, the nation's leading infectious disease expert, said that around 70 to 85 percent of Americans will need to be vaccinated against COVID-19 to see a "dramatic decrease" in cases.
Fauci added that it is "very important to get the overwhelming majority of the people vaccinated," and warned that the country could otherwise be left in a "chronic state of a lower level of infection."
The refusal from L.A. County health care workers to be vaccinated comes as hospitals across the county are overwhelmed with virus patients.
Over the weekend, roughly 96 percent of hospitals countywide had to transfer emergency patients to other facilities due to overcrowding, the Los Angeles Daily News reported. The situation is so dire that in some cases, hospitals have had to turn away ambulances seeking to drop off new patients.
By Monday, two-thirds of the county's staffed ICU beds were filled with coronavirus patients, while some hospitals have fully reached ICU capacity. The situation is expected to get even worse in the aftermath of Christmas and New Year's Eve celebrations.
To alleviate the strain, Governor Gavin Newsom said Monday that he would deploy support teams to L.A. County comprised of additional health care workers from across California.
So far, there have been at least 756,412 cases and 10,056 deaths in Los Angeles since the pandemic began, according to the New York Times.
Newsweek reached out to Newsom for additional comment, but did not hear back in time for publication.