Dr. Anthony Fauci estimates that around 70 to 85 percent of Americans will need to be vaccinated against COVID-19 to see a "dramatic decrease" in cases and reach herd immunity—a state where a significant portion of a population has been inoculated against the virus thus preventing further spread.
That 70 to 85 percent level of vaccination equates to around 230 million to 279 million of the total U.S. population of 328,239,523 people.
Speaking to Newsweek, the country's leading infectious diseases expert said it is "very important to get the overwhelming majority of the people vaccinated," warning the country could otherwise be left in a "chronic state of a lower level of infection," with its ability to ultimately end the pandemic significantly hampered.
The country will start to see declining infections much before 70 to 85 percent of the population has been vaccinated, from around when 20 percent get the vaccine, Fauci told Newsweek.
"You're going to see declines in community spread way before you get to 70 to 85 percent but you won't get complete control [of the outbreak]. I think as you start vaccinating 20, 25, 30, 35, 40, 50 percent, you're going to see more diminution [of cases].
"And once you hit that level where it [portion of people vaccinated] is approaching 85 percent, you'll see a dramatic decrease [in infections] in the community," the director of the National Institute of Allergy and Infectious Diseases (NIAID) explained.
When asked by how much the pandemic could be prolonged if not enough people are willing to get the vaccine, the White House COVID-19 task force member warned that scenario "will have a significant negative impact on our ability to contain and end this pandemic."
Fauci explained: "If you don't get a substantial proportion of the people vaccinated, and you have a recalcitrant group that prevents you from achieving herd immunity, you can get into a chronic state of a lower level of infection," noting it would be at a lower level "because you've vaccinated some of the people and any vaccination is better than no vaccination.
"But if you really wanted to get epidemic control, it would be very important to get the overwhelming majority of the people vaccinated."
At least 2,127,143 people in the U.S. have received their first dose of a COVID-19 vaccine, while 11,445,175 doses have been distributed, according to the latest report on Monday by the U.S. Centers for Disease Control and Prevention (CDC).
Vaccine hesitancy in the U.S. was reported to have dropped since September. The graphic below, provided by Statista, shows the percentage of adult Americans who would or would not get a COVID-19 vaccine if it was free and deemed safe by scientists, according to recent surveys by the Kaiser Family Foundation.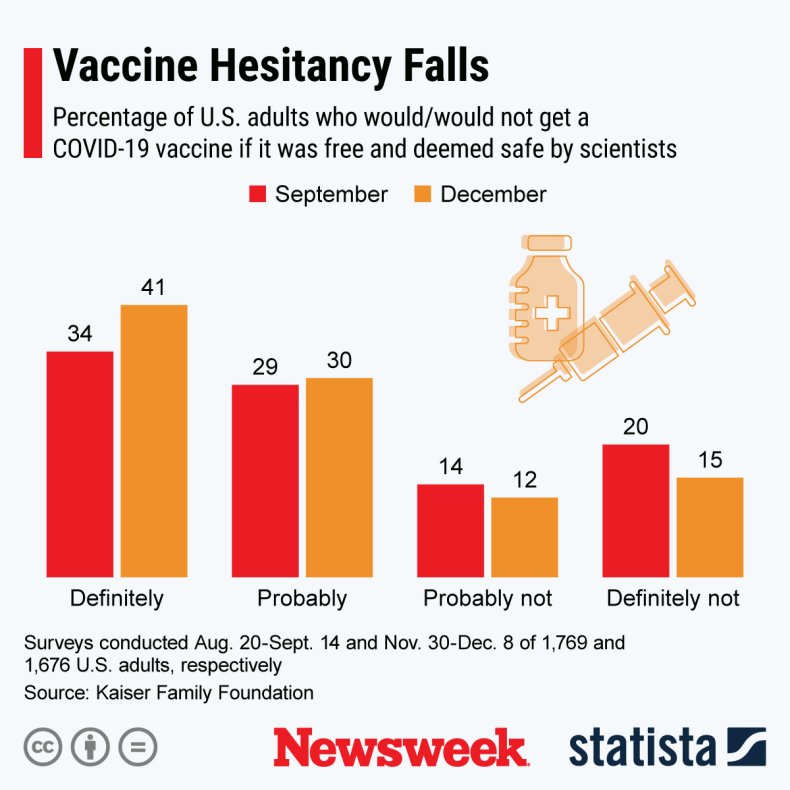 How long will it take to reach herd immunity in the U.S.?
Fauci told Newsweek: "That depends on us and what percentage of the population is willing to get vaccinated. Assuming they're willing, what are the logistic capabilities of getting that many people vaccinated—that's gonna be the issue."
The immunologist also noted it's difficult to know exactly what percentage of the population would need to be inoculated to achieve herd immunity.
"We have to appreciate that we do not know the precise number [percentage that need to be vaccinated to reach herd immunity]. You have to have a lot of experience over years with a particular virus or pathogen [to know that]," Fauci said.
"For example, we have extensive, decades-long experience with measles, which is a highly transmissible disease. We know from experience that if you vaccinate 95, 96, 97 percent of the population, you can essentially eliminate measles from society like we did in the U.S.
"So we know from experience, that with a highly transmissible virus like measles you need about 90 percent or more of the population vaccinated to get true herd immunity. To get really good herd immunity, you've got to get over 90 percent.
"But we can figure a little bit less than that [90 percent] for COVID-19, because it isn't as transmissible as measles. Since we are so new to the experience with COVID-19, we do not know yet of what the [exact] herd immunity level is," Fauci said.
Are COVID-19 vaccines compromised by recent mutations?
The emergence of a new strain of the virus, which was first identified in the U.K. and has since been detected in other countries including the U.S., has sparked fears over the potentially compromised efficacy of existing COVID-19 vaccines.
Fauci told Newsweek: "It is unusual for mutations of new viruses to escape vaccines," but warned "it's not impossible, that's why you have to keep following it and you have to take it very seriously.
"Vaccines induce polyclonal antibodies, mainly a whole bunch of antibodies, against particular components of the virus. Whereas mutations are very specific point mutations on a very, very restricted part of the virus. So you could get multiple mutations on important parts of the virus and still not interfere with the effect of the vaccine."
Asked what mitigating measures Americans could take against a more contagious strain, the infectious diseases expert replied: "If it's [the mutation] not interfering with the vaccine, you don't need to do anything about the vaccine.
"But the thing that the Brits say is that it [the mutation] likely increases the transmissibility of the virus. If that's the case, the things we've been talking about all along, we just need to make sure we do it, mainly the implementation of public health measures.
"Wearing masks, keeping distances, avoiding congregate settings, doing things outdoors more than indoors, washing your hands frequently—those are the things that stop any virus, regardless of whether it mutates or not," Fauci told Newsweek.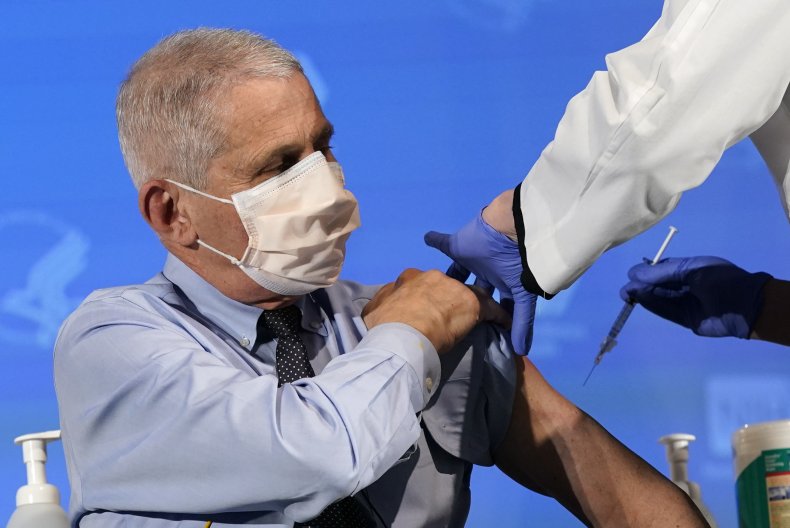 The wider picture
The novel coronavirus has infected more than 82 million people, including just over 19.5 million in the U.S., since it was first reported in Wuhan, China.
More than 1.7 million people have died worldwide and more than 46.4 million have recovered as of Wednesday, according to Johns Hopkins University.
The graphic below, also produced by Statista, shows the countries with the highest death tolls.