40% of Top Pentagon Positions Empty After Donald Trump's Firing of Mark Esper
Following President Donald Trump's firing of Defense Secretary Mark Esper on November 9, 40 percent of the top positions at the Department of Defense (DoD) don't have approved appointees overseeing them.
Currently, 24 of the top 60 positions at the DoD aren't occupied by individuals who were confirmed by the Senate, according to Defense News. Rather the 24 positions are filled by non-appointed workers who are operating on the president's behest as acting or "performing-the-duties-of" capacities.
While a majority of the department's vacancies are reportedly within the Office of the Secretary of Defense the following positions remain vacant: five undersecretaries, five deputy undersecretaries, nine assistant secretaries as well as the Director of Cost Assessment and Program Evaluation, the department's Inspector General and a General Counsel of the Army.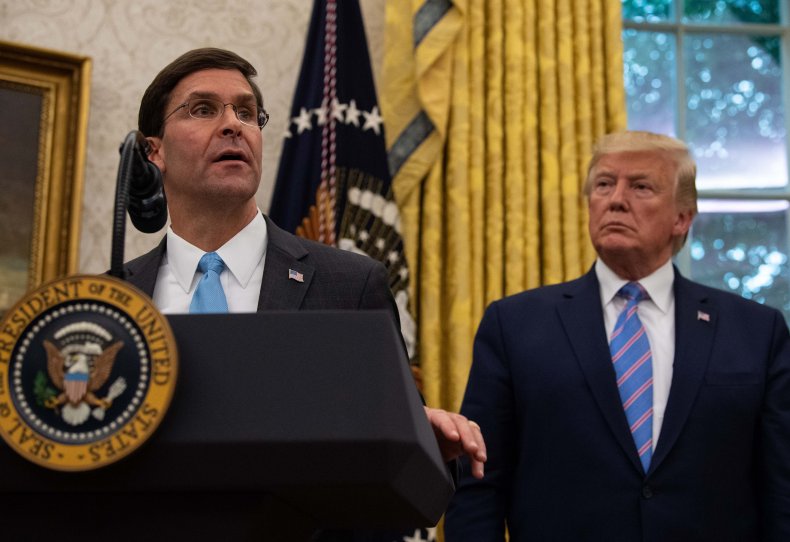 With only 61 days left until Inauguration Day, it's unlikely that President Donald Trump will fill these 24 positions with Senate-approved appointees—even though he has put forth nominees for 11 of the positions—because the Senate approval process can take several months to over half a year.
Senate approval for Trump's nominees seems even less likely considering that the Senate only has about 14 working days left, former Senate Armed Services Committee staff director, Arnold Punaro, told Defense News.
During those 14 remaining days, the Senate is likely to stay preoccupied with Trump's continued disputes about the election's outcomes, the Georgia runoff election that will determine party control of the Senate and the appointing of conservative judges before President-elect Joe Biden takes office.
Shortly after Esper's firing both James Anderson, the Acting Under Secretary of Defense for Policy, and Joseph Kernan, the Acting Under Secretary of Defense for Intelligence, resigned.
Trump immediately appointed Director of the National Counterterrorism Center, Christopher Miller, to fill Esper's previous position upon Esper's firing. Miller has served as the counterterrorism head since August 10.
Esper was Trump's second Defense secretary after James Mattis who resigned in December 2018 following disagreements with Trump's troop withdrawals from Syria and Afghanistan.
Trump reportedly became angered over the summer when Esper publicly opposed the president's use of military forces to attack racial justice protesters in the nation's capital.
No modern president has ever fired their top Pentagon chief after losing re-election.
House Speaker Nancy Pelosi (D-Calif.) called Esper's firing "disturbing evidence" that Trump is now "intent on using his final days in office to sow chaos in our American Democracy and around the world."
"Again and again, Trump's recklessness endangers our national security," she continued. "It is disturbing and dangerous that, at this precarious moment, our military will now be led by an official who has not been confirmed for this position by the Senate."
Newsweek contacted the Department of Defense for comment.