4,000 Firefighters Battle Mendocino Complex Fire, the Largest Blaze in California History
Firefighters have been battling California's largest confirmed wildfire in recent history as it spreads across the state's Mendocino Complex, destroying dozens of homes and threatening thousands more.
According to Cal Fire, 283,800 acres were burning as of Monday evening, with only 30 percent of them contained, making it the state's largest known wildfire, at least according to recent records.
There are 3,908 fire personnel from multiple counties responding, using 441 engines and 15 helicopters. Seventy-five residences have been destroyed so far, and an additional 11,300 structures have been threatened as the fire rages. Mandatory evacuation orders are in place across several areas.
The two fires across the Mendocino Complex have burned since July 27. The larger Ranch Fire off Highway 20 near Potter Valley is 235,000 acres and only 21 percent contained. The River Fire is 48,800 acres and 58 percent contained.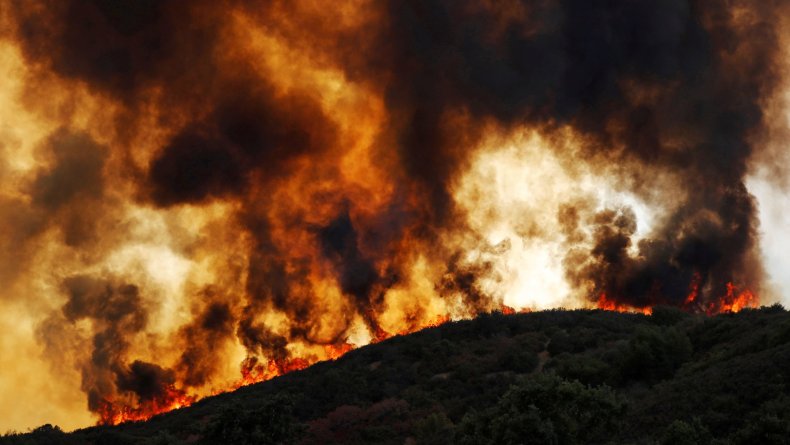 "Today a higher pressure system brought warmer weather, drying and strong winds to the region," said Cal Fire's incident update.
"The Ranch Fire saw continued spread to the east-southeast sections. Fire crews worked aggressively to hold previously established containment lines. The River Fire had a successful firing operation in the Cow Mountain area, continuing to tie into Scotts Valley Road.
"Today more engines, water tenders and dozers came in to help fire suppression efforts. Tonight fire crews will try to take advantage of the lower temperatures to increase suppression and hold current containment lines."
Cal Fire lists the state's 20 largest wildfires and, based on the latest incident update, the Mendocino Complex fire is now at the top. It overtakes the Thomas Fire from December 2017, which burned across 281,893 acres, destroying 1,063 structures and killing one person.
"There is no doubt that there were fires with significant acreage burned in years prior to 1932," the agency stated, "but those records are less reliable, and this list is meant to give an overview of the large fires in more recent times."
Still, the Mendocino Complex fire is heading toward the size of what might have been California's largest ever wildfire. In 1889, the Santiago Canyon fire was believed to have spread across 300,000 acres.
The Mendocino Complex fire is not the only large wildfire currently raging in California. The Carr Fire in Shasta County has so far burned 164,413 acres and is 47 percent contained, killing seven people, including two young children, and destroying 1,080 homes.
California Governor Jerry Brown requested a Presidential Major Disaster Declaration, which the Trump administration has approved, unlocking more resources to help battle the wildfires raging across the state.
"This is part of a trend—a new normal—that we've got to deal with. We're dealing with it humanly, financially and governmentally," said Brown during a media briefing at the Carr Fire Incident Command Post, per his website.
"These kinds of horrible situations bring people together, regardless of the lesser kind of ideologies and partisan considerations."