41 Percent of Republicans Are Uncomfortable With a Woman President, Poll Indicates
A fair share of Republicans in America would not be comfortable with a woman holding the country's highest office, a new poll released this week has shown. Meanwhile, Democrats were largely comfortable with the idea of having a woman in the Oval Office.
A survey from YouGov/The Economist asked: "If you honestly assessed yourself, how comfortable are you with a woman President of the United States?" Respondents could choose among "Entirely comfortable," "Somewhat comfortable," "Somewhat uncomfortable," "Entirely uncomfortable" and "Not sure."
Among Republicans, 41 percent said they were, to some degree, uncomfortable with the idea of a woman being president—21 percent said "somewhat uncomfortable" while 20 percent said "entirely uncomfortable." According to the YouGov/The Economist survey, 49 percent of GOP respondents expressed some degree of comfort with a woman president—31 percent "entirely comfortable" and 18 percent "somewhat comfortable."
There was a stark divide along party lines. Democrats were far more likely to endorse the idea of a women president. Eighty-seven percent of Democrats expressed some level of comfort with the idea of a female president—72 percent said "entirely comfortable" while 15 percent said "somewhat comfortable." Just six percent expressed some degree of discomfort.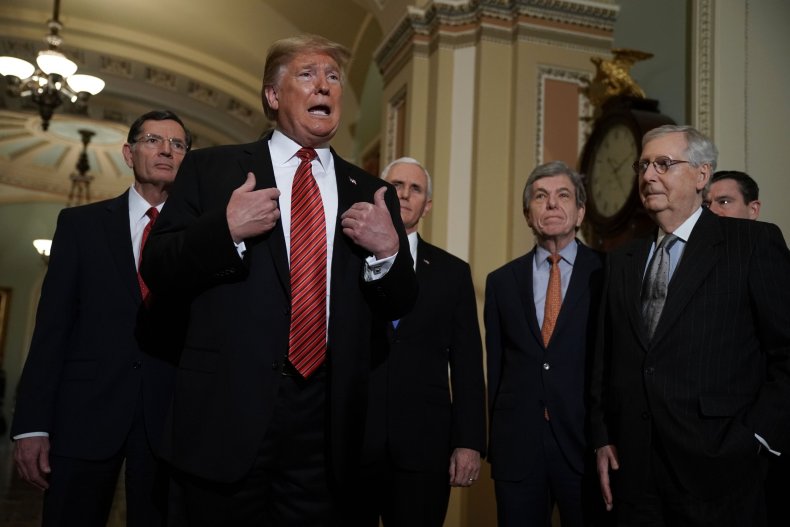 Overall, a majority of Americans—66 percent—described some level of comfort with a woman being president, according to the YouGov/The Economist poll. Somewhat surprisingly, 20 percent of female respondents described some level of discomfort with the idea of a woman president—9 percent answered "somewhat uncomfortable" while 11 percent said "entirely comfortable."
The poll from YouGov/The Economist surveyed 1,500 U.S. adults from January 6 through January 8. It had a margin of error of plus or minus 3.1 percentage points.
Obviously, there has never been a woman president. Hillary Clinton, the 2016 Democratic nominee, became the first woman to secure a major party's nomination. In the end, of course, she lost out to President Donald Trump.
A number of women are considered viable contenders for the 2020 Democratic presidential nomination, including Massachusetts Senator Elizabeth Warren, California Senator Kamala Harris and New York Senator Kirsten Gillibrand. Warren has already formed an exploratory committee and made hires.
Clinton has reportedly talked with some of the women considering a run and recently defended those candidates as "likable," a subject that seems to pop up more frequently for female politicians than their male counterparts.
"There's been a lot of talk recently about whether our country is ready for women leaders," Clinton said this week at a New York event promoting a bill protecting reproductive rights, via NBC News. "That really takes me back.… Today, I want to thank all of you for your persistence. I know many of you and can attest as to how smart, determined, effective and dare I say, likable, you all are."