Watch: Elizabeth Warren Announces 2020 Exploratory Committee With Video About Racial Inequality, Corruption, Blasts Trump
Senator Elizabeth Warren (D-Mass.) has long been rumored to be a potential 2020 presidential candidate. On December 31, that prospect became much more real when the senator announced an exploratory presidential committee.
In a video announcing the formation of the committee, Warren focused on her own life in America, and how her mother and father struggled and worked hard to give her opporunities that were unavailable to them.
"In our country, if you work hard and play by the rules, you ought to be able to take care of yourself and the people you love," Warren says to open the video, which contains home-video footage of her family. "That's a fundamental promise of America—a promise that should be true for everyone."
But, Warren said, regular people in American faced more difficult challenges in 2018. The "middle class is under attack," she said.
"Working families today face a lot tougher path than my family did. And families of color face a path that is steeper and rockier, a path made even harder by the impact of generations of discrimination."
Billionaires and politicians have sold out the working class, Warren says in the video. And while she never mentions President Donald Trump by name, both he and his administration officials appear onscreen when Warren talks about an "echo chamber of fear and hate." At one point Trump can be heard chanting "build that wall."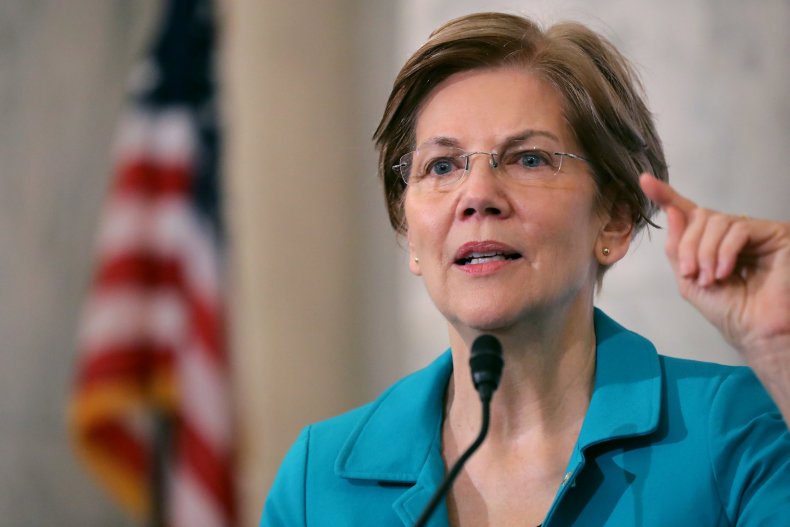 While it's still very early, recent polling showed that Warren's chances of earning her party's nomination took a bit of a dip. A poll this month from CNN pegged her support among Democrats and Democratic-leaning independents at just 3 percent, down 5 percentage points from October. Leading the way among potential Democratic candidates was former Vice President Joe Biden at 30 percent, followed by Vermont Senator Bernie Sanders at 13 percent and Representative Beto O'Rourke at 9 percent.
Warren has had an ongoing public feud with President Trump, who repeatedly mocked her for claiming to be of Native American descent. Warren released DNA test results that indicated Native American heritage but was criticized by Native Americans who said that DNA alone didn't make a person part of a tribe.