Beto O'Rourke Surges, Elizabeth Warren Falls in Democratic 2020 Presidential Election Poll
Senator Elizabeth Warren (D-Mass.) received a less than encouraging sign on Friday for her potential bid for the 2020 Democratic presidential nomination.
A new poll from CNN showed that support for Warren had dropped over the past few months. In October, the CNN survey measured Warren's support among Democrats and Democratic-leaning independents at 8 percent. The most recent poll, conducted between December 6 and December 9, found she registered just 3 percent support.
Former Vice President Joe Biden garnered 30 percent support in the poll, leading all potential candidates in the CNN survey. Vermont Senator Bernie Sanders came in at 13 percent.
As support for Warren dwindled, a relative newcomer, Representative Beto O'Rourke (D-Texas), surged 5 percentage points from October. O'Rourke's support rose from 4 percent to 9 percent, trailing only Biden and Sanders.
After O'Rourke were New Jersey Senator Cory Booker (5 percent), former Secretary of State John Kerry (4 percent) and former California Senator Kamala Harris, who dropped to 4 percent from 9 percent in October.
The poll from CNN surveyed 1,015 adults and had a margin of error of 3.8 percentage points (and 5.6 percentage points for results about the potential Democratic electorate).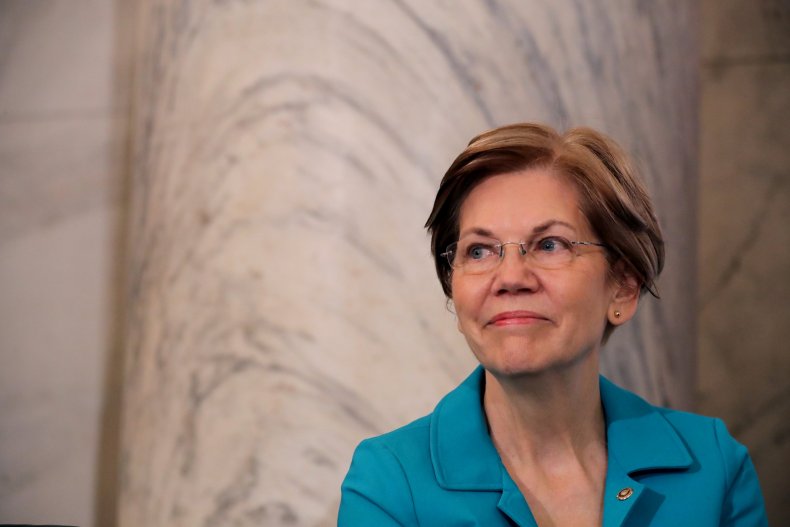 It's still very (very) early to draw many conclusions about 2020. The primaries are still a ways off, and polling this early mostly measures name recognition.
Warren did seem to misstep when she released results of a DNA test showing she had a small amount of Native American heritage in response to President Donald Trump's repeated mockery of her heritage claim. Republicans also mocked the DNA test, and some Native Americans pointed out that DNA did not make one part of a Native American tribe.
O'Rourke, meanwhile, has jumped up in the polls despite narrowly losing his bid for a Senate seat against Senator Ted Cruz (R-Texas). Other recent polls found his potential support around 9 percent as well.