Hillary Clinton 2020? Beto O'Rourke Earns Less Support Than 2016 Democratic Candidate in Early Poll
It seems unlikely former Secretary of State Hillary Clinton—who lost to President Donald Trump in the 2016 election—would choose to run again.
But if Clinton gives it another go, she currently registers more support among potential 2020 Democratic candidates than Texas Representative Beto O'Rourke, a lawmaker who has surged in popularity despite losing a 2018 Senate race to Republican Texas Senator Ted Cruz.
A Harvard CAPS/Harris poll released to The Hill Monday surveyed Democratic and independent voters on potential 2020 candidates. When Clinton was included in the field, former Vice President Joe Biden, considered by many to be a favorite to earn the nomination, was the most popular choice at 25 percent. Vermont Senator Bernie Sanders was second at 15 percent, while Clinton garnered 13 percent. O'Rourke, meanwhile, had 9 percent support—not bad for someone who just recently sprung on the national scene.
The poll from Harvard CAPS/Harris released to The Hill surveyed 1,407 registered voters from November 27 to November 28.
It's worth noting that this far removed from the 2020 election, these sorts of polls are very preliminary and, in many ways, register little more than name recognition.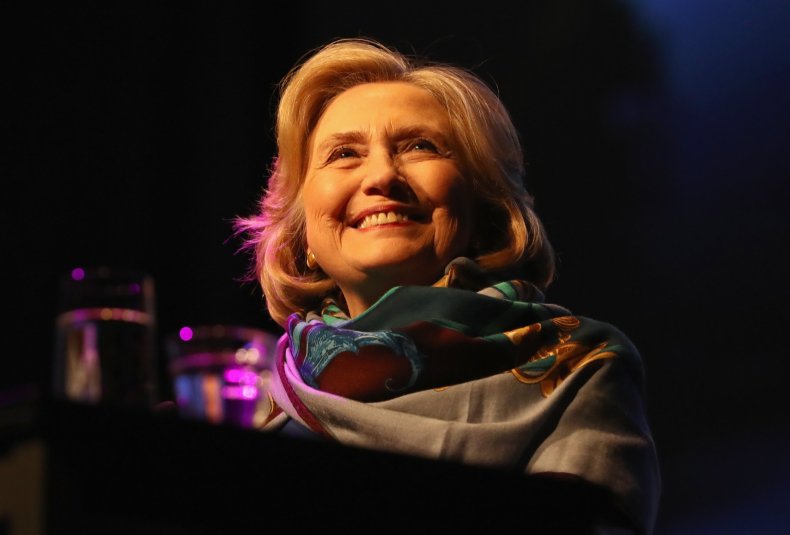 There have been hints that Clinton would consider running again—despite the devastation of 2016, when it was widely expected she would roll over Trump.
"It's curious why Hillary Clinton's name isn't in the mix—either conversationally or in formal polling—as a 2020 candidate," longtime Clinton-aide Philippe Reines told Politico in October. "She's younger than Donald Trump by a year. She's younger than Joe Biden by four years. Is it that she's run before? This would be Bernie Sanders's second time, and Biden's third time. Is it lack of support? She had 65 million people vote for her."
It would be curious to see Clinton chase down a rematch with Trump, who has battled a historic lack of popularity and a presidency chock full of controversy.
Plenty on the Democratic side, however, have floated O'Rourke as an exciting new option. He roused up a lot of enthusiasm and energy to make the race against Cruz close in a deeply red state. Former President Barack Obama—who surged onto the scene himself in 2008—has even said he sees some of himself in O'Rourke, a comparison a number of others have made.
"The whole conversation around Beto has been eerily familiar to me, because these are the exact arguments people made to me when I told them I was considering working for Barack Obama 10 years ago," Dan Pfeiffer, Obama's former communications director, wrote late last month.