411 Mayors Sign Letter Demanding Congress Pass Joe Biden's Stimulus, Economic Relief Bill
More than 400 mayors signed a letter Monday asking Congressional leaders to pass President Joe Biden's American Rescue Plan, which would provide funding for local governments.
Some members of the GOP have criticized Biden's $1.9 trillion economic relief bill as too expensive. Biden is expected to meet on Monday with a group of Republican Senators who have drafted a $618 billion relief package. House Majority Leader Chuck Schumer and House Speaker Nancy Pelosi announced on Monday they had filed a joint budget resolution which would could allow Biden's proposal to be passed without Republican support.
Monday's letter from The United States Conference of Mayors said in its Monday letter that providing funding for local governments was "long overdue."
"American cities and our essential workers have been serving at the frontlines of the ongoing COVID-19 pandemic for nearly a year," the letter read. "We have been charged with executing herculean public health efforts and an unprecedented emergency response. Despite immense fiscal pressure, your local government partners oversaw those efforts, while trying to maintain essential services and increase our internal capacity to provide support for residents and businesses who have been crippled by a tanking economy."
The letter, signed by a bipartisan collection of over 400 mayors, was written to Schumer, Pelosi, Senate Minority Leader Mitch McConnell and House Minority Leader Kevin McCarthy.
"Your quick action on President Biden's plan is a crucial step to making meaningful progress in one of the most challenging moments in our country's history," the letter read.
Newsweek reached out to McCarthy's office for comment.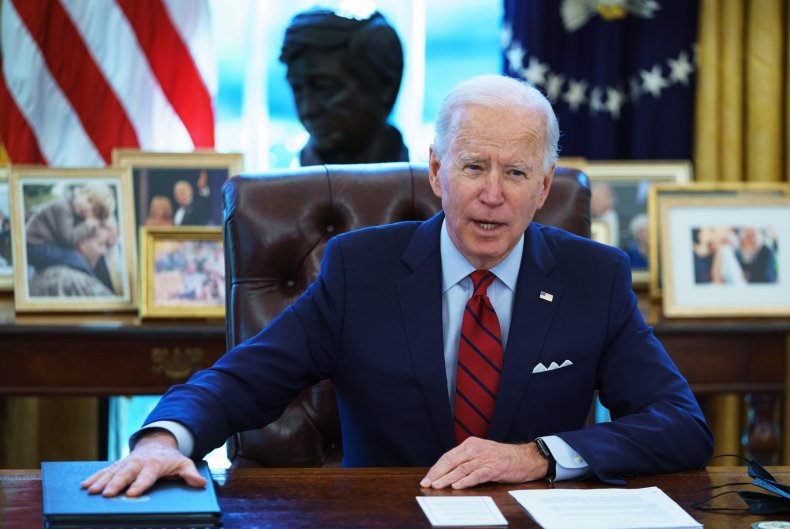 Federal Reserve Chair Jerome Powell said during a December 2020 press conference that the economic needs of states varied. "What we're seeing is that it's different state to state," Powell said, "and some states are having significant difficulties. Others, not so much."
Biden has expressed a desire for bipartisan agreement on the economic relief plan, but did not rule out moving forward with GOP support.
"I support passing COVID relief with support from Republicans if we can get it," Biden told reporters Friday. "But COVID relief has to pass. There's no ifs, ands or buts."
Schumer and Pelosi's joint budget resolution could allow Biden's bill to pass without Republican support in Congress could potentially lead to a budget reconciliation bill. Budget reconciliation would allow the Senate to pass the relief bill with a simple majority. Only 20 hours of debate time would be permitted, prohibiting a Senate filibuster.
"We are hopeful that Republicans will work in a bipartisan manner to support assistance for their communities," Pelosi and Schumer wrote in a joint statement Monday, "but the American people cannot afford any more delays and the Congress must act to prevent more needless suffering."
An alternative COVID relief plan drafted by 10 GOP Senators, including Maine Senator Susan Collins and Utah Senator Mitt Romney, proposed direct payments of $1,000 per eligible American with $500 going toward dependent adults and children. Convicted inmates would not be eligible to receive payments. Biden's plan would include direct payments of $1,400 per person.