Chuck Schumer Prepares Democrats for Potential Vote on Budget Reconciliation for Stimulus
Senate Majority Leader Chuck Schumer indicated during a Tuesday call to Democratic senators that a vote on a budget resolution could occur as soon as next week, clearing the way for the passage of a COVID-19 relief bill.
President Joe Biden introduced a $1.9 trillion COVID-19 relief plan in January which would send $1,400 in direct payments to eligible Americans and increase the federal minimum wage to $15 per hour. Biden has stated that he wants bipartisan support for his proposal. Some Republicans have criticized aspects of Biden's plan. During his Thursday call, Schumer said that Democrats may be prepared to move without the GOP's participation.
"We want to work with our Republican colleagues to advance this legislation," Schumer said, but added that "we're keeping all our options open, on the table, including budget reconciliation."
"In keeping our options open on our caucus call today I informed senators to be prepared that a vote on a budget resolution could come as early as next week," Schumer continued.
Budget reconciliation would allow the proposal to pass the Senate with a simple majority of 51 votes as opposed to the regular 60 votes normally required for approval. Reconciliation would only allow 20 hours for debate on the budget bill, effectively bypassing any filibuster.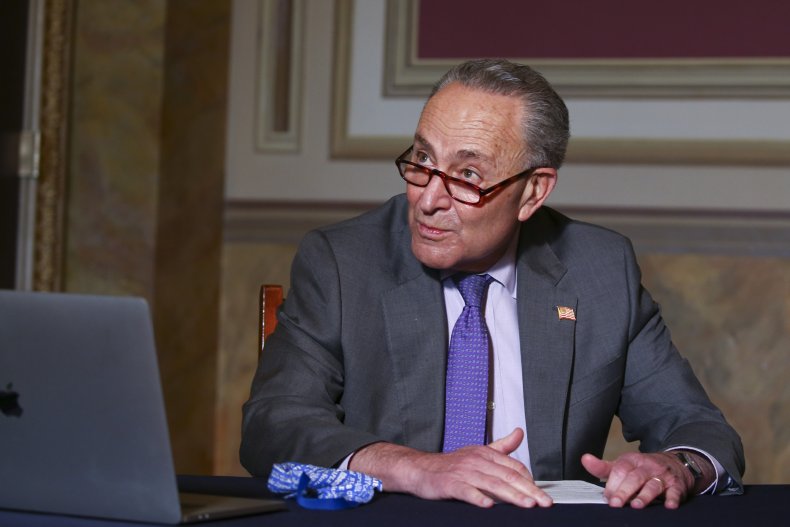 While Schumer did not specifically commit to using reconciliation tactics during the Tuesday call, incoming Budget Committee Chairman Vermont Senator Bernie Sanders said on Sunday that Democrats would use reconciliation "to pass legislation desperately needed by working families in this country right now."
Sanders told CNN host Dana Bash that if Republicans were willing to work with Democrats to address economic issues caused by the COVID-19 pandemic, "welcome, let's do it. What we cannot do is wait weeks and weeks and months and months to go forward. We have got to act now."
Utah Senator Mitt Romney was one of the Republicans who expressed doubts about Biden's proposal.
"I think it would be unrealistic to assume that Democrats and Republicans are going to see eye to eye on every issue," Romney said on Fox News Sunday. "There are going to be differences of opinion, that's expected."
Newsweek reached out to Romney's office for comment.
Senate Republican Policy Committee Chairman Missouri Senator Mo Brooks told reporters on Thursday that he believed Biden's entire relief proposal could be a "non-starter." Brooks said he was interested in moving forward on COVID vaccine distribution, but that other aspects of the proposal were concerning.
"There are some things in there that aren't going to happen and there are some things that can't happen," Brooks said.
Biden indicated at a Monday White House event that he was open to negotiation concerning the proposal.
"I prefer these things to be bipartisan," Biden said.