43% of Men Believe There Was Widespread Voter Fraud in Election, Compared to 29% of Women: Poll
Nearly half of American men believe that widespread voter fraud affected the 2020 presidential election according to the results of a Quinnipiac University poll released Thursday.
Allegations of voter manipulation hovered over the 2020 election as former President Donald Trump repeatedly claimed that Democrats had rigged the election to favor President Joe Biden. Many Democrats have pointed to Trump's rhetoric about election fraud as helping to incite a riot at the U.S. Capitol in January. Despite assurances from election officials that no fraud was involved, some Americans continue to believe that voter fraud had an impact on the 2020 election.
According to the Quinnipiac poll, 43 percent of all men surveyed said that widespread voter fraud happened during the 2020 presidential election. Only 29 percent of the women polled believed that voter fraud had taken place.
Out of those totals, more white people adhered to the idea that voter fraud happened. According to the poll, 54 percent of white American men believed that widespread voter fraud occurred during the 2020 presidential election while 36 percent of white women in the U.S. agreed.
Thursday's poll was conducted from a pool of 1,075 U.S. adults between January 28-February 1 and carried a margin of error of plus or minus 3 percentage points.
Officials denounced the claims of voter fraud. In November, former head of the Cybersecurity & Infrastructure Security Agency Christopher Krebs described the 2020 election as "the most secure in American history."
Addressing claims that voting machines had been reprogrammed to flip votes from Trump to Biden, Krebs said that there was "no evidence that any voting system deleted or lost votes, changed votes, or was in any way compromised."
Trump fired Krebs over Twitter soon after the statement was issued, describing Krebs' description of the election as "highly inaccurate."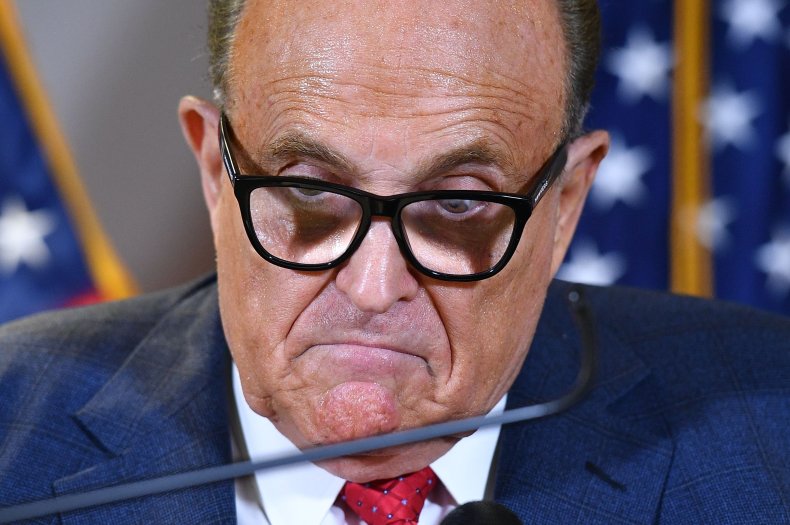 Both voting machine producer Dominion Voting Systems and technology company Smartmatic have filed large lawsuits against people they allege helped spread voting fraud allegations.
Dominion filed lawsuits against Trump's personal attorney Rudy Giuliani and Texas attorney Sidney Powell in January in the amount of $1.3 billion each. In a statement, Dominion CEO John Paulos said Giuliani "continues to make demonstrably false claims, and we intend to hold him, and others who spread disinformation, to account."
Powell had alleged that Dominion had been created at the behest of late Venezuelan President Hugo Chavez, who died in 2013, to ensure the results of his election. Dominion denied those claims in their lawsuit, saying in their lawsuit that Powell's allegations had caused the company "unprecedented harm."
Newsweek reached out to Powell for comment.
On Thursday, Smartmatic filed a $2.7 billion defamation suit against the Fox News network and Fox Corporation for their role in perpetuating stories of voter fraud. Named as co-defendants in Smartmatic's lawsuit were Fox News host Jeanine Pirro and Fox Business hosts Lou Dobbs and Maria Bartiromo, along with Giuliani and Powell.
"Fox News engaged in a conspiracy to spread disinformation about Smartmatic," said Smartmatic's attorney J. Erik Connolly in a Thursday statement. "They lied, and they did so knowingly and intentionally. Smartmatic seeks to hold them accountable for those lies."