The 5 Most Affordable Electric Cars from Chevy, Ford, Nissan, Hyundai and Mini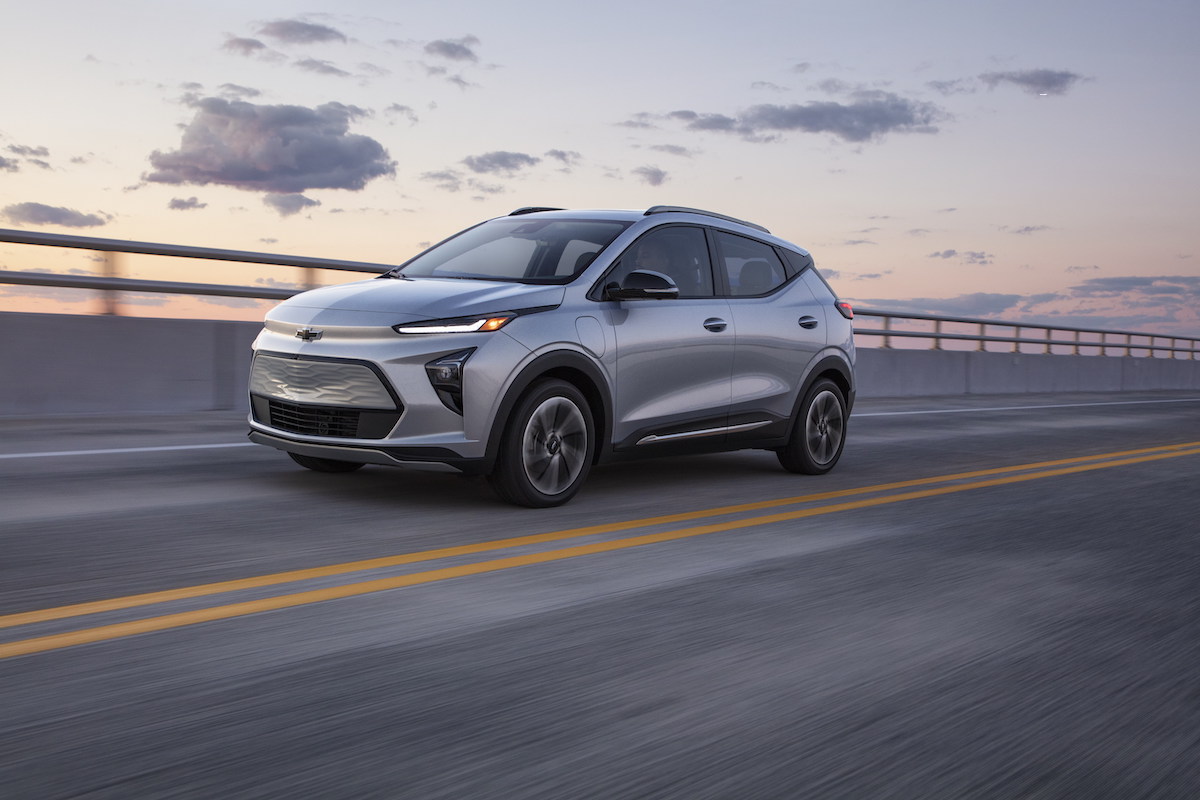 Electric vehicles are on the rise. No, seriously, we know you've heard this before, but this time it's for real. Interest has been steadily building over the years as the U.S. continues to shift its perspective on what is eco-friendly and what is not, but according to new data, the reality of electric cars becoming the norm is closer than ever.
After President Biden announced infrastructure plans to invest $174 billion into the electric vehicle (EV) market, a Cars.com survey found that 66 percent of Americans noted an increased desire in buying one. No fuel, no gas stations, no problem.
Of course, the EV market faces some barriers. Cars.com also found that 34 percent of surveyed Americans noted cost as the main deterrent to going fully electric. But electric doesn't have to equal expensive. In fact, these five electric cars are some of the most affordable—not to mention some of the sleekest—available right now.
The 5 Most Affordable Electric Cars
2022 Chevrolet Bolt EUV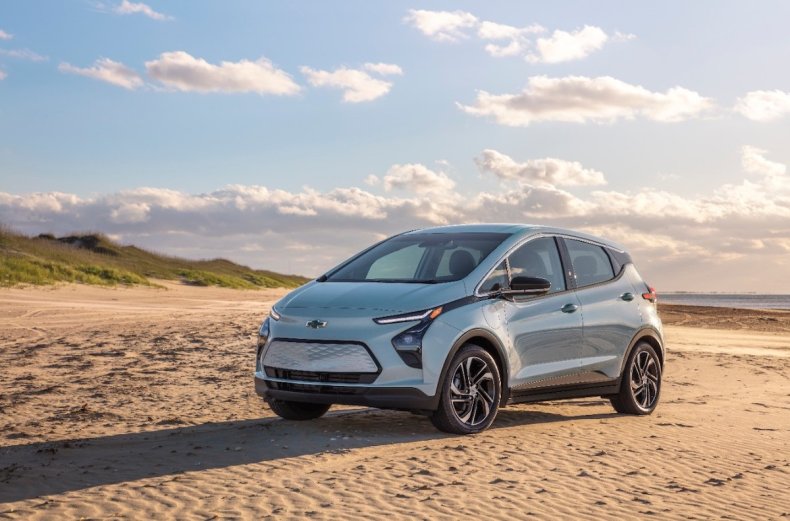 Price: Starting at $33,000
Editor's Note: The Chevy Bolt EUV is recalled.
The 2022 Chevrolet Bolt EUV is sleek, roomy and affordable—with pricing starting at $33K—and features so many of the industry-changing features that made the Chevy Bolt EV a fan-favorite, but with one major upgrade. The 2022 Bolt EUV is the first Chevrolet vehicle to offer Super Cruise, the industry's first true hands-free driver-assistance system, making the future of driverless car technology seem all the closer. This means that, on enabled roads—and there are more than 200,000 of them!—Super Cruise can be turned on to give the driver a temporary, hands-free experience. When it's in control, a screenlike feature on the steering wheel stays green; when it needs you to take over, it flashes red.
But there's so much more to the Bolt EUV than one exciting feature. You'll love its long range (247 miles on a single charge) as well as the option to paddle brake with your left hand (same way you would brake on a bike) or use one-pedal driving in low mode, which means the car automatically brakes when you lift your foot off the "gas" pedal (or accelerator pedal), regenerating the battery. The 2022 Bolt EUV zips around and builds momentum quickly and smoothly, making it so fun to drive, you'll soon find yourself obsessed with this car and taking extra drives for the sheer fun of it.
2021 Ford Mustang Mach-E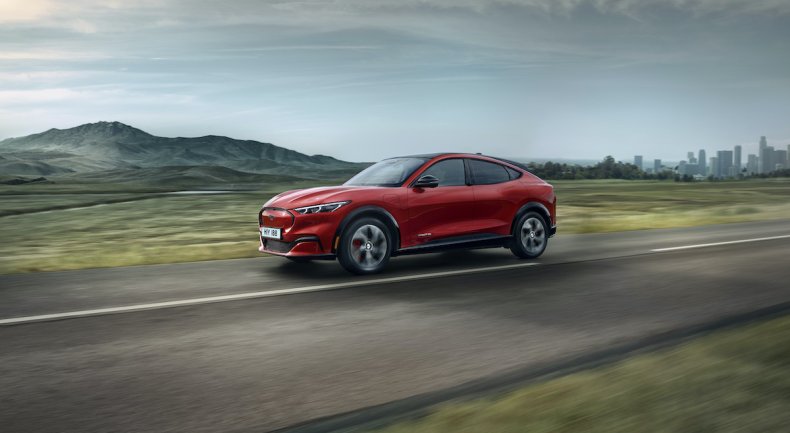 Price: Starting at $42,895, but with eligible federal tax credit comes to about $35,000
Named by Cars.com as the site's 2021 Best Eco-Friendly Car of the Year, the Ford Mustang Mach-E is not to be ignored. First of all, its sleek design isn't one to exactly fly under the radar, especially when idling in a parking lot. Not only will pedestrians and drivers alike stop to stare at this hot rod, but it's also one of the roomiest EVs on the market, thanks to its "all-electric SUV" status. It feels like a Mustang and drives like a Mustang—so much so that you might forget it's good for the planet. Besides the affordable price and enviable name recognition, you'll love the spacious backseat and trunk, insanely large 15.5-inch dashboard screen (like two iPads welded together) and the option for either a standard or extended range battery. (Definitely spring for the extended range.)
Nissan Leaf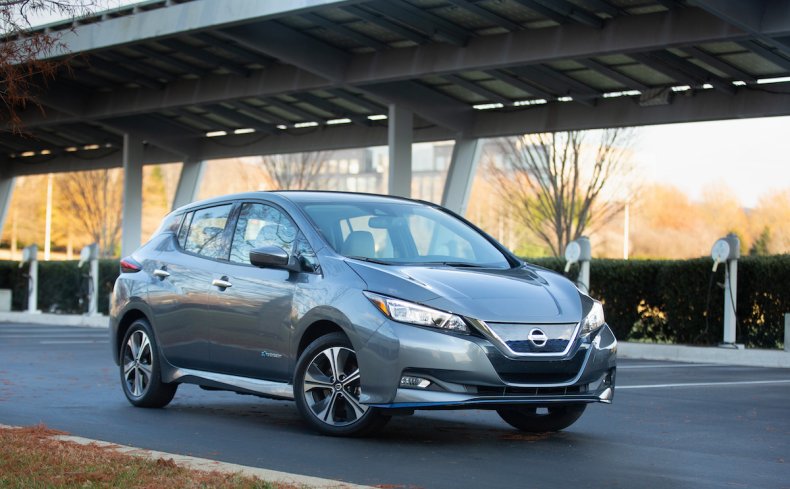 Price: Starting at $31,670
Though it has slightly less range than some of the other electric vehicle models on this list, the Nissan Leaf has still been a best-selling EV for years—and for good reason. Drivers love the extended-range option (more costly, yes, but it ultimately gets you up to 226 miles, which is more comparable with other EVs) and the 2021's newest features: ProPILOT Assist is a hands-on driver-assist system that combines intelligent cruise control with steering assist technologies to hold and bring the vehicle to a full stop, then bring the EV back up to speed when traffic resumes again. E-Pedal gives the driver the option to start, accelerate, decelerate and come to a full stop, all while only using the accelerator pedal. And if those safety features weren't enough, the Nissan Leaf is also outfitted with automatic emergency breaking with pedestrian detection, a lane departure warning, a radar-based blind-spot warning, a rear cross-traffic alert, high beam assist and rear automatic braking. How cool!
Hyundai Kona Electric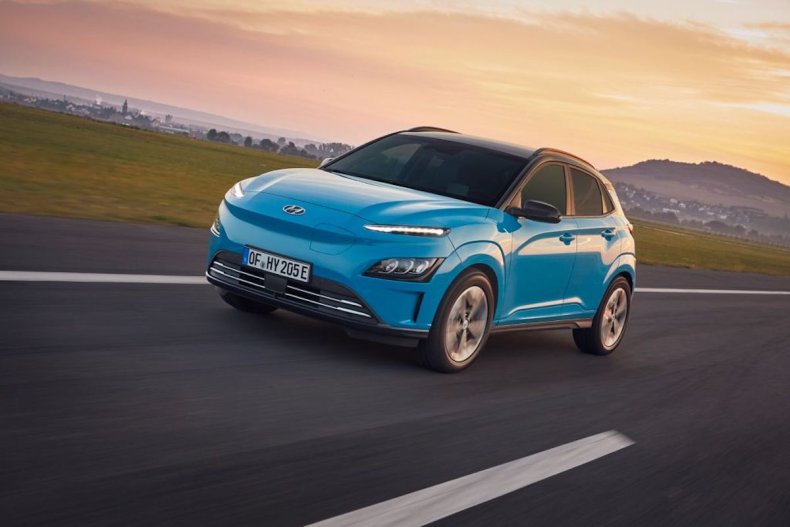 Price: Starting at $37,390, and eligible for a federal tax credit of up to $7,500
With instant torque that results in smooth, quick acceleration and that beloved regenerative braking that converts energy into electric power to recharge the car's battery, the Hyundai Kona Electric all-electric SUV is a meaningful option for future EV-owners. Drivers will love the 7-inch color touchscreen display audio, the option to use Android Auto or Apple CarPlay (it's so convenient) and both the forward collision-avoidance assist and blind-spot collision warning. The Kona Electric was also named the 2019 North American Utility Vehicle of the Year by the North American Car, Utility and Truck of the Year Awards automotive media jury. If it's an award-winning, affordable EV you're looking for, don't sleep on the Kona Electric.
Mini Cooper SE Signature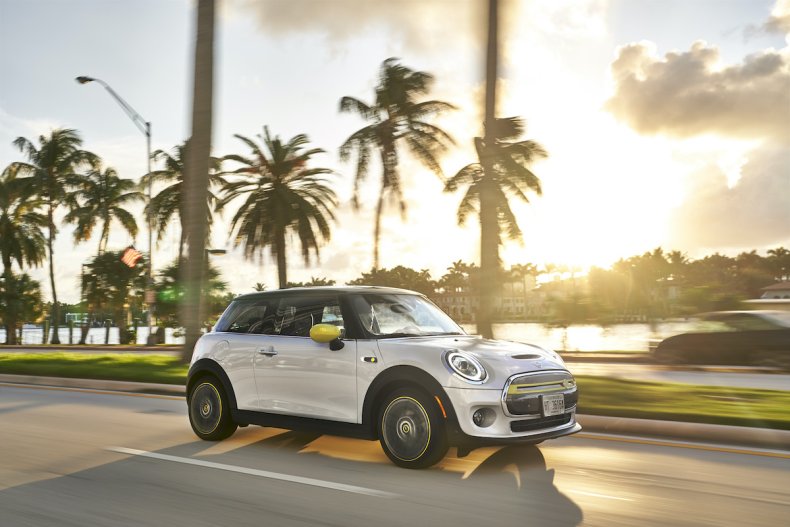 Price: Starting at $30,750, but eligible for tax credits in some states
If budget friendly is the highest priority on your list, you can't do better than the Mini Cooper Signature SE. The most inexpensive electric vehicle on the market right now—with pricing starting at $30,750 and eligibility for tax credits in some states—the Mini Cooper Signature SE is everything drivers love about the Mini Cooper, just in electric form. It has only two doors and an estimated range of about 110 miles, but it features all the teeny-tiny allure that encourages hundreds of thousands of drivers each year to buy a Mini Cooper. It only takes about 35-ish minutes to charge (most EVs take about 40 minutes with a fast charger), and it's quick. Like, really quick. This baby zips from zero to 60 miles per hour in about 6 seconds. Yep—6 seconds. Inexpensive and roller-coaster quick, the Mini Cooper Signature SE is perfect for drivers looking to enter the EV space on a budget.
Newsweek may earn a commission from links on this page, but we only recommend products we back. We participate in various affiliate marketing programs, which means we may get paid commissions on editorially chosen products purchased through our links to retailer sites.