5 of the Strongest and Boldest Coffees Taste Tested
For a lot of people, coffee isn't coffee unless it creates a buzz and jolts you awake. In a lot of cases that requires dark roasts with rich, bold flavor and plenty of caffeine. If we're being honest though, the flavor can be secondary when it comes to the caffeine that coffee can provide.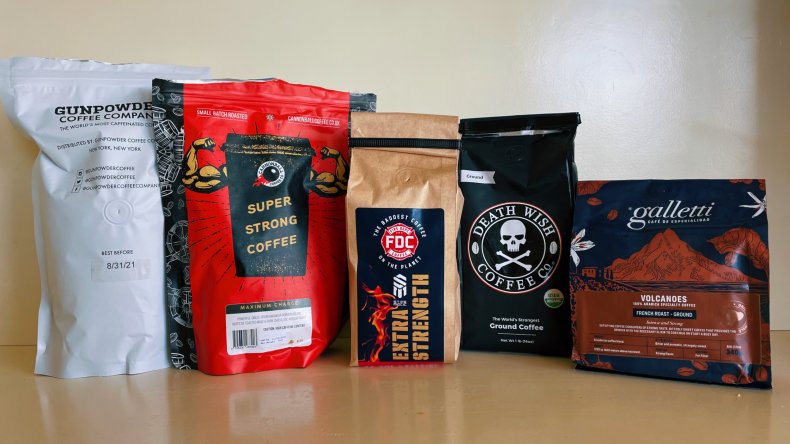 I dove into strong coffee brands like Gunpowder Coffee, Fire Dept. Coffee and Cannonball Coffee to get a taste for how strong they actually are. In most cases, these coffees do provide an intense wake-up or burst of energy. To get that pulsing energy, you sometimes have to sacrifice taste. Occasionally, it was less than ideal with these tastings, though none were bad. The goal here for most people though is alertness, and I definitely felt awake and ready to go after drinking these coffees.
Which of these strong, bold and even coffees with potentially dangerous levels of caffeine works the best? That will depend on exactly what you're looking for, but all of these have their own benefits. This wasn't a contest between the brands, but in the interest of consistency, I made a cup of each coffee with the pour-over method and drank it black to get the best idea of what each of these coffees had to offer. If you're not scared of a bold and strong coffee, give a few of these a try.
Kind: Stipe Miocic Extra Strength, dark roast, ground
Initial impressions: As I prepared this pour-over cup, I hovered over and took in the aroma. There were no whiffs of ash or flames like I thought there might be with a coffee named after the fire department. Instead, it smelled like a traditional dark roast—rich coffee whose only job is to keep you wide-eyed.
Between the moment the coffee touched my tongue and by the time I swallowed, there was a sudden (and steep) shift in flavor. It started bold and then immediately got even tougher. There was a distinct, but very traditional coffee flavor that comes with this Stipe Miocic blend. Surprisingly, most of that flavor came through in the aftertaste. I can see how this combination of caffeine and bold, tough flavor might grow to be a default choice for a lot of people.
Also, while some brands focusing on strong coffee only have strong coffee, Fire Dept. has a wide range of different coffee selections. Fire Dept. Coffee also donates 10 percent of its proceeds to first responders, if that's something important to you.
Impact: Halfway through my first cup, I already felt its effects. If you're sensitive to caffeine, you may want to be cautious on this selection. However, if you want that immediate kick, this one could be a perfect choice.
Buy at Fire Dept. Coffee.
Kind: Ground
Initial impressions: This coffee has the most unique taste among this bunch. There is a very sweet, secondary smell in the aroma that carries over into the taste. The best comparison I can think of is similar to the way a barbecue sauce might start more smoky before it quickly changes to a sweet and tangy flavor. To be clear, Gunpowder Coffee doesn't taste like barbecue sauce, but it does have a unique, sweet coffee flavor.
While a lot of other coffees have a taste that is accentuated and bolder in the aftertaste, gunpowder does a reversal on that sequence. It comes in with its richest, boldest flavor immediately and then quickly tapers off. There's no fluff here—even the packaging is largely a plain white bag with black lettering. The flavor is a bit perplexing. It's not offensive by any stretch, but it takes a few cups to become familiar with.
Impact: Gunpowder Coffee seemed to have a gentle ramp-up in its caffeine effect. It didn't take long, but it also didn't hit like a ton of bricks, and that can be nice. The coffee creates a lot of buzz and energy, but I felt it less than I would have guessed with its being advertised as the "World's Most Caffeinated Coffee."
Buy at Amazon.
Kind: Dark roast, ground
Second impressions: I was pleasantly surprised by Death Wish during my last round of coffee tastings. It's bold and strong, but it also incorporated a flavor that I kept wanting to come back to. At $20 a pop, the standard Death Wish Coffee isn't cheap, but I would say it lives up to its premium positioning.
The coffee has a rustic, earthy flavor that's addicting if you crave something bold. The coffee is smooth yet substantive. Plus, if what you're looking for is strong, this one is powerful. The dark roast can cut through a morning haze with ease.
Impact: Death Wish Coffee is bold, dark and strong, but didn't give me the jitters like I was expecting from what it claims is "The World's Strongest Coffee." It was nice to have the caffeine without the sense of vibrating.
Buy at Amazon.
Kind: Maximum Charge, medium roast, whole bean
Initial impressions: Unlike the other coffees here, Cannonball's Maximum Charge coffee is a medium roast. After going through so much dark roast coffee, I appreciated its gentler roast style to deliver its caffeine. Cannonball lists a 12-ounce serving to contain "over 1,100 mg of caffeine."
This coffee had a bit of an uncommon flavor. On first tasting, it had a malty, buttery smooth taste that was nice and airy. It's definitely not a light roast, but its flavor is also not just a cold splash of water in your face.
Halfway through my first cup, I acclimated to the taste. The moment it entered my mouth was when the coffee's flavor was its most complex; then it evened out more.
Impact: I was a bit worried about its caffeine level: Would it be dangerous? Whether it is or not, it didn't feel too strong or unsafe. My heart was never beating out of my chest. A good thing. I did head out on a run directly after my first cup and felt great; I even ran a little faster than the pace I had aimed for.
Buy at Amazon.
Kind: The Volcanoes, dark roast, ground
Initial impressions: Unlike other coffees on this list, this one from Café Galletti isn't banking on added caffeine for its strength. It is, however, advertised as having a strong, intense flavor, so I wanted to try it in the context of other strong coffees.
The strong flavor was potent on the first sip, to say the least. While the coffee may not be targeted to those looking for an immediate buzz, it is a bold dark roast that might be enough to wake you with a slap of flavor. To that end, this coffee did have a rich aroma and leaned a bit sweet.
Even hours after my morning cup of coffee, I could taste its lingering flavor. It's bold, but Café Galletti also mentions that it will be most appreciated by those coffee drinkers with an Italian palate.
Impact: There was no additional boost in energy, because there's no added caffeine like other coffees on this list. That's OK! If you're traditionally a light roast coffee drinker, the strong and intense flavor might be enough to provide a jolt in the morning with a full-on buzz.
Buy at Café Galletti.
Newsweek may earn a commission from links on this page, but we only recommend products we back. We participate in various affiliate marketing programs, which means we may get paid commissions on editorially chosen products purchased through our links to retailer sites.