5 Things to Know About Amy Coney Barrett, Donald Trump's Supreme Court Pick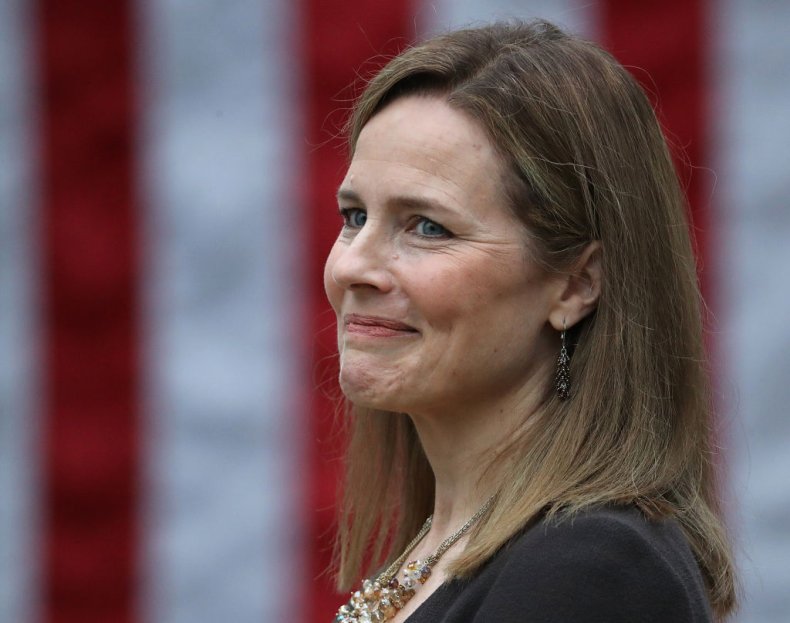 President Donald Trump nominated Judge Amy Coney Barrett to the Supreme Court Saturday, filling the vacancy left by the death of Justice Ruth Bader Ginsburg.
Shortly after Ginsburg's death, the president announced that he would nominate a woman to fill the vacancy, which he later decided to choose Barrett.
Barrett was widely reported as the frontrunner prior to Trump's announcement. Here are five facts to know about Barrett before the Senate votes on whether to confirm her.
Law Degree
After graduating from Rhodes College, a liberal arts school in Tennessee, she went on to attend law school at the University of Notre Dame. According to Scotusblog.com, she attended the school on a full-tuition scholarship, and graduated summa cum laude in 1997. While a student at Notre Dame's law school, Barrett received awards for having the best exam scores in 10 of her courses while also serving as an executive editor of the school's law review. After graduating, Barrett worked as a law clerk for Supreme Court Justice Antonin Scalia but eventually returned to Notre Dame's law school in 2002 and was named a Professor of Law in 2010.
Nominated by Trump Once Before
Prior to Trump's most recent nomination on Saturday, in 2017, Barrett was nominated by the president to serve as a U.S. Circuit Judge of the U.S. Court of Appeals for the Seventh Circuit. Her nomination in 2017 filled a vacancy left by Judge John Daniel Tinder. The Senate Judiciary Committee voted 11-9 on party lines to recommend Barrett and send her nomination to the full Senate on October 5, 2017. She was eventually confirmed in the Senate by a vote of 55-43 on October 31.
Mother of 7
Barrett and her husband, Jesse, a fellow Notre Dame law school graduate, have been married since 1999, and have seven children together. According to the South Bend Tribune, two of Barrett's children were adopted from Haiti, and her youngest child was diagnosed with Down Syndrome. Barrett and her family currently live in South Bend, Indiana.
Strong Religious Values
Barrett is widely known as a devout Catholic and is a member of a conservative Christian group called People of Praise. During her confirmation hearing in 2017, Barrett faced criticism for her strong religious values and California Senator Dianne Feinstein questioned if she could separate her religious values and her duties as a judge.
"Why is it that so many of us on this side have this very uncomfortable feeling that dogma and law are two different things," Feinstein said at the time. "And I think in your case, professor, when you read your speeches, the conclusion one draws is that the dogma lives loudly within you."
Despite the criticism from Feinstein, Barrett insisted that she would be able to keep her personal values and religious values separate.
Stance on Abortion
Barrett has expressed her opposition of abortion, and according to the ABA Journal, she was a member of Faculty for Life, an anti-abortion group, while working as a law professor at the University of Notre Dame. Barrett has also discussed changes to Roe v. Wade, a 1973 Supreme Court decision that established constitutional rights for women to choose to have an abortion.
"I don't think the core case, Roe's core holding that, you know, women have a right to an abortion, I don't think would change," Barrett said during a discussion at Jacksonville University in 2016. "But I think the question of whether people can get very late-term abortions, how many restrictions can be put on clinics, I think that would change."