The presidential primaries may be at the top of the ticket in Kentucky during Tuesday's election but there is another race that is likely to get more attention: party nominations for the Senate.
Voters in the Commonwealth will finally select the Democrat they want to see take on Republican incumbent Mitch McConnell in November. There are 10 candidates vying for the chance but the primary has largely come down to two candidates: former fighter pilot Amy McGrath and state representative Charles Booker.
McGrath has been the presumed frontrunner ever since she launched her bid in July 2019. The Marines veteran, who narrowly lost her 2018 congressional race in Kentucky, has the support of the Democratic Senatorial Campaign Committee and has raised more money than all of her rivals—including McConnell.
But Booker, the state's youngest Black lawmaker, has gained momentum over the past few weeks amid a growing racial-justice movement following the police shootings of two Kentucky residents: Breonna Taylor and David McAtee. His visibility at Black Lives Matter protests in his home city of Louisville put him in the spotlight in the final weeks of the race.
It remains to be seen if Booker's late breakout is enough to overcome McGrath. Either way, Republican strategists don't see any Democrat being strong enough to stymie McConnell's reelection to a seventh term.
McConnell will also be on the ballot on Tuesday as he faces six Republican challengers—although he's expected to easily win his primary because all of his rivals are relatively unknown.
Here's what you need to know as the candidates face off in the June 23 primary.
Polls Show Last-Minute Surprises
The first and only independent poll of the Democratic primary found Booker surging past McGrath. The survey, conducted by Civiqs in mid-June, found that 44 percent of voters said they would back Booker while 36 percent said they would support McGrath. Four percent of voters polled said they would back progressive farmer Mike Broihier, another candidate for the party's nomination.
"We're going to win this primary," Booker told NBC in response to the latest polling. "We're standing up as regular people fighting back for our future, fighting to end generational poverty and address structural racism, and to say that outside consultants will not dictate our future."
But surveys conducted by both campaigns still show McGrath ahead. Her team told Newsweek it has three internal polls ending June 19 that show her leading by double-digits. Booker's team released an internal poll on Saturday that had her up by 7 points, which was a slight drop from the 10-point lead she had the week prior.
Booker and McGrath's Ad Blitz
Booker and McGrath spent millions of dollars on television and radio advertisements in the final week leading up to the June 23 primary.
Booker only bought two statewide ads throughout the entire election cycle, but they were both purchased during the final weeks of the race. Overall, he spent just more than $1 million on two ads criticizing McGrath for her moderate platform and for her absence at racial-justice protests.
McGrath, on the other hand, has spent more than $3 million on television and radio advertising in this last week ahead of the primary, according to the political ad tracker Medium Buying. The tracker reported that she is closing in on $10 million spent in local markets on advertisements.
National Democrats Are Split on Whom to Support
The Democratic Senatorial Campaign Committee threw its support behind McGrath almost immediately after she launched her campaign in the summer of 2019. Last week, Senate Minority Leader Chuck Schumer (D-N.Y.) emphasized that McGrath was "our candidate; she's a strong candidate."
Meanwhile, Senators Bernie Sanders (D-Vt.) and Elizabeth Warren (D-Mass.) as well as Representative Alexandria Ocasio-Cortez (D-N.Y.) have broken with the party ranks and came out in support of Booker over the past two weeks.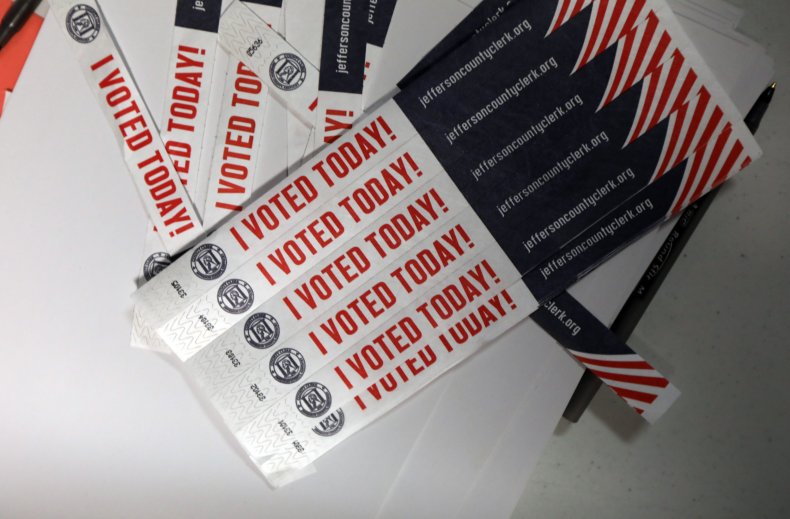 In-Person Polling Sites Slashed as Leaders Push Vote By Mail
There will be just 170 in-person polling stations across the Commonwealth on June 23—a major drop from the standard 3,700 sites usually made available for voters.
Voting rights advocates and some local leaders have criticized the decision, arguing it could lead to voter suppression. There were several lawsuits filed against the state in an attempt to increase the number of in-person voting options but they failed in court.
The decrease in in-person voting options was a result of state officials heavily encouraging residents to vote by mail amid the COVID-19 outbreak. In April, Democratic Governor Andy Beshear and Republican Secretary of State Michael Adams reached an agreement to loosen restrictions and allow every resident to request an absentee ballot.
McConnell Still Seen as Favorite to Win—At Least For Now
Nonpartisan election forecasters like The Cook Political Report and Sabato's Crystal Ball also still see the Senate leader as favored to win his seventh straight term. They are currently rating the race as "likely Republican."
The Civiqs survey released last week showed McConnell easily beating all of his challengers in potential general election races this fall. In a head-to-head matchup with McGrath, McConnell was ahead by 20 points and against Booker, he had a 14-point lead.
Plus, McConnell is likely to receive a boost from the fact that President Donald Trump will appear at the top of the ballot this November. The president won Kentucky by a whopping 30 points in 2016. The Civiqs survey showed Trump ahead of Democratic nominee Joe Biden in the state by 20 points.