Floyd Mayweather, 50 Cent Feud Over Herpes, Parenting And Illiteracy Through Instagram Posts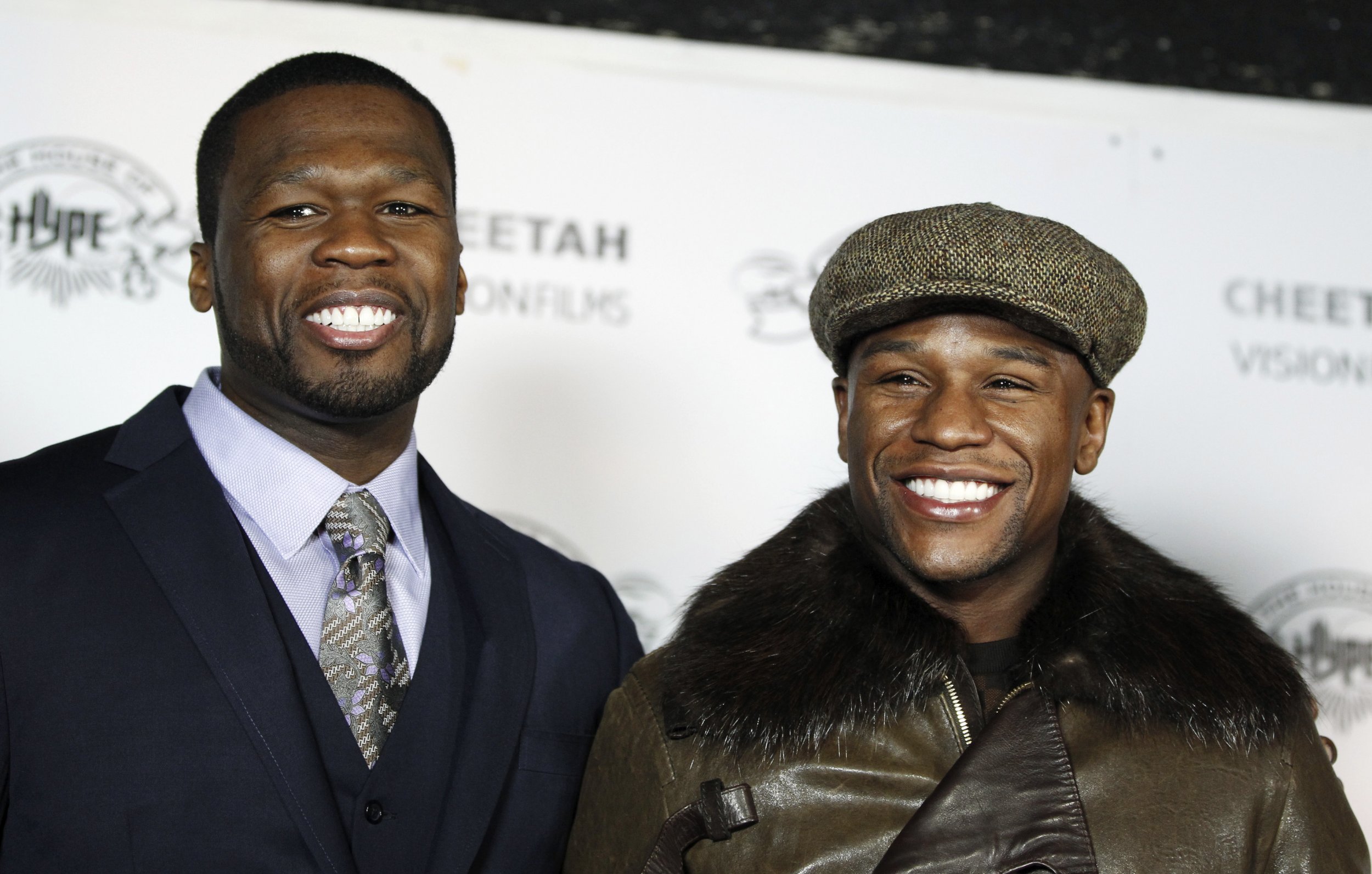 Boxer Floyd Mayweather and rapper 50 Cent, aka Curtis James Jackson III, reignited their longtime social media spats this weekend, with the two trading barbs about herpes, domestic violence and illiteracy.
Both Mayweather, 41, and 50 Cent, 43, continued feuding on Instagram Saturday, with the former The Money Team friends laying into each other's private lives. In a lengthy Instagram post, Mayweather went after "Curtis 'Confidential Informant' Jackson" and his relationship with he and Shaniqua Tompkins' son, Marquise. In response, the Get Rich or Die Tryin' rapper went after Mayweather's alleged inability to read or write.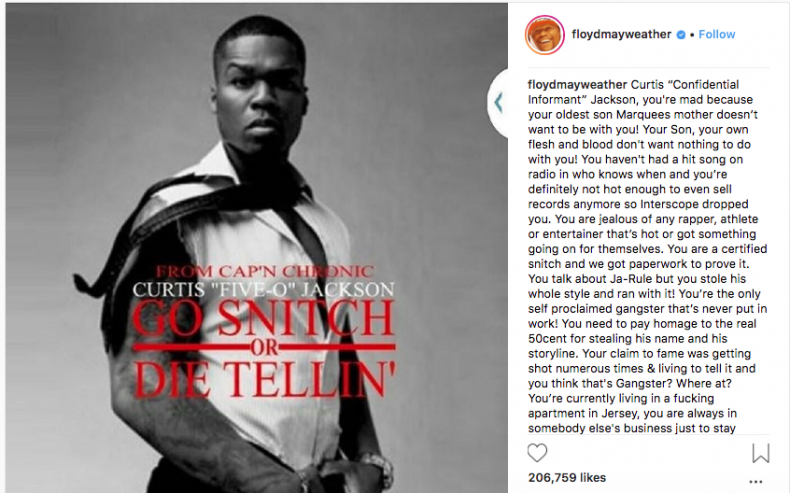 "[Y]ou're mad because your oldest son Marquees mother doesn't want to be with you!" Mayweather wrote on Instagram Saturday. "Your Son, your own flesh and blood don't want nothing to do with you! You haven't had a hit song on radio in who knows when and you're definitely not hot enough to even sell records anymore so Interscope dropped you. You are jealous of any rapper, athlete or entertainer that's hot or got something going on for themselves. You are a certified snitch and we got paperwork to prove it."
Mayweather went on to reference 50 Cent's longtime feud with fellow New York-born rapper, Ja Rule, and claimed Kanye West ended 50 Cent's career.
"Your claim to fame was getting shot numerous times & living to tell it and you think that's Gangster? Where at? You're currently living in a f***ing apartment in Jersey, you are always in somebody else's business just to stay relevant. You should just become a blogger cause it's obvious you don't have nothing going on in your life. Are you mad that Kanye West ended your career?" Floyd wrote in the lengthy Instagram post showing an edited version of 50 Cent's album cover. Mayweather also name-dropped fellow boxer Mike Tyson, before going on to point out 50 Cent filed for bankruptcy in 2015. He also made a vague reference to 50 Cent getting an STD.
"You're always talking about somebody is broke, but the last time I checked it was Curtis Jackson that filed for bankruptcy not Floyd Mayweather. So quick to gossip like a B***h, why don't you tell everybody how you got Herpes from DJ," wrote Mayweather.
50 Cent responded to both Mayweather and Tompkins, editing the "champ's" writing to make it appear he misspelled every other word in his Instagram post.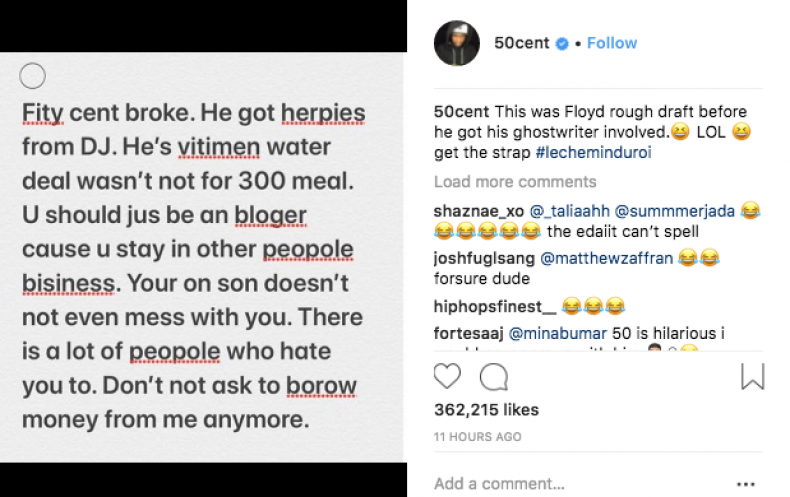 "This was Floyd rough draft before he got his ghostwriter involved._ LOL _get the strap #lecheminduroi," the rapper wrote Saturday. "I must have hurt your feelings champ,_you had someone write a book I'm gonna take my time with this so I get it all out we are gonna start with your 11 Domestic violence cases. Wait a minute I'll do them in order remember you asked for this. _get the strap."
Mayweather called himself "Uncle Floyd" in talking about 50 Cent's rocky relationship with his son.
"Hoes will come and go, but bloodline is forever! You want to address the world, but forget to address your first born. Don't worry Marquise, Uncle Floyd still got you! I would hold little man down too, but you're still not sure if he really belongs to you."
This is far from the first online fight the two former friends have conducted publicly. In 2014, 50 Cent challenged Mayweather to read a single page from a Harry Potter book in lieu of the popular ALS Association's "Ice Bucket Challenge."