50 Cent Mocks Madonna After She Calls Out His 'Bull****' Apology
Madonna's war of words with 50 Cent has been reignited after she hit back at his recent apology for mocking her photos—prompting him to deride her again.
Pop icon Madonna, 63, in November took to Instagram to share a series of images that showed her clad in lingerie, stockings and heels as she posed on, and under, a bed. Instagram later removed the photos as part of a nipple was visible.
Responding days later, Madonna posted a snapshot of herself posing alongside 50 Cent, real name Curtis Jackson III, as she wrote: "Here is 50 Cent pretending to be my friend. Now you have decided to talk smack about me!
"I guess your new career [is] getting attention by trying to humiliate others on social media. The least elevated choice [you] could make as [an] artist and an adult. [You're] just jealous you won't look as good as me or have as much fun when you are my age!"
Peace appeared to be on the horizon, when Power executive producer 50 Cent tweeted: "I must have hurt Madonna feelings, she went and dug up a old MTV photo from 03."
He went on: "Ok Im sorry I did not intend to hurt your feelings. I don't benefit from this in anyway i said what i thought when i saw the picture because of where i had seen it before i hope you accept my apology."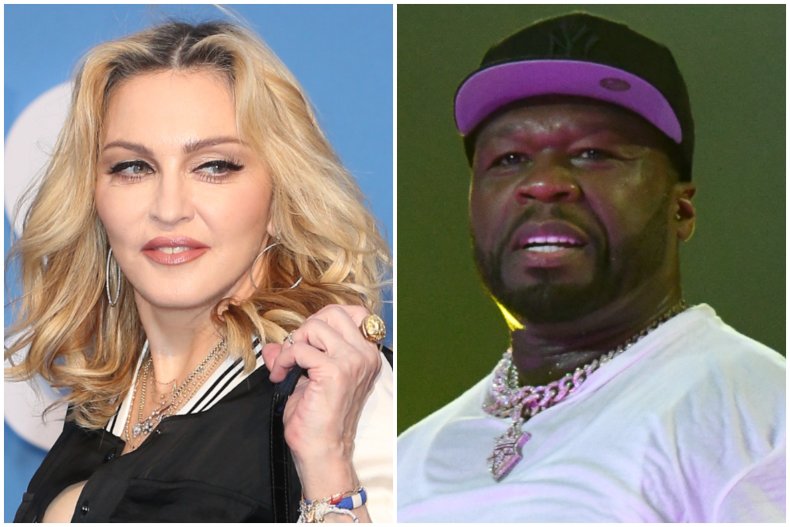 However, Madonna let him know in a video shared on Instagram on Saturday that she was in no way convinced by his apology, branding it "fake" and "bull****."
In the clip, which she captioned "Delayed Clap back for 50 cent And his fake apology," Madonna said: "OK, so this is a message for 50 Cent. I want to respond to your response to my response to your post, which was essentially you were trying to shame me. You were trying to humiliate me.
"Yeah, your apology is fake, it's bull**** and it's not valid. Let me just hit those four or five points about your apology being invalid. Number one, it's not hard to find footage of you and me hanging out."
She then cut to BET footage of 50 Cent describing her as "a friend of mine" as he greeted her while she worked in a neighboring studio.
Continuing on to her second point, Madonna said that "an apology is not valid if you don't know what you're apologizing for. What you should be apologizing for is your misogynistic, sexist ageist behavior and remarks."
She also told the "Many Men" rapper that he "didn't hurt my feelings because I don't take it personally—I could never take it personally, because you're not coming from an enlightened place."
Using a filter that made her resemble a doll, Madonna added: "[You] say that you're not benefiting from it, of course you're benefiting from it—that is what social media is all about. You do understand that, right?
"We post things about ourselves and we use Instagram and other forms of social media because we want attention. We want people to buy our products, we want people to invest in our brands, we want people to listen to our music, we want people to go to our concerts, we want people to notice us, we want people to like us."
"There's nothing wrong with any of those things," she went on, "but don't kid yourself if you think you have an Instagram account and you're not benefitting from it. Shut it down. Stop lying to yourself. OK, so you're reposting somebody else's low level of consciousness postings that are meant to shame and humiliate other people.
"That's f***** up. You are trying to put a limit on when women should be able to feel good about themselves. So finally, I just wanna say I forgive you and I hope that one day you wake up and see a different point of view. I wish you all the best."
50 Cent responded to the post by appearing to delete his apology tweet hours later. He also shared a montage of people posing with their heads under their beds as part of an ensuing Instagram challenge.
Captioning the images, he wrote: "well what a positive influence you are. LOL #likeavirgin63 challenge. I'm sorry, SORRY DIDN'T WORK !"
Taking his mockery a step further, 50 Cent shared a version of Madonna's video which had been restyled to look like it was a part of The Purge.
Tagging his champagne and cognac brands, he wrote: "The Purge Begins now! hey is there a age limit for this kinda s*** man, i'm asking for a friend."
Madonna has yet to publicly respond to 50 Cent's latest round of jabs.