500 Delta Airline Staff Test Positive for Coronavirus, 10 Dead
Hundreds of staff at Delta Air Lines have tested positive for the novel coronavirus. Ten workers have died after contracting the virus, the company confirmed.
According to a transcript of the company's latest shareholders meeting held on a phone conference June 18, Delta's Chief Executive Officer Ed Bastian said: "We have had approximately 500 employees that have tested positive for COVID-19. The vast majority have recovered, thankfully. Unfortunately, we have lost 10 employees to the disease."
Speaking to Newsweek, a spokesperson for Delta noted the latest tally of infected employees is "inclusive of all positive cases reported to us since March out of our 90,000 employees worldwide.
"Since initial reporting in March, Delta has seen a significant reduction in positive employee COVID-19 tests and is currently tracking at a rate five times lower than the national average."
Bastian said: "We have recently announced that we are going to be testing all of our employees. In fact, we started this week in Minneapolis for both the blood serology, as to whether they have already been exposed to the disease and have antibodies, as well as the active test to see if they, indeed, are carrying the virus. And that test is being led by Mayo Clinic."
"And we are also working very closely with Quest Diagnostics in that we will have all 90,000 of our employees available to be tested. And from getting a good baseline, we will be able to provide better protection for our people and then, eventually, certainly, our customers as we go forward," Bastian confirmed on the call.
It is unknown whether the infected staff members are cabin crew or ground-level workers and which flights they may have been operating. The majority of Delta's employees are reported to be flight attendants, pilots and airport agents, while less than 10,000 are administrative staff, most of whom are working from home, according to Bastian.
"Given that we are a frontline customer service business, the majority of our employees need to be at work to conduct business," Bastian said.
On Monday, Delta announced it will resume flights between the U.S. and China. The carrier will operate a service between Seattle and China's Shanghai Pudong International Airport via South Korea's Incheon International Airport twice a week from June 25.
From July, the airline will operate weekly flights from Seattle and Detroit to Shanghai, also via Incheon International Airport. Delta is the first U.S. airline to resume services between the U.S. and China since the temporary suspension of flights in February following the outbreak.
Earlier this month, Delta announced it will be suspending flights to 11 U.S. airports from July 8 while "customer volume is significantly reduced," the carrier confirmed in a statement.
These airports make up five percent of the airline's domestic operations. "All of these airports will continue to receive service from at least one other carrier after Delta suspends its operations," the statement added.
The 11 airport locations include Aspen in Colorado (ASE), Bangor in Maine (BGR), Erie, PA (ERI), Flint in Michigan (FNT), Fort Smith in Arkansas (FSM), Lincoln in Nebraska (LNK), New Bern/Morehead/Beaufort in North Carolina (EWN), Peoria in Illinois (PIA), Santa Barbara, California (SBA), Scranton/Wilkes-Barre, Pennsylvania (AVP) and Williston in North Dakota (XWA).
"Delta has announced an 85 percent reduction in our second-quarter schedule, which includes reductions of 80 percent in U.S. domestic capacity and 90 percent internationally," including service to Canada's Ottawa International Airport in the province of Ontario which was suspended indefinitely from June 21, the statement confirmed.
Last month, Delta also announced the temporary suspension of operations at airports in locations with "more than one Delta-served airport to allow more frontline employees to minimize COVID-19 exposure risk while customer traffic is low."
"Delta will continue providing essential service to impacted communities via neighboring airports," the statement said.
The 10 airports where operations were temporarily suspended include Chicago Midway International Airport (MDW) in Illinois, Oakland International Airport (OAK), Hollywood Burbank Airport (BUR) and Long Beach Airport (LGB) in California, T. F. Green International Airport (PVD) in Rhode Island, Westchester County Airport (HPN) and Stewart International Airport (SWF) in New York, Akron-Canton Airport (CAK) in Ohio, Manchester-Boston Regional Airport (MHT) in New Hampshire and Newport News/Williamsburg International Airport (PHF) in Virginia.
Services at Canada's Saskatoon International Airport were also temporarily suspended last month.
Delta extended its waiving of change fees and the flexibility to travel through September 30, 2022, to customers with canceled flights through September 2020.
"Eligible customers include those who have upcoming travel already booked between now and September 30 as of April 17, 2020," and those with "canceled travel on flights between March 2020 and September 2020," the airline said.
From May 4, Delta has required all passengers to wear a face mask or other appropriate face covering on its flights. Other safety measures introduced include sanitizing all aircraft with electrostatic spraying before departure and disinfecting all high-touch points throughout the aircraft interior.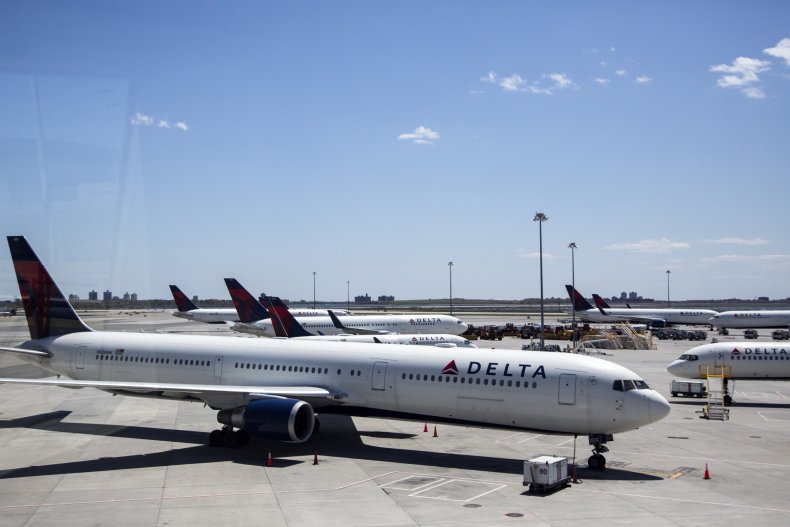 Aircraft are also equipped with "state-of-the-art air circulation systems with HEPA [high efficiency particulate absorbing] filters that extract more than 99.99 percent of particles, including viruses," the company said in a statement Monday.
Last week, American Airlines flight crew asked a passenger to disembark a plane after the man refused to wear a mask on board a flight.
In the same week, a survey by the International Air Transport Association (IATA) found that 45 percent of travelers said they would fly within two months after the novel coronavirus is no longer seen as a threat, down from 60 percent in April.
The novel coronavirus, first reported in Wuhan, China, has infected more than 9.2 million people across the globe, including over 2.3 million in the U.S. More than 477,800 have died following infection, while over 4.6 million have reportedly recovered from infection, as of Wednesday, according to the latest figures from Johns Hopkins University.
The article has been updated with comment from Delta.
The graphics below, provided by Statista, illustrate the spread of COVID-19 in the U.S. and the worst affected countries.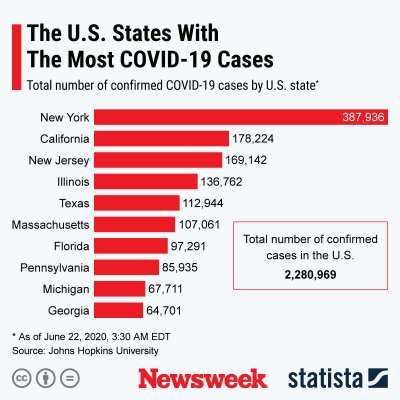 The graphic below, provided by Statista, illustrates the percentage of COVID-19-related hospitalizations, ICU admissions and deaths in the U.S.