Nearly 500 unaccompanied migrant children have been placed under temporary care in Chicago-area shelters since December, marking the highest number since 2014.
According to local organizations, the number of minors transferred to five Chicago-area shelters first "doubled, then tripled," beginning in December 2020, the Chicago Tribune reported.
Currently around four children arrive each day to shelters in the area where they await reunification with family or placement with a sponsor. Most of the children have been arriving from countries such as Guatemala, El Salvador and Honduras after crossing the southern U.S. border.
According to the Heartland Alliance, an organization that operates shelters in Chicago under a contract with the U.S. Department of Health and Human Services, children are temporarily housed for an average of three weeks while shelters assist with their legal cases and locate more long-term housing, the Tribune reported.
David Sinski, executive director of Heartland Human Care Services, told the news outlet that he expects an increased need for bed and spaces as the number of unaccompanied migrant children continues to rise. He said the amount of children currently being housed in Chicago shelters has reached a record high since 2014, when a similar influx of migration occurred.
The trend in Chicago reflects a national occurrence, as the number of minors who entered the U.S. along the Mexican border skyrocketed this spring. In March, authorities encountered an all-time high of 18,960 unaccompanied migrant children. For comparison, in 2019 the number of unaccompanied migrant children entering the U.S. was an average of only 6,400 monthly, the Tribune reported.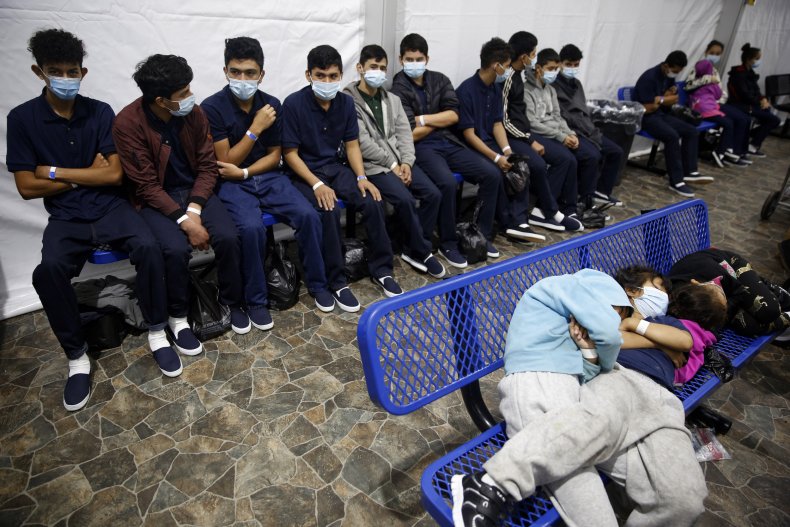 Overall, the U.S. Customs and Border Patrol's (CBP) encounters with migrants on the Mexican border last month reached their highest level since April 2000. However, according to a report by CPB officials last week, the number of unaccompanied minors is starting to drop, with more adults coming in without families.
During his first week in office, President Joe Biden vowed to reverse former President Donald Trump's hardline policies—including one that expelled unaccompanied migrant children without allowing them to request humanitarian refuge or asylum in the U.S.
"The idea that I'm going to say, which I would never do, if an unaccompanied minor ends up on the border we're just going to let them starve to death and stay on the other side—no previous administration did that either, except Trump," Biden said in March, when discussing a surge of migration attempts. "I'm not going to do it," he added.
In recent weeks, the government has made significant strides in moving children from overcrowded Border Patrol facilities to U.S. Department of Health and Human Services shelters. By early May, the average stay for an unaccompanied child in Border Patrol custody dropped to about 20 hours, below the legal limit of 72 hours and down from 133 hours in late March, the Associated Press reported.
However, the process for an unaccompanied minor to receive asylum can take anywhere from two to 10 years, the Tribune reported.
Since most children lack proper representation, they often don't win their cases, "let alone a chance to permanently stay in the United States," Daysi J. Funes, the executive director of Centro Romero, which provides legal services and resources for Central American immigrants in the Chicago area, told the news outlet.
Newsweek contacted the White House for additional comment, but did not hear back in time for publication.