9-Year-Old Girl Dies in Attempt to Cross U.S. Border With Mother and Brother
A 9-year-old migrant girl died while attempting to cross the Rio Grande River into the U.S. with her mother and brother last week, according to U.S. Customs and Border Patrol (CBP).
The girl, who was of Mexican nationality, died after attempting to cross the river alongside her Guatemalan mother and 3-year-old brother, on Saturday, March 20.
The three migrants were first detected by Eagle Pass, Texas, Border Patrol Agents after bystanders reported seeing them stranded on an island on the Mexican side of the river, CBP told Newsweek on Friday.
All three of the migrants were unresponsive when agents first assisted them to shore and began administering first aid. The mother and younger child eventually regained consciousness, while the 9-year-old girl was transferred for care under the Eagle Pass Fire Department's Emergency Medical Services, CBP said.
"After lifesaving efforts, the agents revived the mother and the three-year-old son. However, despite efforts by the Border Patrol Agents and Eagle Pass Emergency Medical Services, the 9-year-old daughter did not regain consciousness and was later pronounced deceased," CBP told Newsweek.
"We extend our deepest condolences to the family and friends of this small child," Del Rio Sector Chief Patrol Agent Austin L. Skero II added in a statement on March 25. "During these hard times our agents remain resilient, and I am extremely proud of their efforts to preserve human life."
CBP added that since the beginning of the fiscal year 2021, which began on October 1, Del Rio Sector Border Patrol agents have rescued over 500 migrants attempting to illegally enter the country.
Additionally, CBP told Newsweek on Friday that there have been approximately 80 deaths from that time period through February.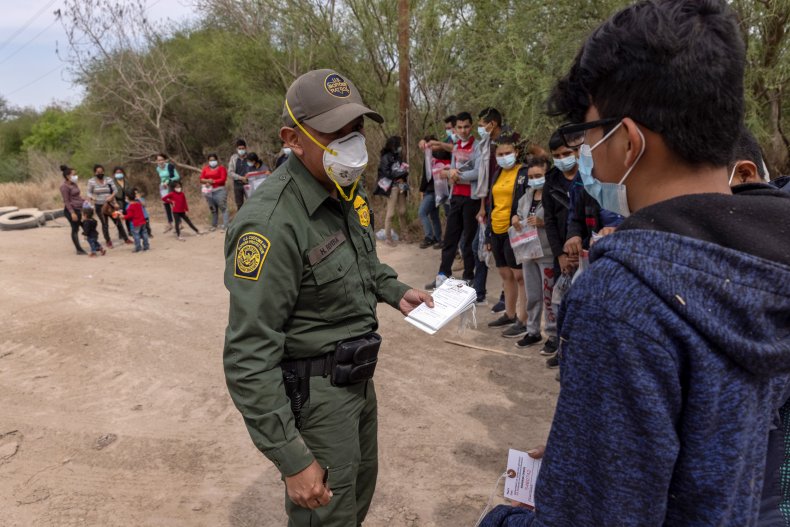 The 9-year-old's death comes at a time when a growing number of minors are attempting to cross the southern U.S. border. According to figures from the CBP, the number of unaccompanied children crossing the border increased by 63 percent in February.
The agency reported 9,297 arrivals of unaccompanied minors in February alone. A CBP official told Newsweek on March 18 that that number was up 96 percent from the same time last year.
In total, the country is on track to see the highest number of migrants arriving at the southern border in the past 20 years.
President Joe Biden has since been left to grapple with the first immigration test of his presidency. During his first week in office, Biden vowed to reverse former President Donald Trump's hard-line policies—including a policy that expelled unaccompanied migrant children without allowing them to request humanitarian refuge in the U.S.
Biden has since faced backlash from Republicans who view his immigration strategy as the reason behind the growing surge of migrants.
But during a Thursday press briefing, Biden denied these claims, and instead insisted that his policies would not allow children to starve at the border.
"The idea that I'm going to say, which I would never do, if an unaccompanied minor ends up on the border we're just going to let them starve to death and stay on the other side—no previous administration did that either, except Trump," Biden said on March 25, in his first solo press conference since taking office. "I'm not going to do it," he added.
Biden also said Thursday that the current surge in border arrivals is not unprecedented. He said that he's seen a 28 percent increase in the children at the border under his administration, compared with 31 percent in 2019 under Trump.
"I'd like to think it's because I'm a nice guy, but it's not. It's because of what's happened every year," the president added.
Newsweek contacted the White House for an additional comment, but did not hear back in time for publication.